---
Mathieu Lussier & Francis Perron
---
Biography Mathieu Lussier & Francis Perron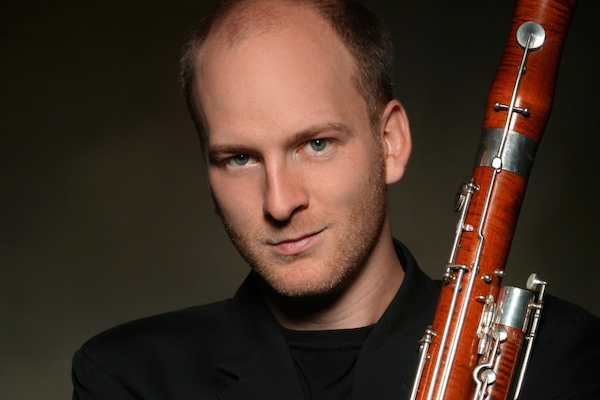 Mathieu Lussier
is one of the most active early music bassoonists in North America. He is called upon to act as principal bassoon with such ensembles as Ensemble Arion (Montreal) ,Les Violons du Roy (Quebec City) and Apollo's Fire (Cleveland). He is also frequently invited to play with groups like Tafelmusik Baroque Orchestra (Toronto) and the Boston Early-Music Festival.
He teaches Baroque bassoon at McGill University and modern bassoon as the Université du Québec à Montréal. Also very active as a chamber musician, being member of Ensemble Pentaèdre of Montreal, the Caliban Quartet of Bassoonists and Musica Franca.
His solo recordings include the Concerto for oboe and bassoon in G major by Vivaldi, the first available recording of Graupner's Concerto in B flat major, Telemann's Concerto for 2 flutes and bassoon as well as a CD devoted to Michel Corrette with the gamba duo Les Voix Humaines. In the past years he has released CDs of François Devienne's music for bassoon and strings, sonatas for bass instruments by Boismortier with Musica Franca and a disc of flute and bassoon concerti of Vivaldi, with Claire Guimond and Arion.
Mathieu Lussier is also a composer and his works are regularly performed in concert in Canada and in the United States. «Bassango» and «Valstango», for bassoon quartet, have been recorded by the Toronto Caliban Quartet; «Promenade à Venise», a commission by the Ensemble des Idées heureuses was premiered in Montreal in October 2003; «Old Spanish from Cuba» was greeted with much applause at its April 2004 premiere by the Tafelmusik Baroque Orchestra of Toronto. The «Five Caprices for bassoon», following their recording by bassoonist Nadina Mackie, were the subject of a master class at the prestigious Curtis Institute of Philadelphia.
Francis Perron
wide experience as chamber musician, accompanist and vocal coach have made him a much sought-after collaborator. This led him to work closely with the Orchestre symphonique de Montréal, the Opéra de Montréal, the Orchestre symphonique de Québec, the Wienn Kammeroper, the Vienna, Zurich Winterfur and ARD Musik Wettwerb conservatories, the Salzburg Summer Academy, the Freiburg University, the Avignon International Violin Competition, the Fritx Kreisler International Violin Competition in Vienna, the Royaumont Festival and the Montreal International Music Competition, among others.
Francis Perron has taught master classes at the Vancouver International Song Institute, Orford Music, Mexico Liederfest, at the Paris and Lyon conservatories as well as the New England Conservatory in Boston. In 2013, he won the prize for best voice-piano duo at the Positively Poulenc Competition in New York. He has performed in recitals with prominent singers such as François Le Roux, Nathalie Paulin and Julie Boulianne.
A founding member of the Orford Six Pianos ensemble and a member of the Nouvel Ensemble Moderne (NEM) since 2017, Francis Perron has made numerous records and has been heard frequently on CBC's French and English networks as well as on France Musique. He is currently an associate professor at the Université de Montréal's Faculty of Music, where he is also in charge of the piano accompaniment program in addition to being the vice-dean for international relations.