---
Biography Baiju Bhatt & Red Sun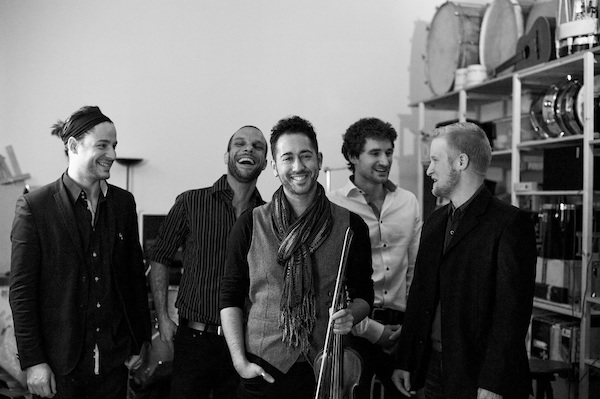 Baiju Bhatt
discovered the violin at the age of six, and completed his classical music studies at the Lausanne Conservatory until he was 20. With a wide range of musical backgrounds, he specializes in jazz and world music, and obtained his Master's degree (Jazz) from the Haute École de Musique de Lausanne in 2014 with a prize of excellence. Established in Paris in order to foster exchanges between his native Romandie and the capital of gypsy swing, he has since toured the world with his original project Red Sun (whose latest album, Eastern Sonata, is stamped "HIT" Couleurs Jazz), the virtuoso Tunisian brothers Amine & Hamza Mraihi -The Band Beyond Borders, in a gypsy jazz context (Gypsy Jazz Sessions, Tcha-Badjo, Gypsy Galaxy, etc.) or as a guest artist.
Baiju is also a teacher at the Conservatoire de Lausanne, where he directs the successful Ministrings ensemble, as well as at the Compagnie Albertine (CH), and he intervenes as a trainer specialized in improvisation and jazz in a wide variety of settings (Schweizerischer Jugendmusikwettbewerb, Académie Tibor Varga, Under The Tuscan Sun, École de Musique de Lausanne, among many others). In 2018 he founded the Creative Strings Workshop - Europe with the American violinist Christian Howes, and the Festival of the same name, an international gathering around improvisation for string players, of which he is currently the artistic director.
Virtuoso, energetic, enthusiastic: the compositions of the Indian-Swiss violinist Baiju Bhatt are drenched in rhythmical finesse and melodious runs that go straight to the ears. Supported by his band, « Red Sun », the performer from the Romandie skillfully interweaves influences from jazz, world and rock and thus creates his very own sound somewhere between the orient and the occident. The band's next album, « People Of Tomorrow », will be released by the end of October, and features some of the most prominent artists in the contemporary Jazz/World fusion scene (such as Nguyên Lê, Prabhu Edouard among others).