---
The Santa Fe Opera, Odense Symphony Orchestra and Becky & David Starobin
---
Biography The Santa Fe Opera, Odense Symphony Orchestra and Becky & David Starobin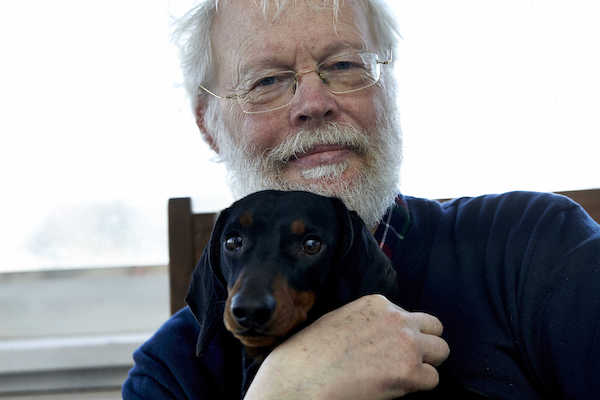 Poul Ruders
In a country far, far away, the two neighboring kingdoms of Frohagord and Hauven are in crisis. The embittered Drokan, Regent of Hauven, convinces his cousin, King Hjarne of Frohagord, that Hjarne's twelve sons are plotting to overthrow him. Filled with rage Hjarne swears that the sons must be driven away. His future child – the 13th – has to be a girl, for: "Only she shall wear the crown". This is how The Thirteenth Child begins – a new fairytale opera for audiences from 7 and up by the Danish composer Poul Ruders. 'The Thirteenth Child' is the latest in a long line of renowned operas by Ruders, among those is the dystopic The Handmaid's Tale. 'The Thirteenth Child' is based on the dark fairytale 'The Twelve Brothers' by the Brothers Grimm, and it contains both treason, love, murder and magic. The opera will be premiered on July 27. 2019 at Santa Fe Opera and will be given its European premiere the following spring by Odense Symphony Orchestra in Denmark.
The composer himself is not easily put in a box. His work contains curiously exploring and diverse music - from the explosively extrovert to the soft and inward looking. Ruders is widely acknowledged for his symphonic works. Since the highly successful opera 'The Handmaid's Tale' premiered in 2000, other operas have appeared like beads on a string: Kafka's Trial (2005), Selma Jezková (based on Lars von Trier's film Dancer in the Dark, 2010), and now 'The Thirteenth Child'. They have been produced in London, New York City, Munich, Toronto, Minneapolis, and Copenhagen.
The music in 'The Thirteenth Child' is as magical as the fairytale itself. It unfolds all the emotions of the tale: from glittery and warm when queen Gertrude speaks of her love to dramatic and unsettling when the treacherous Drokan whispers lies in King Hjarne's ear. The tale is told in a way so that children and youth without experience in the opera genre can keep up – and through the music hear and feel the emotions contained in the fairytale.
The Santa Fe Opera
Given the current expansive grounds, it can be hard to remember that The Santa Fe Opera's first spread was only 76 sparsely developed acres. Previous incarnations had included a pinto bean plantation, a mink farm, and a pig farm. When founder John O. Crosby first visited, it was a rustic but comfortable guest ranch that had welcomed many musical luminaries — including conductors Efrem Kurtz, Fritz Reiner, Joseph Rosenstock, and Herbert von Karajan, and the married duo of soprano Lily Pons and conductor André Kostelanetz.
When Crosby took over the property in September 1956 on an initial three-year lease, it was thanks to a $200,000 investment from his parents, Aileen O'Hea Crosby and Laurence Crosby. From then on, the organization has marched through time meeting accomplishments and challenges — always guided by fiscal discipline, steered by constant strategic planning, and devoted always to uncompromising creative values.
Through the years, one thing has stayed the same, even as the grounds have grown and new buildings have sprung up: the unparalleled acoustics. They are as fine today as when Crosby and acoustician Jack Purcell rode over the grounds in a Jeep — or as some oral history has it, on horses — and fired guns (or perhaps a yacht cannon) to find the ideal sonic "bowl" in which to site the house.
Those acoustics have served a vastly varied and still growing repertory: some 2,000 performances of 170 operas by 85 composers, including 15 world premieres, 45 American premieres, and almost every opera by Richard Strauss, to whose works Crosby was devoted. The 15th world premiere came in 2017, with The (R)evolution of Steve Jobs by composer Mason Bates and librettist Mark Campbell.
Yes, Santa Fe's site is like no other. Early on, TIME magazine called the complex "one of the handsomest operatic settings in the Western Hemisphere." To The New Yorker, it was "A miracle in the desert." More recently, The Washington Post dubbed it a "shining white cloud in the red hills." To The Wall Street Journal, the company "...feels like the Rolls- Royce of American summer opera festivals." And the Philadelphia Inquirer has lauded it as "one of the most beloved venues in the country." With recent major renovations just being completed, such tributes carry even more power.
Crosby's vision of starting an opera company to give American singers an opportunity to learn and perform new roles in a setting that allowed ample time to rehearse and prepare each production is a success. At the same time, a program for young singers who were in transition from academic to professional life, the Apprentice Program for Singers began. More than 1,500 aspiring singers have participated in the program. Many are professional performers; others are teachers and coaches at major opera companies and universities. In 1965, the Apprentice Program for Theater Technicians was added, and it too has become an important training tool.
John Crosby was succeeded as General Director by Richard Gaddes in 2000, who was the General Director of Opera Theatre of Saint Louis, Artistic Administrator of The Santa Fe Opera, and President of Grand Center, St. Louis. During Mr. Gaddes' tenure in Santa Fe he implemented a wide range of new programming, including community-based productions in the off-season and simulcasts at a park in downtown Santa Fe. He retired following the 2008 season when Charles MacKay, then General Director of Opera Theatre of Saint Louis, became the third General Director in The Santa Fe Opera's history. During MacKay's tenure he brought numerous significant works to Santa Fe and worked in collaboration with several opera companies across the United States on co-productions, some of which have been US or world premieres of new operas. The Santa Fe Opera presented five world premieres during MacKay's tenure, including Cold Mountain by Jennifer Higdon (2015) and The (R)evolution of Steve Jobs by Mason Bates (2017). On October 1, 2018, Robert K. Meya succeeded Mr. MacKay to become the company's fourth General Director in its 62-year history. Prior to his new appointment, Meya served as the Opera's Director of External Affairs. In accepting his appointment as General Director Meya named Alexander Neef as the Opera's first Artistic Director and appointed Harry Bicket, Santa Fe Opera's Chief Conductor since 2013 and Artistic Director of The English Concert, to be the company's Music Director.
The Santa Fe Opera has a wide array of education and community engagement programs to make opera accessible and appealing to a broad spectrum of the New Mexico population. The unique Pueblo Opera Program serves Native American youth from nineteen pueblos and three reservations in the state.
The Opera has become one of New Mexico's cultural and economic leaders. Its reputation attracts thousands of patrons each year, and its impact on the New Mexico's economy has been calculated at more than $200 million each year.