---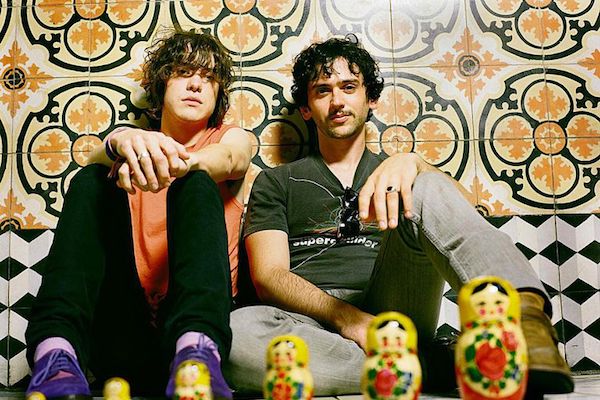 MGMT
(pronounced "Management") are a genre-bending psychedelic synth-pop duo from New York. After the release of their debut album, Oracular Spectacular, MGMT's profile swiftly rose. They have toured with Of Montreal and Yeasayer, and are frequently compared to Beck.
Background: Though they hail from the hipster neighborhood of Williamsburg in New York's Brooklyn borough, MGMT was born —under the name The Management— in rural Connecticut, on the hallowed campus of Wesleyan University where the art-student pair happened to live down-the-hall from each other in the same dormitory.
"There wasn't a point where we were like 'hey, I like you, I like your style, let's start a band!'" Goldwasser says, of the beginnings of their collaborative relationship. "It just came from us hanging out, messing around, making songs. After a while, we had two or three songs, and then it was four, and then at some point we just kind of realized we had a band. Without ever actually deciding to form a band."
Beginnings: Working from a record collection that included The Flaming Lips, Royal Trux, Suicide, David Bowie, Pink Floyd, Prince, Pavement, and Neil Young, VanWyngarden and Goldwasser started out making rote replications of cuts they loved.
"A lot of our songs, especially when we were just starting out, we were trying to create a song in a certain genre; we never wanted to have a single sound, crank out a bunch of songs that all sounded the same," recounts Goldwasser. "All of our songs felt like experiments, but, eventually, all those experiments started to blur together, and as we got better at songwriting, we started writing things that just sounded like us."
MGMT began as a recording project, the duo working on many songs that would show up, recurringly, on both their 2005 debut EP Time to Pretend and Oracular Spectacular. When they started to play live, The Management were pretty much a goof-off.
"It started out as a complete joke," confesses Goldwasser. "We'd play shows, but usually our shows were just the two of us singing along with an iPod. We weren't playing instruments, it was more of a spectacle than an actual live concert. People didn't know whether to take it as a complete joke or not. It was kind of funny seeing how other people would try and gauge their reactions by us; like, they seemed like they were trying to work out whether we took ourselves seriously or not. It left people feeling very confused. That's something that we've always enjoyed doing: confusing people."
Breakout: After self-releasing their Time to Pretend EP, and touring with Of Montreal, the band signed to Columbia Records and set about recording their debut album with Dave Fridmann, the longtime Flaming Lips producer. MGMT released their debut album, Oracular Spectacular in digital format, in October 2007, three months ahead of the album's physical release. Mixing up a variety of genres, the album introduced MGMT as a jokey band of no fixed style.
"I don't feel like we play a particular style of music at all, so in that way it feels like we're quite isolated," says Goldwasser. "I wouldn't know where to begin in describing our music, so, without that, it's hard to work out what bands might sound like us."
Since the release of Oracular Spectacular, which peaked at #60 on the Billboard chart, MGMT have achieved considerable commercial success abroad. Both the album and the single "Electric Feel" charted in the Australian Top 10 and the UK Top 20.
In 2010, MGMT released their second album, Congratulations. Produced by Pete 'Sonic Boom' Kember of Spacemen 3 and featuring guest vocals from Jennifer Herrema of Royal Trux, the album was released without any accompanying singles. Tending towards madcap arrangements and an experimental, hectic approach, the band posited it as a more accurate representation of MGMT.
"We dropped any sort of irony that was on the first record, and Congratulations feels true to who we really are," VanWyngarden told Spin.