---
Biography Aleksandra Mikulska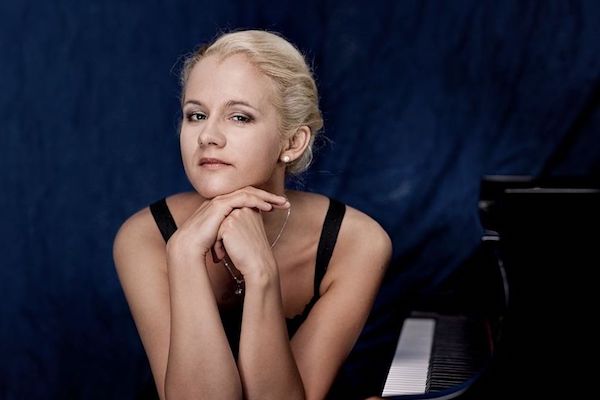 Aleksandra Mikulska
Sensitivity, musical expressivity and immaculate, transparent technique: these qualities once called for by Frédéric Chopin are embodied in the highest degree by Aleksandra Mikulska. On this, teachers, critics and audiences are unanimous.
Aleksandra Mikulska is one of the leading representatives of today's younger generation of exceptional pianists. Her playing has earned her numerous international accolades, including the Special Prize for Best Female Polish Pianist at the XV International Chopin Piano Competition in Warsaw.
To date, concert invitations have taken Aleksandra Mikulska to venues such as the Philharmonie in Essen, the Künstlerhaus in Munich and the National Philharmonic Hall in Warsaw. In the 2016/17 season she is scheduled to make her debuts at the Zurich Tonhalle and the Vienna Musikverein. She appears regularly at international festivals including the MDR Musiksommer, the Liszt Festival Raiding, the Bodenseefestival on the shores of Lake Constance, the Brandenburg Summer Concerts, the Böblingen International Piano Festival, the Chopin Festival in Gaming, the Bayreuth Easter Festival, the Maulbronn Monastery Concerts, the Merano Music Festival in Italy and the Lapland Piano Festival. Aleksandra Mikulska also gives recitals throughout Europe and performs concertos with orchestras in Germany, Austria, Belgium, Italy, Poland and Switzerland.
Born in Warsaw in 1981, as a young pianist she attended a class for highly gifted children at the national "Karol Szymanowski" music school. In conjunction with a series of scholarships from the Polish state and numerous prizes in international competitions, this laid the foundations for the top-level international training that ensued. Aleksandra Mikulska went on to study with Peter Eicher at the University of Music in Karlsruhe. In tandem with her main studies, she drew valuable inspiration from Lev Natochenny, Andrzej Jasiński, Kevin Kenner, Diane Andersen and others at international masterclasses. After graduating with distinction, her path took her to the elite International Piano Academy "Incontri col maestro" in Imola, Italy. There, her most important influences were Lazar Berman and Michel Dalberto. Aleksandra Mikulska completed her studies by attending Arie Vardi's masterclass at Hanover University of Music, Drama and Media, where she gave her exam recital in 2010.
Aleksandra Mikulska weaves a unique, personal and highly distinctive style from the musical traditions of the three countries Poland, Germany and Italy. A particular focus of her music-making is the dissemination of works by the great composers of her Polish homeland. Aleksandra Mikulska is President of the Chopin Society of Germany (Darmstadt) and Deputy Chair of the Baden-Württemberg branch of the German-Polish Society.
Her debut recording was released in 2010 and is dedicated to works by Frédéric Chopin. Since then she has recorded albums of works by Franz Liszt, Karol Szymanowski and Joseph Haydn. Her recordings have been acclaimed both by the public and in the specialist press.