---
Daniel Santiago & Pedro Martins
---
Biography Daniel Santiago & Pedro Martins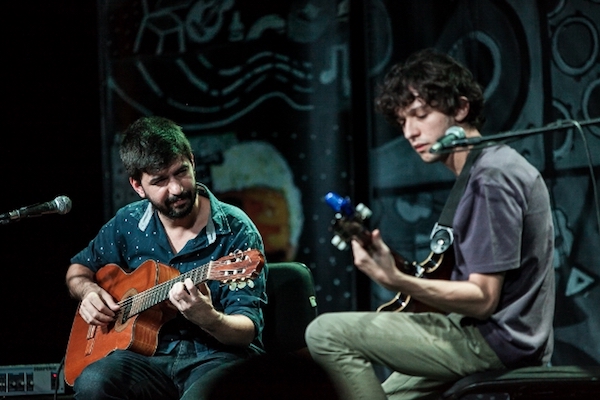 Daniel Santiago
Guitarrist, composer and arranger, Daniel Santiago was born in Brasilia on July, 1979 and had his first musical experience at seven, while studying at "Escola de Música de Brasília", thus being influenced by several music genres such as Choro, Rock, MPB , Jazz and Classical. He was nineteen when , together with Hamilton de Holanda and Rogerio Caetano, founded the Brasilia-Brasil Trio, which album "Abre Alas" was released in 2001. In the same year, he was nominated as best instrumentalist for the "VISA AWARD".
In the following years he toured regularly with Hamilton de Holanda's quintet, João Bosco Band, your own projects like "simbiose" with Pedro Martins and many others artists. Hamilton de Holanda's quintet has been awarded as "Best Instrumental Group" by "TIM Award" on the year of 2007 and has been nominated to the "2007 Latin Grammy Awards" along with Chick Corea and Bela Fleck as "Best Instrumental Album".
Santiago also has worked with many great artists like Milton Nascimento, João Bosco, Hamilton de Holanda, Lee Ritenour, Ivan Lins, Maria Bethania, Hermeto Pascoal, Djavan, Richard Galliano, John Paul Jones, Toninho Horta, Kassandra Wilson, Gregoire Maret, Didier Lockwood, among others.
In 2006 he releases his first album, "On The Way" and in 2009 the acclaimed "Metropole", 2011 "Janeiro " duo with Gustav Ludgren, 2016 "Simbiose" with Pedro Martins. With Hamilton De Holanda, "Brasilianos" 1,2,3, "Sinfonia Monumental" and 2017 "Casa de Bituca".
Pedro Martins
is a 24 years old guy from Brasilia, but already enjoys International recognition for being voted the best guitarist in Socar Guitar Competition at the 49th Montreux Jazz Festival, the main event of this kind in the world. Pedro was the only Brazilian to integrate the programming of competition festival, with over nine talents of world guitar. His victory came both from the public and unanimously among the jury, which Kurt Rosenwinkel and John Mclaughlin were part, and was considered one of the new promises of this guitarists generation.