---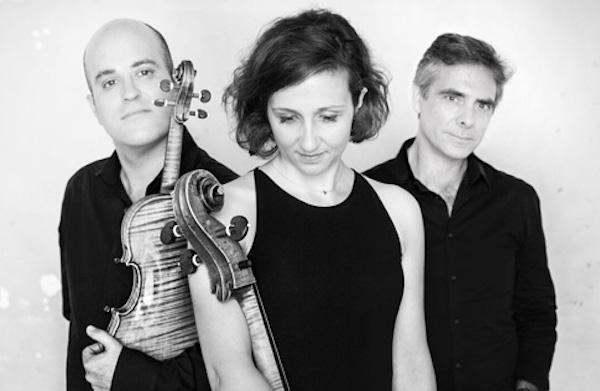 The Pangea Trio
arose from a shared desire to introduce audiences to 20th- and 21st-century music. The distinctive flavour of its output stems from its members' choice to express their Spanish, French and Portuguese musical backgrounds through a repertoire that includes many performance premieres of new works, while simultaneously creating original interpretations of Classical and Romantic trio repertoire.
All three musicians have performed in various duos, both with each other and with other musicians, and the trio has performed together in France, Portugal, Spain and Belgium, at the Centro Cultural de Belém (CCB) in Lisbon, the Calouste Gulbenkian Foundation in Portugal, the Casa da Música in Oporto, the Institut Français, the Auditorium L'Odyssée in Dreux, Mosan Summer Festival and the Fundación Museo Evaristo Valle among others.
They are regularly invited to play in the most prestigious festivals and concert cycles of Portugal and Spain such as Cistermúsica in Alcobaça, the Festival Internacional de Música de Marvão (FIMM), international music festivals in Leiria and Alcobaça as well as Música em São Roque in Lisboa, Cine-Teatro Avenida in Castelo Branco, Serões Musicais no Palácio da Pena in Sintra and Clásicos en Verano in Madrid.
The trio frequently collaborates with contemporary composers such as Sérgio Azevedo, Alexandre Delgado and Alberto Colla, and dedicated their debut album Une Goutte d'Ombre to the music of Emmanuel Hieaux (Disques Coriolan). They regularly perform for the Portuguese national radio station RTP – Antena 2.