---
Guinga & Gabriele Mirabassi
---
Biography Guinga & Gabriele Mirabassi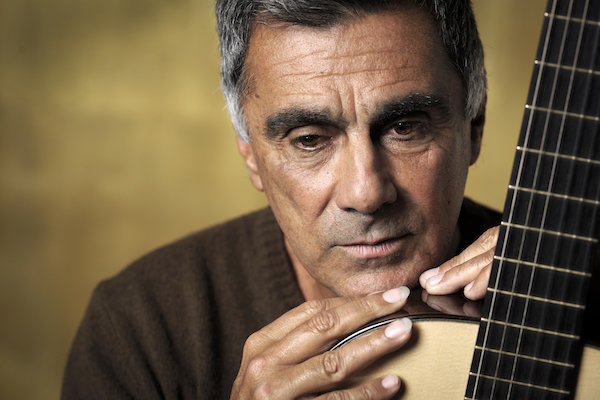 Guinga
"The most beautiful chords of the suburb" - Guinga (nee Althier Carlos de Souza Lemos Escobar), was born in Madureira (a neighborhood in the north side of Rio de Janeiro city) in 1950. He began composing at age 16, and later began classical guitar studies under Jodacil Damasceno for five years.
He worked professionally as a guitarist, accompanying artists such as Clara Nunes, Beth Carvalho, Alaíde Costa, João Nogueira and Cartola. He had many of his songs recorded by musicians like Elis Regina, Michel Legrand, Sergio Mendes, Leila Pinheiro, Chico Buarque, Clara Nunes, Ivan Lins and many others.
His compositions are partnerships with Paulo Cesar Pinheiro, Aldir Blanc, Chico Buarque, Nei Lopes, Sergio Natureza, Nelson Motta, Simone Guimaraes, Francisco Bosco and others. He has recorded a dozen CDs. Revered by critics, with increasing frequency has been considered "the largest and most important composer of Brazil today.". So tell him his peers. To cite only one, the wizard of sounds Hermeto Pascoal: "a guy like that only appears every hundred years".
In 2002, Guinga biography was written by journalist Mario Marques (Guinga, Os mais belos acordes de subúrbio, Ed Gryphus). In 2003 he had launched his songbook (Music de Guinga, Ed Gryphus). His CD "Rasgando Seda" in partnership with Quinteto Villa-Lobos, released in 2012, was nominated for Latin Grammy as Best Instrumental CD of the Year.
His most recent work, "Roendopinho", release through Acoustic Music Records, is collecting inumerous good reviews in specialized media.
Guinga is now widely considered to be Brazil's most innovative songwriter, as well as one its foremost guitarist. He is known for drawing on many musical genres, including chore, samba, frevo, modish, waltz, foxtrot, blues, classical music, and jazz. His compositions are often harmonically and rhythmically complex yet melodically accessible and emotionally resonant.
He has just won the first Prize at the Premio Da Musica Brasilieira 2015 in the section "The Best Brazilian Song".
Collaborations with: Elis Regina, Esperanza Spalding, Sergio Mendes, Dave Liebman, Toots Thielemans, Chico Buarque, Leila Pinheiro, Monica Salmaso, Ivan Lins, Clara Nunes, Lenine, Michel Legrand, Quinteto Villa Lobos, Nelson Gonsalves, Lula Galvao, Banda Mantiqueira, Orchestra Philarmonica di Los Angeles...
Hermeto Pascoal said of him (as quoted by Daniela Thompson) "He's somebody who only appears once every hundred years."