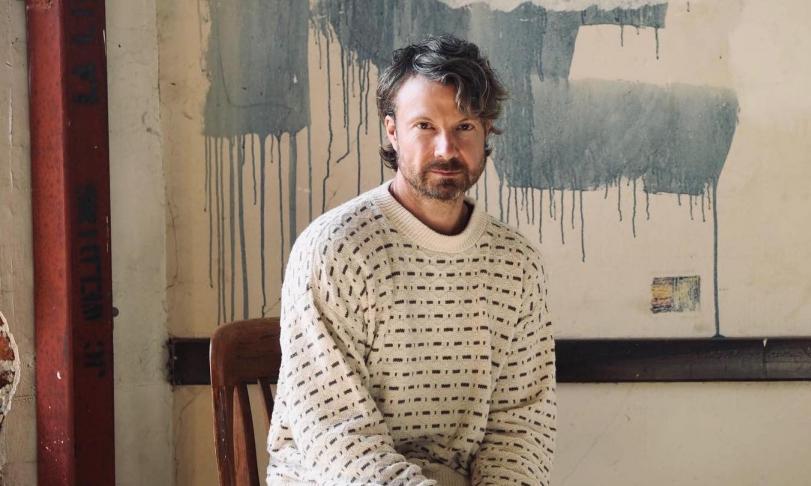 Sea Wolf, a band led its lead-singer Alex Brown Church, an indie folk musician from Los Angeles, California has released a new album, Through A Dark Wood, after a long break. Alex Brown Church named the band after a book by Jack London and says he identifies with the main character, a sea captain who is a "self-taught, intellectual, blue-collar type." One of the hallmarks of Sea Wolf's musical style is Alex Brown Church's ability to craft each song as if it were a unique story. With his background in the film industry, Church's eye for mise-en-scène is also evident in his music.
With Through A Dark Wood, Alex Brown Church grapples with his grief over a personal loss and searches for a way out of dark places. Opening track "Forward" is a somber, instrumental anthem that introduces the album's atmospheric signature with a focus on acoustic guitars and sweeping harmonies. This seamlessly leads to "Blood Pact," a moderately paced track that expresses the deep sorrow and forlornness of bandleader and songwriter Church: "I can't remember where I was before, I didn't know if I'd make it through the door. Now I get out of there and it's all good". The theme of being lost and searching for a better place is a common thread throughout the album's songs, which reflect the emotional state such trauma and tragedy can leave a person in.
Church's vocals fluctuate between a slow, soulful tone and a hypnotic hip-hop-style phrasing, as in the songs "Break it Down" and "Forever Nevermore." The rich, layered instrumentation and stuttering beat of "Break Down" provide head-shaking pleasure, while the chilling vibe of "Forever Nevermore" hides uncertainty in the lyrics.
The acoustic "Fear of Failure," is both vulnerable and encouraging: "I have to be brave, even though I'm still afraid." The immediacy of the song makes this a personal anthem. The song "I Went Up, I Went Down" expresses the will to live a normal life after a traumatic event and to fight through the onset of depression. This is quite credibly portrayed here with great pathos.
"Frank O'Hara" begins with threatening drums, followed by sensitively playing strings and soothingly flowing synthesizers that lead us through a dreamy, surreal landscape. The album ends with "Two of Us," a song that exuberantly celebrates the positive side of life.
Through a Dark Wood offers an emotionally engaging listening experience, superbly realized by Sea Wolf, that speaks of deep sadness as well as the fact that healing from it is within sight. Highly recommended.
Sea Wolf