---
Album info
Album including Album cover Booklet (PDF)
Franz Liszt (1811 - 1886): 2 Konzertetüden, S. 145: No. 1:

1

2 Konzertetüden, S. 145: No. 1, Waldesrauschen. Vivace

03:47

2 Konzertetüden, S. 145: No. 2:

2

2 Konzertetüden, S. 145: No. 2, Gnomenreigen. Presto scherzando

02:46

Piano Sonata in B Minor, S. 178:

3

Piano Sonata in B Minor, S. 178

27:54

6 Grandes études de Paganini, S. 141:

4

6 Grandes études de Paganini, S. 141: No. 1 in G Minor "Tremolo"

04:30

5

6 Grandes études de Paganini, S. 141: No. 2 in E-Flat Major "Octave"

04:51

6

6 Grandes études de Paganini, S. 141: No. 3 in G-Sharp Minor "La campanella"

04:27

7

6 Grandes études de Paganini, S. 141: No. 4 in E Major "Arpeggio"

02:07

8

6 Grandes études de Paganini, S. 141: No. 5 in E Major "La chasse"

02:48

9

6 Grandes études de Paganini, S. 141: No. 6 in A Minor "Thème et variations"

05:17

Total Runtime

58:27
Info for Liszt: Piano Works

Nach zwei erfolgreichen Einspielungen mit Werken von Chopin und Schumann "wagt" sich der in Bulgarien geborene Pianist Martin Ivanov an die Produktion einer Liszt-CD, und präsentiert dabei auch dessen wohl bedeutendstes Werk für Klavier solo, die Sonate in h-Moll S 178. Dieses monumentale, formal einsätzige Werk bietet seit jeher Spekulationen zu etwaiger programmatischer Aufladung Raum, so sehen viele in den drei unterschiedlichen musikalischen Themensträngen die Figuren des Faust-Stoffes Faust, Gretchen und Mephisto repräsentiert. Fakt ist, dass Liszt in diesem Fall selbst keine Programmatik andeutet. Daneben finden sich auf dieser CD als fulminanter Auftakt die zwei Konzertetüden S 145 (Waldesrauschen und Gnomenreigen) sowie als kraftvoller Abschluss die Grandes études de Paganini S 141.
Martin Ivanov, Klavier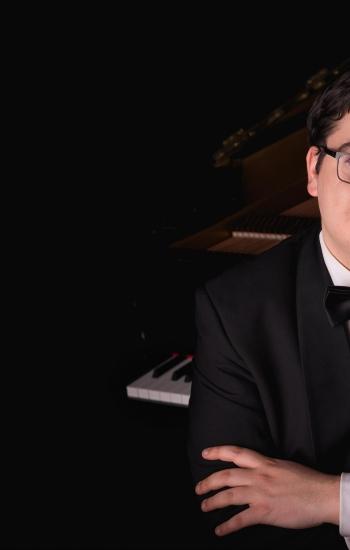 Martin Ivanov
The Bulgarian-born in 1990 as a son of a music family pianist Martin Ivanov began his piano education at the age of four.
His first teacher was his mother and later on he was inspired by numerous musicians and pedagogues, who took part in Ivanov's development as a concert pianist. Between 2001 and 2015 took participation in over 50 piano competitions worldwide.
Soon enough his talent was noticed by well-known influential people that supported him throughout his music education in Vienna.
In 2011 Ivanov met the bulgarian violinist Maria Ramalchanova. This encounter was fruitful both musically in the practiced form of the chamber music duo as well as privately with their marriage in 2015 and musical offspring. In 2016 Ivanov conducted extensive tours with 32 piano recitals to England, Austria, Germany and Hungary. In 2017 he made his debut at the Chopin Festival in Nohant, France.
The Waltzes of Frederic Chopin were the beginning of his collaboration with the largest music label in Austria "Gramola". In 2018 his second CD "Fantasiestücke und Novelletten" by Robert Schumann was also released and in 2019 - his 3rd (Liszt Sonata in b minor, Etudes).
In the same year he finished his concert pianist studies at the University for music and performing arts in Vienna.
Booklet for Liszt: Piano Works