---
Album info
Label: Ricercar
Genre: Classical
Subgenre: Chamber Music
Artist: Bor Zuljan
Composer: Carlo Gesualdo von Venosa (1566-1613), Alessandro Piccinini (1566-1639), Giovanni Kapsberger (1580-1651), Pietro Paolo Melli (1597-1623), Claudio Saracini (1586-1630), Bellerofonte Castaldi (1581-1649)
Album including Album cover Booklet (PDF)
Alessandro Piccinini (1566 - 1638): Toccata cromatica XII:

1

Piccinini: Toccata cromatica XII

03:39

Johannes Hieronymus Kapsberger (1580 - 1651): Gagliarda 12a:

2

Kapsberger: Gagliarda 12a

01:44

Alessandro Piccinini: Corrente IX:

3

Piccinini: Corrente IX

01:13

Carlo Gesualdo (1566 - 1613): Beltà poi che t'assenti:

4

Gesualdo: Beltà poi che t'assenti

03:32

Alessandro Piccinini: Gagliarda I:

5

Piccinini: Gagliarda I

01:01

Pietro Paolo Melli (1579 - 1623): Il ciarlino capriccio chromatico:

6

Melli: Il ciarlino capriccio chromatico

03:00

Alessandro Piccinini: Corrente I senza canto:

7

Piccinini: Corrente I senza canto

01:10

Corrente X:

8

Piccinini: Corrente X

01:14

Aria di saravanda in varie partite:

9

Piccinini: Aria di saravanda in varie partite

03:08

Johannes Hieronymus Kapsberger: Toccata 1a:

10

Kapsberger: Toccata 1a

04:18

Pietro Paolo Melli: Corrente detta la Bartola:

11

Melli: Corrente detta la Bartola

01:32

Claudio Saracini (1586 - 1630): Toccata al Conte San Secondo:

12

Saracini: Toccata al Conte San Secondo

02:45

Alessandro Piccinini: Toccata prima:

13

Piccinini: Toccata prima

04:43

Bellerofonte Castaldi (1580 - 1649): Cromatica corrente:

14

Castaldi: Cromatica corrente

01:01

Claudio Saracini: Toccata al Signor Alfonso Strozzi:

15

Saracini: Toccata al Signor Alfonso Strozzi

03:28

Carlo Gesualdo: Gagliarda del Principe di Venosa:

16

Gesualdo: Gagliarda del Principe di Venosa

01:57

Canzon Francese del Principe:

17

Gesualdo: Canzon Francese del Principe

05:56

Johannes Hieronymus Kapsberger: Toccata 6ta:

18

Kapsberger: Toccata 6ta

03:22

Corrente 7a:

19

Kapsberger: Corrente 7a

02:03

Toccata 3a:

20

Kapsberger: Toccata 3a

02:24

Pietro Paolo Melli: Corrente cromatica detta la Bernardella:

21

Melli: Corrente cromatica detta la Bernardella

01:33

Volta chromatica detta la Savia:

22

Melli: Volta chromatica detta la Savia

01:15

Vincenzo Bernia (1570 - 1620): Toccata cromatica:

23

Bernia: Toccata cromatica

01:40

Anonymous: Galliarde:

24

Anonymous: Galliarde

01:29

Pietro Paolo Melli: Corrente detta l'Alfonsina:

25

Melli: Corrente detta l'Alfonsina

01:30

Alessandro Piccinini: Ricercare primo:

26

Piccinini: Ricercare primo

01:55

Passacaglia:

27

Piccinini: Passacaglia

05:28

Total Runtime

01:08:00
Info for Gesualdo: Il liuto del principe

The scandalous composer Carlo Gesualdo, Principe di Venosa, was also an excellent lutenist extolled by his contemporaries. At the end of the sixteenth century he received the first two prototypes of the archlute from his colleague Alessandro Piccinini in Ferrara, one of which he kept. In the absence of music for the lute by this composer of genius, Bor Zuljan has imagined the sound world of the prince's archlute: a kaleidoscope of fabulous and extreme sonorities on this extravagant instrument, from transcriptions of his vocal and instrumental music to the astonishing chromatic compositions of the composers he is thought to have encountered in the course of his turbulent life. Includes works by C. Gesualdo, A. Piccinini, J. H. Kapsberger, P. P. Melli, C. Saracini etc.
Bor Zuljan, lute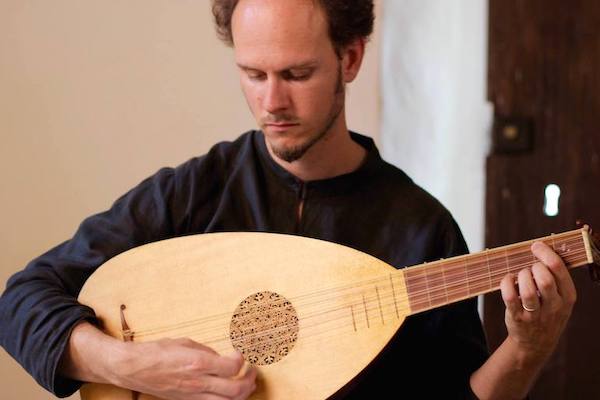 Bor Zuljan
is active in different musical genres playing many kinds of lutes and guitars, vihuelas, oud, tar and other early and traditional plucked-strings instruments. Recently he's been specializing particularly in the music of the Renaissance, rediscovering forgotten improvisation and playing techniques, instruments and sounds.
He is performing regularly as soloist and with ensembles, such as Tasto Solo, Graindelavoix, Le Concert Brisé, Slovenian Philharmonic Orchestra, in duo with Dusan Bogdanovic, with Rolf Lislevand, with Romain Bockler (Dulces Exuviae) as well as with his ensemble La Lyra. His projects have been presented in festivals such as the Laus Polyphoniae in Antwerpen, Oude Muziek in Utrecht, Festival Radovljica in Slovenia and many others. He also performed in the USA, in China, Algeria, Germany, France, Italy, Switzerland, Spain, Denmark, Romania and in Croatia and recorded award-winning CDs for several labels (Ricercar, Arcana, ...).
From 2011, he is the artistic director of an early music festival Flores Musicae in Slovenia. His critical edition of Gorzanis' Second lute book has been published by the Slovenian Musicological Society, resulting also in an awarded CD "La barca del mio amore" with music by the same composer, featuring La Lyra and the italian singer Pino De Vittorio (Arcana - Outhere Music). His second CD "Josquin - Adieu mes amours" with the duo Dulces Exuviae has recently appeared under Ricercar (Outhere Music) to great critical acclaim.
After graduating in jazz and classical programmes at the Ljubljana Conservatory of Music, he continued his studies with Aniello Desiderio in Koblenz, Germany. In 2007 he started studying at the Haute Ecole de Musique de Genève where he then obtained a Bachelor's and Master's degree in Guitar and Lute performance (Dusan Bogdanovic), continued with a specialization in Medieval music and finished a MA in lute pedagogy. Since 2011 he has been working as research assistant at the same school on a project on Fantasia improvisation on lute in the 16th Century, a topic he is developing for his doctoral thesis at the CESR in Tours.
He teaches lute at the Conservatoire Populaire de Musique, Danse et Théâtre de Genève, and has given numerous conferences and master classes at institutions, such as the Schola Cantorum Basiliensis, Fondazione Giorgio Cini in Venice, Haute Ecole de Musique de Genève, CNSMD Lyon, Escuela Superior de Musica de Mexico, and the Ljubljana Academy of Music.

Booklet for Gesualdo: Il liuto del principe