---
Album info
Album including Album cover
I`m sorry!
Dear HIGHRESAUDIO Visitor,
due to territorial constraints and also different releases dates in each country you currently can`t purchase this album. We are updating our release dates twice a week. So, please feel free to check from time-to-time, if the album is available for your country.
We suggest, that you bookmark the album and use our Short List function.
Thank you for your understanding and patience.
Yours sincerely, HIGHRESAUDIO
1

Dinah

02:53

2

Oh, Marie

02:39

3

Is You Is, Or Is You Ain't My Baby?

04:04

4

Jack, You're Dead

03:17

5

Whistle Stop

02:30

6

Choo Choo Ch'Boogie

02:56

7

Basin Street Blues

03:44

8

Jump, Jive An' Wail

03:52

9

Knock Me A Kiss

02:47

10

Struttin' With Some Barbecue

03:54

11

Five Months, Two Weeks, Two Days

02:28

12

Ain't Nobody Here But Us Chickens

03:20

13

When The Saints Go Marching In

04:31

Total Runtime

42:55
Info for Louie Louie Louie

Big Bad Voodoo Daddy, the incomparable kings of swing, announce an all new album, Louie! Louie! Louie! an electrifying celebration of jazz legends Louie Armstrong, Louie Jordan and Louie Prima. On their eleventh album and third for iconic label Savoy Jazz, the band is sharper than ever as they pay homage to their jazz heroes. Produced by founder and lead singer Scotty Morris, the album reveals the evolution of swing, jazz and popular music through the songs and personalities of these three giants of American culture.
"We really want people to know about these great artists that have so deeply influenced us, and perhaps help spark a new creative interest in them and their music. It's important to educate people about this — if someone doesn't continue to spread the word, it's going to go away and that's something we can't afford to have happen," says bandleader, vocalist and songwriter, Scotty Morris.
"Although still largely associated with the '90s neo-swing movement, Big Bad Voodoo Daddy have long outrun that moment's MTV zeitgeist and spent the 2010s deepening their jazz roots. The past decade-and-a-half have found them branching out, exploring New Orleans blues, Cajun, and second-line traditions on 2003's Save My Soul, and paying tribute to legendary Harlem bandleader Cab Calloway on 2009's How Big Can You Get? In this spirit of reinvestigating their influences, the band's 11th studio album, 2017's urbane and upbeat Louie Louie Louie, finds them celebrating three of their biggest musical heroes: Louis Armstrong, Louis Prima. and Louis Jordan. Here, the band round up a nicely curated set of tunes popularized by the three "Louies" and inject them with their own zesty brand of jump blues. Some of the song choices are deliciously on the nose with cuts like Jordan's "Ain't Nobody Here But Us Chickens," Prima's "Five Months, Two Weeks, Two Days," and Jordan's "Jack, You're Dead!," feeling like well-loved road covers the band have played hundreds of times. Others, especially Armstrong's Herculean "Struttin' with Some Barbecue" and the suavely refined "Basin Street Blues," with their nuanced harmonies and tricky horn lines, vibrate with a sense of danger and ambition as if the band had dared themselves to make them their own. Thankfully, they do. Elsewhere, we get equally compelling takes on "Dinah," "Choo Choo Ch'Boogie," "Knock Me a Kiss," and more. It's also fun to hear the band put their own stamp on one of the biggest anthems of the neo-swing movement, Prima's "Jump, Jive an' Wail," popularized in 1998 by the Brian Seltzer Orchestra. Still centered on lead singer/guitarist Scotty Morris, Big Bad Voodoo Daddy have settled into a warm, crisply delivered style of swing that's studio savvy and precise while also full of in-the-moment improvisation and an overall live-sounding aesthetic. Helping to achieve this aesthetic is longtime pianist Joshua Levy, who supplied all the arrangements on Louie Louie Louie. Also impressive are bandmembers trumpeter Glen "The Kid" Marhevka, alto and tenor saxophonist Karl Hunter, and baritone saxophonist Andy Rowley, who all get plenty of room to solo. The result is an album that strikes a balance between Jazz at Lincoln Center-style adherence to tradition and dynamic, pop-informed bravura showmanship." (Matt Collar, AMG)
Scotty Morris, lead vocals, guitar
Kurt Sodergren, drums, percussion
Dirk Shumaker, double bass, vocals
Andy Rowley, baritone saxophone, vocals
Glen "The Kid" Marhevka, trumpet
Karl Hunter, saxophones, clarinet
Joshua Levy, piano, arranger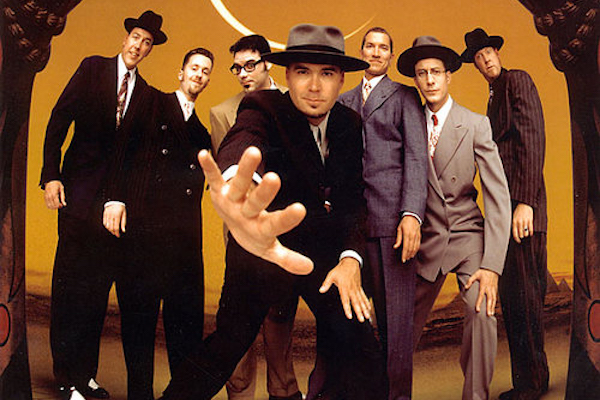 Big Bad Voodoo Daddy
Forming in the early nineties and at the forefront of swing revival during midst of the grunge era, Big Bad Voodoo Daddy blended a vibrant fusion of the classic American sounds of jazz, swing and dixieland, with the energy and spirit of contemporary culture. Taking inspiration from the creators of this uniquely American art form, the band's original horn-infused music and legendary high energy show introduces the genre to a new and younger generation while remaining cognizant and respectful of the music's rich legacy.
The band's all original core line-up includes Scotty Morris (lead vocals and guitar), Kurt Sodergren (drums), Dirk Shumaker (double bass and vocals), Andy Rowley (baritone saxophone and vocals), Glen "The Kid" Marhevka (trumpet), Karl Hunter (saxophones and clarinet) and Joshua Levy (piano and arranger). Joining them on the road are Anthony Bonsera Jr. (trumpet) and Alex Henderson (trombone.)
After 23 years, 10 records, over 2700 live shows, and countless appearances in film and television, Big Bad Voodoo Daddy is showing no signs of slowing down, and is looking forward to celebrating its 25th anniversary in 2018.

This album contains no booklet.