---
Album info
Album including Album cover Booklet (PDF)
Franz Schubert (1797 - 1828): Grand Piano Sonata in A Minor, Op. 143, D. 784:

1

Grand Piano Sonata in A Minor, Op. 143, D. 784: I. Allegro giusto (Live)

09:53

2

Grand Piano Sonata in A Minor, Op. 143, D. 784: II. Andante (Live)

04:06

3

Grand Piano Sonata in A Minor, Op. 143, D. 784: III. Allegro vivace (Live)

05:49

Maurice Ravel (1875 - 1937): Gaspard de la nuit, M. 55:

4

Gaspard de la nuit, M. 55: I. Ondine (Live)

07:08

5

Gaspard de la nuit, M. 55: II. Le gibet (Live)

05:36

6

Gaspard de la nuit, M. 55: III. Scarbo (Live)

09:12

Ludwig van Beethoven (1770 - 1827): Piano Sonata No. 32 in C Minor, Op. 111:

7

Piano Sonata No. 32 in C Minor, Op. 111: I. Maestoso - Allegro con brio ed appassionato (Live)

07:39

8

Piano Sonata No. 32 in C Minor, Op. 111: II. Arietta. Adagio molto semplice e cantabile (Live)

18:37

Total Runtime

01:08:00
Info for Schubert, Beethoven & Ravel: Piano Works (Live)

Universal music, resounding philosophy, and the tragedy of fate: breathtaking tales of the night are presented by the Korean pianist JeungBeum Sohn on his new GENUIN CD. The winner of the ARD Music Competition and the International German Piano Award plays works by Schubert, Beethoven, and Ravel that deal with powerful, touching, and demonic finalities. Schubert's late sonata in A minor, Beethoven's Op. 111, and Ravel's Gaspard de la Nuit are no easy fare. JeungBeum Sohn, however, performs these pieces with a sweeping breadth and deep earnestness while never neglecting pianistic brilliance and richness of color. Equally impressive and moving.
JeungBeum Sohn, piano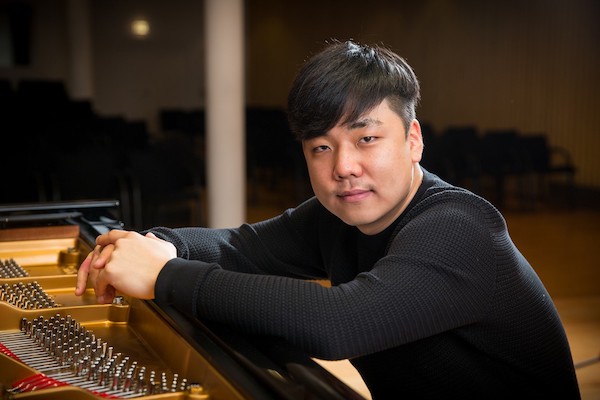 JeungBeum Sohn
2019 JeungBeum Sohn won the 9th International German Piano Award in Frankfurt am Main. In 2017 he became the first Korean pianist to win First Prize at the Munich ARD International Music Competition thanks to his powerful and flawless technique and mature and forthright musical intuition. Further awards include the George Enescu International Competition and the Minister's Prize of the Ministry of Culture, Sports and Tourism of Korea, which is awarded to talented people who have brought honor to Korea.
Along with the subtly nuanced timbres of his playing, his creative interpretations have captured the hearts of many. His achievements in competitions have allowed him to collaborate with the most distinguished musicians in major concert venues in Europe.
Sohn started to play the piano at the age of four and first performed in public at the age of eight. His outstanding musical talent was demonstrated at an early stage by success in numerous piano competitions. He successfully made his concerto debut with the Seoul Philharmonic Orchestra at the age of 13. When he was 16 years old, JeungBeum Sohn entered the Korean National University of Arts to continue his piano studies and graduated under the guidance of Choong Mo Kang.
From 2012 he studied with Arnulf von Arnim at the Hochschule für Musik und Theater in Munich, where he obtained his Master's degree followed by the concert diploma at the Musikhochschule Münster. Sohn has worked with numerous renowned orchestras, among them the Bavarian Radio Symphony Orchestra, the Munich Chamber Orchestra at the Philharmonie Gasteig in Munich, the One Korea Youth Orchestra under the baton of Maestro Myung Whun Chung, the Korean Symphony Orchestra, and the Colloquium Musicum Basel Orchestra, and performed in a Mozart piano concerto series with the Korean Chamber Orchestra under the baton of Sir Ralf Gothóni.
Recently, a series of recitals have taken JeungBeum Sohn to important concert venues such as the Alte Oper Frankfurt, the Gewandhaus zu Leipzig, and the Klavier-Festival Ruhr, followed by performances in major cities such as Berlin, Dresden, Munich, Münster, Stuttgart and Weimar in Germany, at the Busoni Piano Festival and the Cervo Festival in Italy, and in Flagey, Belgium.

Booklet for Schubert, Beethoven & Ravel: Piano Works (Live)