---
Album info
Album including Album cover Booklet (PDF)
Maurice Ravel (1875 - 1937): Valses nobles et sentimentales, M. 61:

1

Valses nobles et sentimentales, M. 61: I. Modéré – tres franc

01:19

2

Valses nobles et sentimentales, M. 61: II. Assez lent – avec une expession intense

02:21

3

Valses nobles et sentimentales, M. 61: III. Modéré

01:37

4

Valses nobles et sentimentales, M. 61: IV. Assez animé

01:34

5

Valses nobles et sentimentales, M. 61: V. Presque lent – dans un sentiment intime

01:10

6

Valses nobles et sentimentales, M. 61: VI. Vif

00:42

7

Valses nobles et sentimentales, M. 61: VII. Moins vif

03:34

8

Valses nobles et sentimentales, M. 61: VIII. Epilogue – Lent

03:51

George Enescu (1881 - 1955): Piano Sonata No. 1 in F-Sharp Minor, Op. 24:

9

Piano Sonata No. 1 in F-Sharp Minor, Op. 24: I. Allegro molto moderato e grave

13:20

10

Piano Sonata No. 1 in F-Sharp Minor, Op. 24: II. Presto vivace

04:44

11

Piano Sonata No. 1 in F-Sharp Minor, Op. 24: III. Andante molto espressivo

08:48

Claude Debussy (1862 - 1918): Préludes pour piano, L. 117, Livre 1:

12

Préludes pour piano, L. 117, Livre 1: III. Le vent dans la plaine

02:28

13

Préludes pour piano, L. 117, Livre 1: VIII. La fille aux cheveaux de lin

02:14

14

Préludes pour piano, L. 123, Livre 2: XII. Feux d'artifice

04:37

Claude Debussy:

15

La Plus Lente, L. 121

05:20

Total Runtime

57:39
Info for Paris

From the early 1800s to the end of the 1960s, Paris was the focal city of the arts world par excellence. La Ville Lumière was the city of intellectualism, a place which drew writers, artists and musicians from all over France and overseas. Paris, where every topic became a theme for discussion, and every discussion a reason to form a group, was the nursery from which every tendency and movement was to bud during the following 150 years. But as always, there were traditionalists who opposed this modern turn, and in a country whose culture was innately non-conformist the stage was set for debate. In the eighteenth century, the French were divided over whether music should follow French tastes or be inclined to the Italian. Then came the Romantics and the Wagnerians, Parnassianism, Naturalism, the Symbolists and the Impressionists, and all the diverse stylistic movements that fell into the melting pot of Expressionism.France was awash with influences, and composers of the time were hugely affected in a way never before seen in history: by inspiration from literature, visual arts and philosophy.
For decades now, Elisabeth Leonskaja has been among the most celebrated pianists of our time. In a world dominated by the media, Elisabeth Leonskaja has remained true to herself and to her music, and in doing so, is following in the footsteps of the great Russian musicians of the Soviet era, such as David Oistrakh, Sviatoslav Richter and Emil Gilels, who never wavered in their focus on the quintessence of music despite working in a very difficult political environment. Her almost legendary modesty still makes her somewhat media-shy today. Yet as soon as she walks out on the stage, audiences can sense the force behind the fact that music is and always has been her life's work.
Elisabeth Leonskaja, piano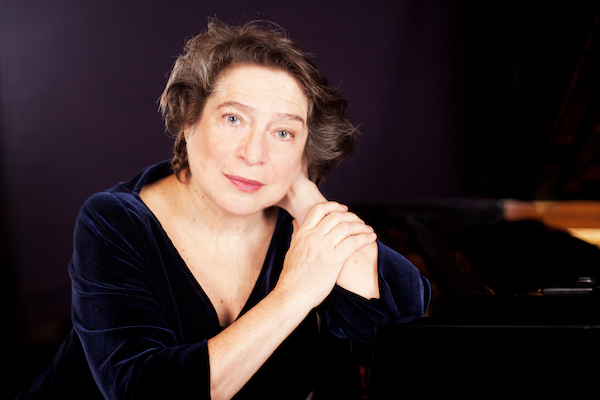 Elisabeth Leonskaja
has long been among the most celebrated pianists of our times. In a world dominated by commercial media, she has remained true to herself and to music, in the tradition of great Russian musicians such as David Oistrakh, Sviatoslav Richter and Emil Gilels. Like them, she has always stood for the quintessence of music even under the most difficult political conditions. And like them, she has never been interested in showy appearances. On stage, however, she overwhelms the audience with the power of the music; this has been the substance and the goal of her life.
Born into a Russian family in Tbilisi, Elisabeth Leonskaja gave her first concerts at the age of eleven. While still a student at the Moscow Conservatory, she won prizes at major international piano competitions, including the Enescu Prize, the Marguerite Long-Jacques Thibaud Competition and the Queen Elisabeth of Belgium Prize. Her musical development was decisively influenced by her collaboration with Sviatoslav Richter who recognized her exceptional talent and encouraged her by inviting her to play duo concerts with him. This musical and personal friendship continued until Richter's death in 1997.
Leonskaja left the Soviet Union in 1978 and made Vienna her home. Since then, she has performed as soloist with the world's finest orchestras and has worked with many renowned conductors. She is a regular guest at numerous international festivals, such as the Wiener Festwochen, the Schleswig-Holstein Music Festival, the Schuertiade Schwarzenberg, the Spring Festival Tokyo and the December Nights in Moscow. Her name is also to be found among international recitalists in the most prominent piano series of major musical centers oft he world from Paris to Vienna to Melbourne.
In addition to her many solo engagements, chamber music remains an important part of her work. She has performed many times with string quartets, such as the Belcea, Borodin Artemis and Jerusalem quartets. She also had a longstanding musical friendship with the Alban Berg Quartet, and their piano quintet recordings are legendary.
Numerous LPs and CDs bear witness to the pianist's high artistic level, and her recordings have repeatedly been awarded prizes. The most recent appeared on eaSonus (www.easonus.com). "Paris", with works by Ravel, Enescu and Debussy, was named the Solo Recording of the Year 2014 by the ICMA Jury. "Saudade", an homage to Russian culture with works by Tchaikovsky, Shostakovich and Rachmaninoff, was released in November 2017. A complete recording of Franz Schubert's piano sonatas in two volumes of four CDs each has been available since April 2016 and May 2019 respectively. A double-CD with variations and sonatas by Robert Schumann followed in January 2020.
In her second homeland, Austria, Elisabeth Leonskaja is an honorary member of the Vienna Konzerthaus. In 2006 she was awarded the Austrian Cross of Honor for Science and Art, First Class, for her outstanding service to the culture of the country. It is the highest award in Austria. In Georgia, she was named Priestess of Art in 2016, this country's highest artistic honor. In 2020 she received the International Classical Music (ICMA) Lifetime Achievement Award.

Booklet for Paris