---
Album info
Album including Album cover
1

In Motion

13:23

2

Urban Flow

11:34

3

Real Love

07:59

4

Smooth Minds

10:09

5

Flow

10:22

6

Cosmic Showdown (Bonus Track)

11:19

7

The Eye Of A Hurricane (Bonus Track)

12:57

Total Runtime

01:17:43
Info for Flow

According to Siegbert A. Warwitz, the prototype of the human being in the Flow is the playing child, which is happy playing on his own. Furthermore, this stands for a state of total but effortless focus. Especially musicians know that feeling of being in the Flow, delving into their own art, the rhythm and soundscape. Thomas Siffling as well is completely aware of the state of Flow. This is one of the topics the artist has covered during the creative process of working on his new album. The aim was to write and produce music, which - calmly yet groovy – invites the listener to sink deep into it and releases an enormous amount of energy. After 15 years of being part of a successful trio, Thomas Siffling is surrounded by a completely new quintet for his latest production Flow. They deliver a modern, maverick, Nordic, and electronical sound, which maintains the natural brilliance and clarity of the trumpeter.
"With an electrified band and Siffling's own use of effects, it would be difficult not to draw comparisons to some of Miles Davis' '80s […] The end result was something that straddled the line between Davis' rhythm and groove predilections and the more textural concerns of bands by artists including Nils Petter Molvaer and Bugge Wesseltoft." (John Kelman, AllAboutJazz)
Thomas Siffling, trumpet
Konrad Hinsken, piano, Fender Rhodes
Dirk Blümlein, bass
Christian Huber, drums, electronics
Alex Gunia, guitar, electronics
Recorded by Markus Born
Mastered by Kai Blankenberg
Mixed by Alex Gunia, Markus Born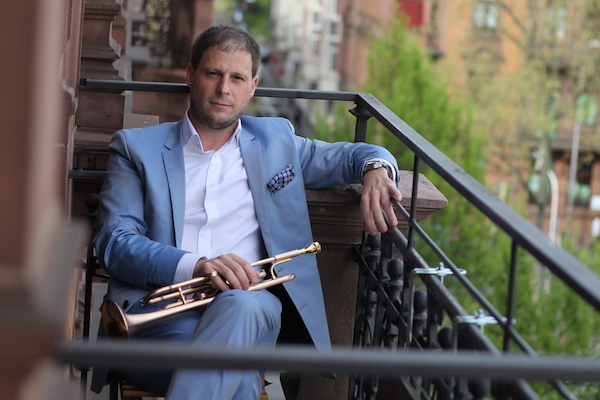 Thomas Siffling
For many years the trumpet player Thomas Siffling belongs to the forerunners concerning electronic influence in the jazz. He is valid as one of the most important representatives of the 'young' German jazz scene and has made to himself by numerous guest performances in Germany and foreign countries a name. Thus he guested already among other things in Russia, India, Sri Lanka, Canada and numerous European states.
With his main project to Thomas Siffling Trio (trumpet, bass and drums) he presents a clear and understandable jazz with claim and draught. A music sounding up-to-date and young it attracts nationwide as well as internationally more and more attention. In his newest project in the duet with Claus Boesser Ferrari in the acoustic guitar 'Duologix' he devotes himself rather to the modern and experimental sounds in an acoustically electronic context are put. Another exciting project the variety Sifflings underlines.
Siffling in 2005 with the famous jazz price of the country Baden-)Wurttemberg teaches excellently since 2010 at the college for music Saarbrucken jazz trumpet and pursues his own Produktions company with two record labels (JAZZ'n'ARTS and Personality Records). Since 2006 he has his own concert series at the National Theatre of Mannheim and since 2012 he is a jazz adviser for the Jazz & Joy Festival in Worms.

This album contains no booklet.