---
Album info
Album including Album cover Booklet (PDF)
Franz Schubert (1797 - 1828): Sonatina No. 1 for Piano and Violin in D Major:

1

Schubert: Sonatina No. 1 for Piano and Violin in D Major, Op. 137 posth, D. 384: I. Allegro molto

04:34

2

Schubert: Sonatina No. 1 for Piano and Violin in D Major, Op. Posth. 137 , D. 384: II. Andante

04:32

3

Schubert: Sonatina No. 1 for Piano and Violin in D Major, Op. Posth. 137 , D. 384: III. Allegro vivace

04:25

Sonatina No. 2 for Piano and Violin in A Minor:

4

Schubert: Sonatina No. 2 for Piano and Violin in A Minor, Op. 137 posth, D. 385: I. Allegro moderato

09:03

5

Schubert: Sonatina No. 2 for Piano and Violin in A Minor, Op. Posth. 137, D. 385: II. Andante

07:02

6

Schubert: Sonatina No. 2 for Piano and Violin in A Minor, Op. Posth. 137, D. 385: III. Menuetto. Allegro

02:23

7

Schubert: Sonatina No. 2 for Piano and Violin in A Minor, Op. Posth. 137, D. 385: IV. Allegro

04:53

Sonatina No. 3 for Piano and Violin in G Minor:

8

Schubert: Sonatina No. 3 for Piano and Violin in G Minor, Op. Posth. 137, D. 408: I. Allegro giusto

05:14

9

Schubert: Sonatina No. 3 for Piano and Violin in G Minor, Op. Posth. 137, D. 408: II. Andante

07:28

10

Schubert: Sonatina No. 3 for Piano and Violin in G Minor, Op. Posth. 137, D. 408: III. Menuetto. Allegro

02:24

11

Schubert: Sonatina No. 3 for Piano and Violin in G Minor, Op. Posth. 137, D. 408: IV. Allegro moderato

04:17

Rondo brilliant, for Piano and Violin in B Minor:

12

Schubert: Rondo brilliant, for Piano and Violin in B Minor, Op. 70, D. 895: I. Andante

03:23

13

Schubert: Rondo brilliant, for Piano and Violin in B Minor, Op. 70, D. 895: II. Allegro più mosso

12:22

Total Runtime

01:12:00
Info for Schubert: Violin & Piano

The Lightness of Schubert: "Schubert's music is always associated in my imagination with a journey in a horse-drawn carriage. Outside, the scenery is flowing by. Cities, mountains, rivers, lakes, villages. At times the carriage slows down, then it speeds up again, but I always have that feeling of being on a journey. Not on foot and not on horse, but in a carriage on wheels." (Elena Bashkirova)
The year 1816 ushered in a series of new beginnings for 19-year old Franz Schubert. He had applied for a music teaching job in Laibach (and soon would probably be overjoyed in secret that he was turned down, thus avoiding the task of school teaching, which he abhorred). He sent Goethe a notebook with songs of his pen, hoping, in vain, that he would be allowed to dedicate them to the "prince of poets". He dreamt of his future wedding with the soprano Therese Grob. And he composed incessantly. Apart from countless songs, Schubert's catalogue already included a half-dozen works for the stage, three masses, sixteen string quartets, overtures, piano music, and choir pieces. Now, in the course of just a few weeks, he wrote his 4th Symphony, the "Tragic". A cantata likewise flowed from his pen. And the Stabat Mater. Fourteen new songs. Furthermore: three sonatas "for fortepiano and violin", his first chamber music works for violin.
Schubert probably intended these sonatas as music for domestic use: perhaps for Ferdinand, his favorite brother, who, one year thereafter, arranged them for orchestra with Schubert's approval.
Or perhaps they were destined for the convivial circle of friends who gathered on a regular basis to make music, read out loud to one another, and have lively discussions. Schubert also took up the violin himself at times: in his school days, he had been the leader of the orchestra at the Vienna Stadtkonvikt (Municipal Seminary), where he was a pupil.
He thus may have played these sonatas himself on the violin. We do not know. The sonatas were only published in 1836, many years after Schubert's death: publisher Anton Diabelli gave them the title "sonatinas", and the name has stuck until today.
Indeed, despite their brevity, and although at first glance they seem relatively easy to master in terms of technique, the seemingly harmless epithet conceals a richly varied musical cosmos we can discover through these works. (Excerpt of the line notes by Eva Blaskewitz)
Mihaela Martin, violin
Elena Bashkirova, piano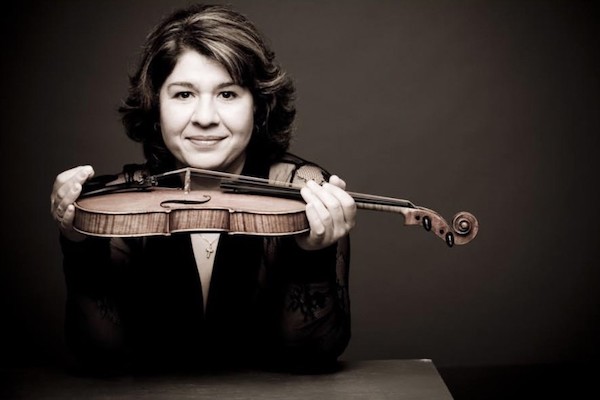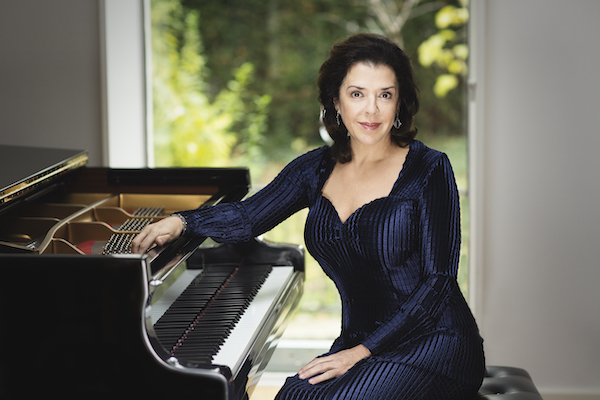 Mihaela Martin
is a very versatile musician who has played the violin since she was five years old. Equally at home as a soloist and as part of a chamber ensemble, Martin has collaborated with musical greats such as Kurt Masur, Nikolaus Harnoncourt, Sir Yehudi Menuhin, Martha Argerich, Radu Lupu, Leon Fleisher, and Menahem Pressler.
Born in Bucharest, Romania, Martin began studying the violin under the guidance of her father, himself a violinist. Her talent soon became clear and she began to win national competitions. She went on to gain recognition outside of Romania, being awarded top prizes at major international competitions, such as the International Tchaikovsky Competition, the Montreal International Music Competition, the Queen Elisabeth Competition and the International Violin Competition of Indianapolis.
Martin was both humanly and musically influenced by two outstanding musicians, who were her teachers at different stages of her musical development: Silvia Marcovici and the great pedagogue, Stefan Gheorghiu, with whom she studied for 10 years. She left Romania in 1986 and has since resided in Germany.
She is a regular guest at many chamber music festivals, and pursues her intense love for chamber music as member of the Michelangelo String Quartet, which she helped found in 2003, and with whom she continues to tour extensively.
Another of Martin's great passions is sharing her musical knowledge and curiosity with the young generation of musicians, and following their development closely. She holds professorships at the Hochschule für Musik in Köln, Kronberg Academy, and at the Barenboim-Said Akademie.
Elena Bashkirova
The pianist Elena Bashkirova once said, "Chamber music is music's soul," and this belief is evident in her work as a soloist, accompanist, ensemble musician, and program planner. Her approach to all aspects of music is one of empathetic collaboration and communication.
Among the highlights of the 2020/21 season for Bashkirova – subject of course to the uncertainties of the pandemic – are recitals in St. Petersburg, in the Chamber Music Hall of the Berlin Philharmonie, and at the Ruhr Piano Festival. Song recitals with Georg Nigl and Martina Gedeck are planned in Munich, the Cologne Philharmonie, the Théâtre de la Monnaie in Brussels, and at the Heidelberg Frühling festival. As a soloist, Elena Bashkirova will perform Mozart's Concerto in G Major KV 453 and Robert Schumann's Piano Concerto with the Tonkünstler Orchestra, the Odessa Philharmonic, the Tchaikovsky Symphony Orchestra, and the Sofia Philharmonic. A South American tour is planned, as well as chamber music concerts in Paris, Geneva, and other cities with international soloists from the Jerusalem International Chamber Music Festival.
Bashkirova comes from a Russian musical dynasty going back generations. Born in Moscow, she began her studies at the age of 15 in the class of her father, the legendary piano pedagogue Dmitry Bashkirov. Together with violinist Gidon Kremer, with whom she has often performed as a duo and has made a number of recordings, Elena Bashkirova left the Soviet Union in 1978 and moved to Paris. She has been influenced by her work with conductors such as Pierre Boulez, Sergiu Celibidache, and Michael Gielen. Since 1992, she has lived in Berlin with her husband, Daniel Barenboim.
Bashkirova is Artistic Director of the Jerusalem International Chamber Music Festival, which she founded in 1998. The festival takes place each year in September and has become a pillar of Israel's cultural life, bringing together outstanding soloists from around the world. In addition, the widely acclaimed Intonations Festival has taken place in April of each year since 2012 in Berlin's Jewish Museum. Together with musicians from these festivals, Elena Bashkirova performs regularly in the world's most important chamber music series, including summer festivals such as the Lucerne Festival, the Rheingau Music Festival, the George Enescu Festival in Bucharest, and the Beethovenfest in Bonn. Numerous recordings document the highlights of programs conceived by Bashkirova for various chamber music groupings.
The repertoire for piano and voice is of particular importance to Bashkirova. The list of singers with whom she performs as a duo includes Anna Netrebko, Olga Peretyatko, Dorothea Röschmann, René Pape, and Robert Holl.
Bashkirova's recording of two Tchaikovsky cycles, "The Seasons" and "Album for Children", received the ICMA award in the category "solo instrument" in 2017. Her complete recording of Antonin Dvorak's "Poetic Tone Pictures" op. 85 was released in October 2020.
In 2018, Elena Bashkirova received the Ruhr Piano Festival Prize and was awarded an honorary doctoral degree by Ben-Gurion University of the Negev. She was recently named conductor Kurt Masur's successor as President of the Felix Mendelssohn-Bartholdy Foundation in Leipzig.

Booklet for Schubert: Violin & Piano