---
Album info
Album including Album cover
I`m sorry!
Dear HIGHRESAUDIO Visitor,
due to territorial constraints and also different releases dates in each country you currently can`t purchase this album. We are updating our release dates twice a week. So, please feel free to check from time-to-time, if the album is available for your country.
We suggest, that you bookmark the album and use our Short List function.
Thank you for your understanding and patience.
Yours sincerely, HIGHRESAUDIO
1

Fire

04:15

2

Statues

03:46

3

Crazy Shade of Blue

04:13

4

The Hudson (48 kHz)

04:59

5

The Human Demands

03:53

6

We Could Be So Much More

03:57

7

Young Fire, Old Flame

03:43

8

Bridges

03:59

9

Strong Again

04:08

10

Something in Nothing

03:39

Total Runtime

40:32
Info for The Human Demands

Amy Macdonald has achieved huge international success while resolutely doing things her own way. World tours in front of 3.3 million people, over 200 million Spotify streams, four Top 5 albums (including her #1 debut), six million album sales and the landmark hit 'This Is The Life' which topped the charts in ten countries, Amy will now release her fifth and finest album 'The Human Demands' on October 30th. It represents her first release under a new deal with Infectious / BMG and is launched alongside the lead single 'The Hudson'.
Produced by Jim Abbiss (Arctic Monkeys, Kasabian), the new album 'The Human Demands' rediscovers, from a grown-up perspective, that magic youthful moment of excitement and discovery we can all relate to. It finds Amy reconnecting with her indie roots, albeit with a Bruce Springsteen-like widescreen grandeur and an ambition that suits her powerful, resonant vocal. Its themes include getting older, dealing with depression, and falling in love with someone you want to spend the rest of your life with.
"A lot of the themes on this album are about getting older, which seems ridiculous given I'm only in my early 30s," Amy explains. "But I signed my first record contract at 18, which feels like a lifetime ago, and on a personal level I'm at the stage in life where parents are getting on, friends have faced depression to the point of not wanting to be here anymore, and everyone has had ups and downs whatever their background. It's OK to feel a bit crap, and it's OK to talk about it as well."
The first single 'The Hudson' is the perfect introduction, an upbeat rocker which was inspired by the stories Amy's dad used to tell her about going to New York with her mum in the 70s. It also echoes the themes of her debut single 'Mr Rock & Roll', evaluating whether or not you've made the right choices in life.
"New York was dangerous back then, definitely not a tourist spot, which made me think about their relationship," she says. "Growing up, Mum and Dad were at each other's throats, but then so were the parents of everyone I knew. You go through your life with someone you shout and swear at the whole time, but if you ever parted you'd reminisce about them constantly."
Recording for the new album started early this year with Jim Abbiss, an influential force and someone that Amy had an immediate connection with. But just as the duo picked up momentum, lockdown put the project on pause for three months. It was a setback, but one with an unexpected longer-term benefit – the excitement that everyone felt to be working again shimmers throughout the ten-track album.
The result is the most personal album of Amy's career. Amy is back where she began: with an album that captures the essence of who she is. The fact that it was made in the midst of global pandemic only adds to her feeling that this is a fresh start.
"Usually I would be flying around Europe, doing radio sessions and interviews. Now I can't do that, which makes me feel like we're back at the beginning because I didn't do those things then either. I'm back to making music I like and just putting it out in a pure way. It has given me a new love for what I do, all over again."
Amy Macdonald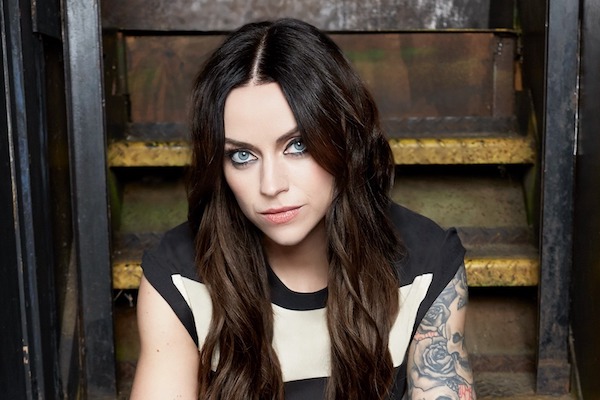 Amy Macdonald
lives a life that's ordinary in every way but one. The 28 year old has sold over 9 million records, conquered Europe and won countless awards. Yet when she arrives at a restaurant in Glasgow to discuss her glorious new album, Life In A Beautiful Light, no one bats an eyelid. Which is precisely how she likes it. 2014 has seen Amy play at the opening of the Commonwealth Games in Glasgow with Rod Stewart, play at the Ryder Cup opening ceremony and win Scottish Fashion Icon 2014, as well as headlining sold out shows across Europe. Macdonald has been famous since the age of 18, when she burst in to the charts with a debut album, This Is The Life, that bore the hallmarks of her homeland. Rootsy folk-rock might describe it, or just gutsy pop played on real instruments. There were no tricks or trying to keep up with trends. Live, Macdonald didn't need dancers, props or expensive light shows. Her image was as honest as her songs, in which real tales of real lives became stomping singalongs. Nine years on, Macdonald insists that little has changed. She looks sleeker and dresses smarter, she has bought her own home and the band with which she toured non-stop until the end of 2013 feels like a second family. But when it comes to her job as a songwriter, Macdonald remains a simple storyteller, albeit one with an ear for a magnificent melody and a striking way with words. One song for Life In A Beautiful Light is the heady, air-punching anthem "In The End," which closes the album. It was written at the tail end of Macdonald's last tour, when she found herself questioning whether being a musician was a worthwhile occupation. "It's very rare that I write about myself," she laughs. "But that song is me pondering what I'm doing with my life. My sister's a doctor, she helps people every day. Do I help people? I thought about it and realised that making music is a contribution. I get so many letters from fans saying they feel better when they listen to my songs. So I'm not as bad as I thought!" The other was the sprightly, strings-soaked "Human Spirit," which Macdonald wrote about the Chilean miners' nail-biting rescue. "How could you not be inspired by that story?" she says. "I felt compelled to write about it. I've always been a narrative songwriter, inspired by actual events. Every human emotion was etched on the faces of those miners' families. I went through most of them myself." Macdonald's great gift is not only to capture those emotions in song, but to describe real events in a way that relates to the lives of her fans, be they in Britain or abroad, where her honesty and earthiness has won her armies of fans and seen her sell out stadiums. Life In A Beautiful Light does precisely what the title suggests -- it's a life-affirming set of songs steeped in optimism. Hope seeps from the majestic, shimmering "Across The Nile," a song inspired by Egyptians celebrating the recent downfall of President Mubarak. Joy drives the raucous, rollicking "4th Of July," on which Macdonald recalls a childhood trip to New York with her family on Independence Day. "I was watching the 10th anniversary of 9/11 on the news," recalls Macdonald. "I'm a very emotional person, I could cry at anything. But what I remember about my first visit to New York was watching the fireworks and feeling incredibly happy. So much bad has happened to the city since, but it's still an amazing place. I wanted to write an upbeat song to celebrate New York." A lifelong Rangers fan, Macdonald was twice inspired by football. "The Green And The Blue," which features football crowd chants, is an optimistic ode to the rivalry between Celtic and Rangers. "Football is a big part of my life, of anyone's who lives in this city," says Macdonald. "I have friends who support both teams, all of whom get on. I wanted to say that there is a positive side to the rivalry, not just the bad that folk always focus on." Pride is a classic Macdonald track that 50,000 Scottish football fans will claim as their own. It could be an anthem for the Olympics, but in fact it was penned about the singer performing at Hampden Park. "I've been asked loads of times to sing for the Scotland team," says Macdonald. "I did the whole campaign for the European qualifiers. It's an amazing feeling, so emotional, but I never get nervous. There are 50,000 people singing and you are leading them, literally covered in goose bumps. It's an honour." Heart breaking ballad "Left That Body Long Ago" deals with the devastating disease Alzheimers, from which Macdonald's gran suffered before her death a decade ago. "When my nan was still alive, my mum would always say, 'Don't worry, it's not your nan anymore, she's left that body.' That made it easier for me to deal with. So many of my friends now have relatives with the disease. I wrote the song for them, because it might help. One of them burst in to tears when they heard it. They knew exactly what it was about." Revealing the stories behind the songs is typical of Macdonald. She doesn't want to be oblique, to appear mysterious. She'll happily admit that album opener "Slow It Down" is about nothing more meaningful than her being a petrol head. "I've done track days at Silverstone and at Mercedes Benz World in Surrey," she says. "I adore fast cars. I'm addicted to 'Top Gear.' I've been asked numerous times if I'd like to work towards getting a racing license." The 27-year-old is as full of life as her songs, or perhaps her songs simply reflect her own happiness. She has never felt better about being a singer, and never sung better. Her fans will notice her range on this record -- there are songs, such as bluesy, strings and brass-backed belter "The Game," that she couldn't have attempted in her teens. "I've definitely grown in to my voice," she agrees. "My range has gone crazy, probably from all the touring and singing every night. My voice is much more powerful and I can control it a lot more. I never get sore throats. I can sing higher songs and hit lower notes. "'The Game' is a song I wouldn't have tried to sing when I started out. It's a different style of song for me, but everyone who heard it insisted I include it." Life in a beautiful light was recorded in Surrey with Macdonald's long time producer Pete Wilkinson. There are no-co-writes. Earlier this year, the album was mixed by Bob Clearmountain, who worked on Macdonald's debut. "It's always good to have a man who mixes Bruce Springsteen," says Macdonald, a Springsteen devotee, who now also counts Noah & The Whale and Lana Del Rey among her iPod favourites. "Bob was such a fan that he sent me over all this equipment -- brilliant mics, software and stuff. But I'm such a technophobe, I have no idea how to use them. "I like the simple life. I like songs you can sing along to, songs that say something. Oh, and racing cars. And running in the sunshine, listening to great music. Although living in Glasgow, I'm usually running in the rain."

This album contains no booklet.