---
Album info
Album including Album cover
I`m sorry!
Dear HIGHRESAUDIO Visitor,
due to territorial constraints and also different releases dates in each country you currently can`t purchase this album. We are updating our release dates twice a week. So, please feel free to check from time-to-time, if the album is available for your country.
We suggest, that you bookmark the album and use our Short List function.
Thank you for your understanding and patience.
Yours sincerely, HIGHRESAUDIO
1

This Foolish Heart Could Love You

03:33

2

What Of Your Eyes

04:31

3

Plus Fort Que Nous

04:49

4

À La Tour Eiffel

03:53

5

Fleurs Du Dimanche

04:34

6

Samba Em Prelúdio (Un Jour Sans Toi)

04:36

7

Perhaps You'll Wonder Why

04:45

8

Recitativo (Instrumental)

02:10

9

Ode To Every Man

05:53

10

Darling Fare Thee Well

04:45

Total Runtime

43:29
Info for Entre eux deux

The New French Connection: intimate musical tête-à-tête in a class of its own. Melody Gardot and acclaimed pianist Philippe Powell have recorded an intimate album of brooding jazz torch songs. Recorded in Paris in Dec 2021, this intimate new album showcases Melody and Philippes love of traditional jazz, taking the listener back to its golden age.
Offering a unique minimalist approach, the ten-song album is a sparse architectural landscape filled exclusively by piano & voice (tuned to 432hz which is also the tuning used in Gardot's album 'Currency of Man'). Notably, it is also the first time that Gardot invited someone to take her usual place at the helm of the piano for the duration of the recording. The entire record features Philippe Powell (who Gardot adoringly calls "The Bill Evans of Brazil") on keys.
The unique combination of Powell and Gardot's partnership results in many of the songs sounding as if they have come straight out of the Great American Songbook. The only twist of lime is that at times, these "new standards" offer a Gershwinian nod to what could be otherwise dubbed the "Great French Songbook", since several titles are in the language of the city where they were conceived (France).
Gardot explains, "If I had to sum up the record in a few words, I'd say this record is a dance between two people who love and value the same things: deep poetry and solid melodies" explains Gardot. "The title 'Entre eux deux' (loosely translated as "between us two") stands true; it is a peek into the world of two artists who just really dig each other…we hope you dig it too".
Philippe Powell adds, "This record is the most wonderful gift a pianist-composer could ever dream of. To write and perform in duo with one of the great artists of our time is the greatest musical experience I have ever had. I am profoundly grateful to Melody, for her love, her trust, her guidance, for bringing out the best within me, and for tireless efforts, and countless hours of hard work to produce this beautiful record."
In these French songs, we find Gardot and Powell in full swing on an original song cleverly dedicated to the Eiffel Tower "mais si l'on cherche une romance encore plus belle, on vas s'embrasser à La Tour Eiffel". Gardot then touches on a comical play-by-play on how best to deliver flowers to a woman "surtout pas les fleurs Dimanche matin". Finally, a legendary love story revisited (singing in duo) on "Plus Fort que Nous" from Claude Lelouche's French cinema classic Un Homme et Une Femme.
The backstory of the album resembles what one could envision as a brief stint at Warhol's factory. Challenging themselves to create on the clock, these two artists came together for a period of two weeks, writing all hours of the day, sharing melodies, motifs, and lyrics. While original songs were the main objective, paying tribute was also part of the game. Revisiting the legacy of Powell's father (Brazilian composer/guitarist Baden Powell) these two proudly carry the Franco-Brazilian torch that was lit so many years ago between celebrated artists Pierre Barouh, Vinicius de Moraes, and Baden Powell. This nod to the past is clear to see, while revisiting the title "Samba em Preludio/Un Jour Sans Toi" where Powell and Gardot sing for the second time in duet.
'Entre eux deux' is an impeccably crafted collection of songs shining a spotlight on both artists in their lane as composers and performers. Gardot's mellifluous vocals, Powell's consummate piano technique and a seemingly telepathic connection between two distinctive musical voices make this record feel like an instant classic.
Sensual, romantic and intimate, the first single 'This Foolish Heart Could Love You' arrives alongside a breath-taking video, produced by 24-7 Productions. Directed by rising star, Beki Mari, who has previously worked with the likes of Rita Ora, Glass Animals, Sigrid, Paloma Faith and Sting, the video is curated in partnership with the Musée Rodin (Paris).
The duality of the musicians is cleverly represented in a music video that does not feature the faces of Gardot and Powell, but instead, two new stars: danseuse étoile Marie-Agnès Gillot, along with her male counterpart from L'Opera Garnier, danseur étoile Germain Louvet. Dressed in archive pieces by Japanese Designer Issey Miyake, their movements dash in and out of sunlight from within the walls of the Musée Rodin as they emulate the feeling of that fleeting moment where love just might escape one's grasp. Choreographed by Marie-Agnès Gillot, the visual piece brings to life the artist August Rodin's work, as if to 'flip the switch' on who is the muse and who is the artist. The dancers draw their inspiration from the sculptures scattered throughout the museum, while their movements pay homage to some of the most celebrated work of Rodin, whose sculptures were often inspired not by models but, in fact, dancers.
Melody Gardot, vocals
Philippe Baden Powell, piano & vocals (Tracks 3, 6)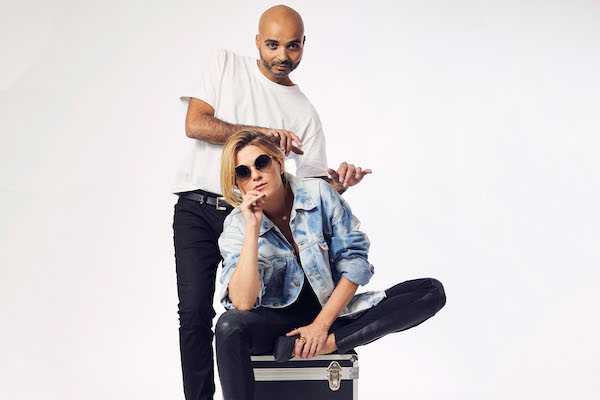 Melody Gardot
With Worrisome Heart, her brilliant first album in 2008, the young American Melody Gardot (born in Philadelphia, Pennsylvania, on 2 February 1985) put everyone in agreement, as was the case for a certain Norah Jones in 2001. A jazz singer, the young woman with the predestined name has come a long way. It was during her long convalescence from a serious accident that she laid the foundations for her music. Her second album, My One and Only Thrill, was one of the best-selling jazz albums of 2009. Her next album, The Absence (2012), has a new Latin flavour. Three years later, Currency of Man sees the singer adapting her fragile, hazy voice to historical soul. A live album recorded during a European tour was released in 2018, before the release of Sunset in the Blue two years later, a return to jazz in the form of covers of standards and original compositions.
Born on February 2, 1985 in New Jersey, Melody Gardot grew up in Philadelphia (Pennsylvania), where she was quickly introduced to music and singing. A fan of Duke Ellington, The Mamas and the Papas and Radiohead, Melody became a club singer in the Philadelphia area when she was only 16.
Then tragedy struck. At the age of 19, while out on a bike ride, she was hit by a car and left for dead. The young singer, then a student in fashion design, narrowly escaped death but suffered significant damage to her brain and spine, which obviously generated many symptoms (muscle pain, motor problems, extreme sensitivity to light and noise).
Her doctors advised her, among other things, to use music therapy. Melody Gardot tried writing and composing from her hospital room, where she stayed for many months. The results were quickly convincing. The young singer recovered the memory she had lacked, and her writing and composing increasingly impressed those around her. The challenge was met.
In 2005, Some Lessons - The Bedroom Sessions was released, a mini album (six tracks) that made this dream come true, made possible by the will to get by through music. Between jazz, folk and pop, Melody Gardot shows her obvious talent. At the end of 2006, her first album was released in the United States (before being released in France on 24 March 2008). Worrisome Heart (Verve Records) received critical acclaim and was a commercial success in the United States. Produced with Glenn Barratt, Worrisome Heart impresses with its maturity.
Melody Gardot, like everyone else, had to defend her album on stage. But the difficulties (she sings sitting down, with a pair of sunglasses to protect her eyes) make her tours complicated and tiring. After touring the east coast of the United States in 2007 and 2008, the now world-famous singer set about writing her second album. My One and Only Thrill, released on 28 April 2009 and featuring 'Baby I'm a Fool', was a critical and public success.
The Absence, the jazz pop diva's third album, was released on 28 May 2012. This new opus introduces new Latin flavours to her repertoire with the first single "Mira". Three years later and with as much mystery in her voice as in her preparation, Currency of Man sees the singer working again with producer Larry Klein and a team of seasoned musicians and arrangers. The album, which revisits gospel and funk-tinged soul, such as the singles "It Gonna Come" and "Preacherman", addresses socio-political issues without forgetting the smooth ballads for which Melody Gardot is known.
Philippe Powell
is a Brazilian pianist, born in Paris on 5 April 1978. Pianist, composer and arranger, Philippe began studying music at the age of 7, focusing firstly on classical music, then, under the guidance of his father, Brazilian guitarist Baden Powell, on harmony and improvisation.
He has also studied with Antonio Adolfo, Edson Elias, and Luiz Avellar and participated in several master-class sessions including those of US pianists Lynne Arriale and Kenny Werner. Philippe made his debut as sideman accompanying such artists as Flora Purim and Airto Moreira, as well as Maria Bethânia and singer/actor Seu Jorge (Cité des Dieux, Life Aquatic).
In 2005, he was awarded 3rd prize at the Montreux Jazz Piano Solo competition and in 2006 recorded his first album, Estrada de Terra/Dirt Road with the New York label Adventure Music, which received very favorable reviews in the press and notably in Downbeat Magazine which gave it a 4-star rating.
His music is at once rooted in the Brazilian tradition and open to other musical cultures, notably jazz and classical music.

This album contains no booklet.