---
Album Info
Album Veröffentlichung:
2021
HRA-Veröffentlichung:
20.05.2022
Das Album enthält Albumcover
Entschuldigen Sie bitte!
Sehr geehrter HIGHRESAUDIO Besucher,
leider kann das Album zurzeit aufgrund von Länder- und Lizenzbeschränkungen nicht gekauft werden oder uns liegt der offizielle Veröffentlichungstermin für Ihr Land noch nicht vor. Wir aktualisieren unsere Veröffentlichungstermine ein- bis zweimal die Woche. Bitte schauen Sie ab und zu mal wieder rein.
Wir empfehlen Ihnen das Album auf Ihre Merkliste zu setzen.
Wir bedanken uns für Ihr Verständnis und Ihre Geduld.
Ihr, HIGHRESAUDIO
1

This Foolish Heart Could Love You

03:33

2

What Of Your Eyes

04:31

3

Plus Fort Que Nous

04:49

4

À La Tour Eiffel

03:53

5

Fleurs Du Dimanche

04:34

6

Samba Em Prelúdio (Un Jour Sans Toi)

04:36

7

Perhaps You'll Wonder Why

04:45

8

Recitativo (Instrumental)

02:10

9

Ode To Every Man

05:53

10

Darling Fare Thee Well

04:45

Total Runtime

43:29
Info zu Entre eux deux
The New French Connection: intimes musikalisches Tête-à-Tête der Extraklasse.
Sinnlich, romantisch und knisternd intim sind die zarten Töne, die einem Melody Gardot auf ihrem sechsten Studioalbum "Entre eux deux" sanft mit dunkler Stimme ins Ohr haucht. Es ist – der Titel verrät es bereits allen, die Französisch sprechen – das erste reine Duo-Album der Sängerin, Songschreiberin, Pianistin und gelegentlichen Gitarristin. Ihren Platz am Klavier überließ die US-Amerikanerin diesmal aber ihrem französisch-brasilianischen Duo-Partner Philippe Powell, den sie voller Bewunderung und mit gutem Grund den "Bill Evans Brasiliens" nennt. Philippe ist außerdem der Sohn der mystischen Bossa-Nova-Legende Baden Powell. Gemeinsam nimmt dieses neue musikalische Traumpaar, das sich in Paris gefunden hat, einen hier auf eine Reise in den amerikanischen Jazz, den französischen Chanson und die brasilianische Musik mit. Es ist ein nostalgisch wirkender Trip, der einen in die 1960er Jahre zurückzuversetzen scheint.
Doch an dieser Stelle ist vielleicht eine kleine Warnung angebracht: Geben Sie sich bloß keine Mühe, nach Titeln wie "This Foolish Heart Could Love You", "What Of Your Eyes", "Perhaps You'll Wonder Why" oder "Darling Fare Thee Well" im "Great American Songbook" zu suchen. Die werden sie dort nämlich nicht finden – zumindest vorerst noch nicht. Denn obwohl diese Stücke alles haben, was die besten der besten Jazzstandards auszeichnet (melodische Eingängigkeit gepaart mit harmonischer Finesse, poetische Texte und das Flair absoluter Zeitlosigkeit), so stammen sie tatsächlich doch aus der Feder von Melody Gardot und ihrem neuen musikalischen Traumpartner Philippe Powell.
Und auch die beiden französischsprachigen Songs "A la Tour Eiffel" und "Fleurs du dimanche", die das Duo gemeinsam mit Jacques Bungert geschmiedet hat, klingen verblüffend so, als hätten sie einst schon Françoise Hardy, Sylvie Vartan, France Gall oder eine andere Chanson-Ikone gesungen. Lediglich zwei Stücke stammen tatsächlich aus den hier so raffiniert heraufbeschworenen 1960er Jahren: das von Francis Lai geschriebene Chanson "Plus Fort que Nous", weltweit berühmt geworden durch Claude Lelouches Oscar-prämierten Nouvelle-Vague-Klassiker "Un Homme et Une Femme"; und "Samba em Prelúdio (Un Jour Sans Toi)" von Philippes Vater Baden Powell und dem großen Bossa-Poeten Vinícius de Moraes. Diese beiden Stücke sind auch die einzigen Lieder des Albums, die Melody im Duett mit Philippe singt. Außerdem gibt es mit "Recitativo" noch eine besinnliche, leicht klassisch angehauchte Instrumentalnummer des Pianisten zu hören. Und die von expressionistisch hingetupften Klaviertönen untermalte "Ode To Every Man", in der Melody Gardot ein ungemein persönliches Gedicht rezitiert.
"Wenn ich die Aufnahme in ein paar Worten zusammenfassen müsste", meint Melody Gardot, "würde ich sagen: diese Platte ist wie ein Tanz zwischen zwei Leuten, die dieselben Dinge lieben und schätzen: tiefsinnige Poesie und gediegene Melodien. Der Titel 'Entre eux deux' ('Zwischen den beiden') ist also sehr treffend. Denn hier erhält man einen Einblick in die Welt zweier Künstler, die sich wirklich mögen und verstehen. Und wir hoffen natürlich, dass unser Publikum diese Musik genauso sehr mögen wird."
"Diese Platte ist das schönste Geschenk, das sich ein Pianist und Komponist nur wünschen kann", meldet sich schließlich auch noch Philippe Powell zu Wort. "Gemeinsam mit einer der größten Künstlerinnen unserer Zeit Songs zu schreiben und im Duo aufzutreten, war die größte musikalische Erfahrung, die ich bisher gemacht habe. Ich bin Melody zutiefst dankbar, für ihre Liebe, ihr Vertrauen, ihre Hilfe, dafür, dass sie das Beste in mir zum Vorschein gebracht hat, sowie für ihren unermüdlichen Einsatz und die zahllosen Stunden harter Arbeit, die sie investiert hat, um diese wunderschöne Platte zu produzieren."
Melody Gardot, Gesang
Philippe Baden Powell, Klavier & Gesang (Tracks 3, 6)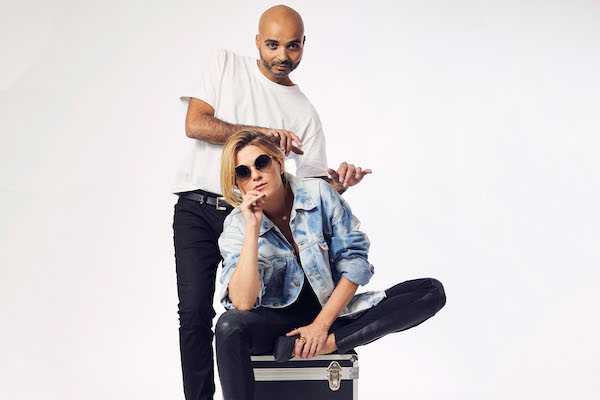 Melody Gardot
With Worrisome Heart, her brilliant first album in 2008, the young American Melody Gardot (born in Philadelphia, Pennsylvania, on 2 February 1985) put everyone in agreement, as was the case for a certain Norah Jones in 2001. A jazz singer, the young woman with the predestined name has come a long way. It was during her long convalescence from a serious accident that she laid the foundations for her music. Her second album, My One and Only Thrill, was one of the best-selling jazz albums of 2009. Her next album, The Absence (2012), has a new Latin flavour. Three years later, Currency of Man sees the singer adapting her fragile, hazy voice to historical soul. A live album recorded during a European tour was released in 2018, before the release of Sunset in the Blue two years later, a return to jazz in the form of covers of standards and original compositions.
Born on February 2, 1985 in New Jersey, Melody Gardot grew up in Philadelphia (Pennsylvania), where she was quickly introduced to music and singing. A fan of Duke Ellington, The Mamas and the Papas and Radiohead, Melody became a club singer in the Philadelphia area when she was only 16.
Then tragedy struck. At the age of 19, while out on a bike ride, she was hit by a car and left for dead. The young singer, then a student in fashion design, narrowly escaped death but suffered significant damage to her brain and spine, which obviously generated many symptoms (muscle pain, motor problems, extreme sensitivity to light and noise).
Her doctors advised her, among other things, to use music therapy. Melody Gardot tried writing and composing from her hospital room, where she stayed for many months. The results were quickly convincing. The young singer recovered the memory she had lacked, and her writing and composing increasingly impressed those around her. The challenge was met.
In 2005, Some Lessons - The Bedroom Sessions was released, a mini album (six tracks) that made this dream come true, made possible by the will to get by through music. Between jazz, folk and pop, Melody Gardot shows her obvious talent. At the end of 2006, her first album was released in the United States (before being released in France on 24 March 2008). Worrisome Heart (Verve Records) received critical acclaim and was a commercial success in the United States. Produced with Glenn Barratt, Worrisome Heart impresses with its maturity.
Melody Gardot, like everyone else, had to defend her album on stage. But the difficulties (she sings sitting down, with a pair of sunglasses to protect her eyes) make her tours complicated and tiring. After touring the east coast of the United States in 2007 and 2008, the now world-famous singer set about writing her second album. My One and Only Thrill, released on 28 April 2009 and featuring 'Baby I'm a Fool', was a critical and public success.
The Absence, the jazz pop diva's third album, was released on 28 May 2012. This new opus introduces new Latin flavours to her repertoire with the first single "Mira". Three years later and with as much mystery in her voice as in her preparation, Currency of Man sees the singer working again with producer Larry Klein and a team of seasoned musicians and arrangers. The album, which revisits gospel and funk-tinged soul, such as the singles "It Gonna Come" and "Preacherman", addresses socio-political issues without forgetting the smooth ballads for which Melody Gardot is known.
Philippe Powell
is a Brazilian pianist, born in Paris on 5 April 1978. Pianist, composer and arranger, Philippe began studying music at the age of 7, focusing firstly on classical music, then, under the guidance of his father, Brazilian guitarist Baden Powell, on harmony and improvisation.
He has also studied with Antonio Adolfo, Edson Elias, and Luiz Avellar and participated in several master-class sessions including those of US pianists Lynne Arriale and Kenny Werner. Philippe made his debut as sideman accompanying such artists as Flora Purim and Airto Moreira, as well as Maria Bethânia and singer/actor Seu Jorge (Cité des Dieux, Life Aquatic).
In 2005, he was awarded 3rd prize at the Montreux Jazz Piano Solo competition and in 2006 recorded his first album, Estrada de Terra/Dirt Road with the New York label Adventure Music, which received very favorable reviews in the press and notably in Downbeat Magazine which gave it a 4-star rating.
His music is at once rooted in the Brazilian tradition and open to other musical cultures, notably jazz and classical music.


Dieses Album enthält kein Booklet