---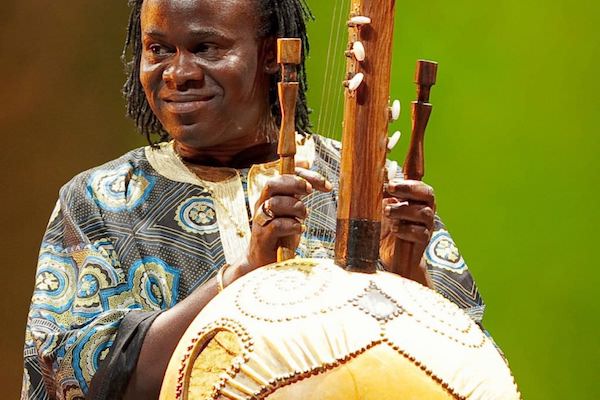 Zal Sissokho
An ancestor of the first kora player in history and his brother Younoussa became, in the 1980s, the first griots to settle in Québec. In Senegal, the Sissokho family was among the most important representatives of the griots, who have transmitted the history of the Mandinka people orally for many centuries. In short. Zal Sissokho was predestined to sing and to play the kora. Born in Senegal, he has performed since age 11. At an early age, he also began singing and composing songs in Mandinka and in Wolof inspired by the West African repertory. He perfected his kora playing under the stern guidance of a master of the instrument, Toumani Kouyaté, and then accompanied Senegalese lyricist-composer El Hadj N'Diaye. He set off for Québec in the late 1990s and has played, in particular, with the Diouf brothers, Richard Séguin, the Montréal Jubilation Gospel Choir, Corneille, Monica Freire, Lilison, IKS, Muna Mingolé and Alpha Yaya Diallo. He has also applied his instrument to film music, including Un dimanche à Kigali by Robert Favreau. In Las Vegas, he has participated in the Cirque du Soleil show "O."
In 2004, he founded his own group, Buntalo, surrounding himself with Montréal musicians from West Africa: Aboulaye Koné on guitar, David Mobio on keyboard, Manu Pelé on bass and Homas Niamke Ehui on drums. Their repertory consists of original works by Zal Sissokho and Manu Pelé as well as Mandinka classical pieces, which he sings in Malinké and Wolof. A broad palette provides for the cohabitation of tradition and modernity. In 2007, several of his songs appeared on the compilation disc of the Festival international Nuits d'Afrique, a promising foretaste of an album that was not long in coming. In February 2008, Zal received the OQAJ-Rideau des Amériques award issued for the excellence of his performance, the generosity of his stage presence and the beauty of his musical blends. In the wake of this, he brought out his long-awaited first album, Silaba (The Great Road). This tribute to ancestors presents his musical heritage and retraces the "great road" that Zal has followed since his beginnings in Senegal.
In 2012, the second album by Zal Sissokho and Buntalo was released, with outstanding collaborations by artists including Tapa Diarra, Fabrice Koffi and Karim Diouf. It was titled Le Partage (Sharing), the watchword of this generous and talent kora player. And a long-awaited third album finally arrived in the spring of 2017 on the Disques Nuits d'Afrique label: La Palabre (Conversation), praised for its variety and richness. The art of speech and dialogue is featured, of course, bearing messages of peace and transmission dear to the artist.