---
Album Info
Album Veröffentlichung:
2021
HRA-Veröffentlichung:
17.06.2021
Das Album enthält Albumcover
1

Don't Forget Your Neighborhood

04:54

2

Mailbox

03:53

3

Song for the Mister

04:17

4

Roses

03:24

5

For the Last Time

03:19

6

You Can Do It

03:06

7

Mink

02:38

8

One of These Winters Will Take Me

04:06

9

Go the Mile

03:50

10

Kid Born in Space

03:14

Total Runtime

36:41
Info zu Prosthetic Boombox
There's liberation on the dance floor in the songs of Matthew Urango – glimpses of revolution that glimmer beneath the disco ball. "I want my music to bring people together," says the Californian pop innovator, best known as Cola Boyy. "Because standing together is our best chance at fighting this shit show." The shit show in question is a broken, brutal system the acclaimed multi-instrumentalist has witnessed up-close. Urango was born with spina bifida and scoliosis in Oxnard, California: a town in which almost 30,000 are estimated to live in poverty. Prosthetic Boombox, his eagerly awaited debut album, might at first glance seem a joyous confetti-burst of pop eclecticism, engineered to sound like "scanning between stations on a car radio, landing on all these different sounds and styles" as Urango puts it. Dig deeper, though, and you'll discover a simmering sense of rebellion. "The working class are injured, struggling to pay rent and struggling to put food on the table," he says. "I want to represent that." Prosthetic Boombox achieves that goal in a thrilling flurry of inventive indie, funk and soul: take Urango's car radio analogy, place it in a time-travelling Delorean with Prince in the passenger seat, and you're half-way there.
Look no closer than Prosthetic Boombox's euphoric opener, the Avalanches-assisted 'Don't Forget Your Neighborhood.' The track – which Urango says mixes "the Beach Boys, French disco, house keys and ragtime piano, kinda like the Cheers soundtrack!" – ends with lyrics urging listeners to "fight for your town with your fist closed, strike it and make it more than just a memory." It's a reminder that the working classes need to "turn our fists against our oppressors instead of each other," he explains. After that emphatic introduction comes a horn-laced funk wig-out titled 'Mailbox' – a song that gives Dua Lipa's Future Nostalgia a run for its Studio 54-themed money, featuring rising Londoner JGrrey. Elsewhere, 'Song For The Mister' ventures into smooth R&B territory, before 'Roses' – a collaboration with Myd of Ed Banger fame – offers a bouquet of bustling disco guitars and Infinite Bisous of Connan Mockasin's band drops in on the immaculate 'Go The Mile'. Urango saves his most introspective moment for the album's starry closer. 'Kid Born In Space', a cosmic collaboration with MGMT frontman Andrew VanWyngarden, sees the artist reflect on what he once had to overcome as a disabled person of colour. "I see them looking down on my dreams of being," he sings tenderly. "I hear them making fun of my voice, but I keep on moving forward, I refuse to live in anyone else's shadow." Prosthetic Boombox, on this subject, is more than an album title – it's a statement of intent.
Matthew Urango, aka Cola Boyy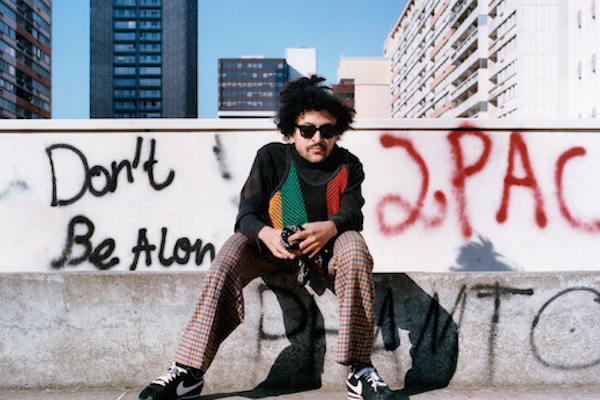 Matthew Urango, aka Cola Boyy
is a 28 year old artist coming from Oxnard, California, discovered on the occasion of a concert in Los Angeles by Record Makers, the record label of Kavinsky and Sebastien Tellier.
Cola Boyy is an unusual and self-taught musician & singer. His very typical but natural voice is the consequence of a disability from birth.


Dieses Album enthält kein Booklet