---
Schumann: "Abegg" Variations, Davidsbündlertänze, Novelletten & "Geistervariationen" Imogen Cooper
Album Info
Album Veröffentlichung:
2015
HRA-Veröffentlichung:
20.12.2018
Das Album enthält Albumcover Booklet (PDF)
Robert Schumann (1810 - 1856): 8 Novelletten, Op. 21:

1

No. 8, Sehr lebhaft

11:57

Davidsbündlertänze, Op. 6:

2

No. 1, Lebhaft

01:38

3

No. 2, Innig

01:22

4

No. 3, Mit Humor

01:30

5

No. 4, Ungeduldig

00:48

6

No. 5, Einfach

02:15

7

No. 6, Sehr rasch

02:00

8

No. 7, Nicht schnell

04:21

9

No. 8, Frisch

01:02

10

No. 9, Lebhaft

01:57

11

No. 10, Balladenmäßig - Sehr rasch

01:35

12

No. 11, Einfach

01:59

13

No. 12, Mit Humor

00:45

14

No. 13, Wild und lustig

03:08

15

No. 14, Zart und singend

02:17

16

No. 15, Frisch

02:01

17

No. 16, Mit gutem Humor

01:41

18

No. 17, Wie aus der Ferne

03:37

19

No. 18, Nicht schnell

02:08

8 Novelletten, Op. 21:

20

No. 2, Ausserst rasch und mit Bravour

06:34

Theme and Variations on the Name "Abegg", Op. 1:

21

Theme and Variations on the Name "Abegg", Op. 1: Theme

01:01

22

Theme and Variations on the Name "Abegg", Op. 1: Var. 1, —

01:00

23

Theme and Variations on the Name "Abegg", Op. 1: Var. 2, —

01:13

24

Theme and Variations on the Name "Abegg", Op. 1: Var. 3, —

01:05

25

Theme and Variations on the Name "Abegg", Op. 1: Var. 4, Cantabile

01:23

26

Theme and Variations on the Name "Abegg", Op. 1: Var. 5, Finale alla fantasia

03:09

Variations on an Original Theme, Anhang F39:

27

Variations on an Original Theme, Anhang F39: Theme. Leise, innig

01:35

28

Variations on an Original Theme, Anhang F39: Var. 1, —

01:35

29

Variations on an Original Theme, Anhang F39: Var. 2, Kanonisch

01:38

30

Variations on an Original Theme, Anhang F39: Var. 3, Etwas belebter

01:41

31

Variations on an Original Theme, Anhang F39: Var. 4, —

01:49

32

Variations on an Original Theme, Anhang F39: Var. 5, —

02:17

33

Variations on an Original Theme, Anhang F39: Theme

01:15

Total Runtime

01:15:16
Info zu Schumann: "Abegg" Variations, Davidsbündlertänze, Novelletten & "Geistervariationen"
This third recording by Imogen Cooper on Chandos features some of 'obert Schumann's most characteristic and complex works for solo piano. Cooper is one of those artists who are reaching a glorious maturity in middle age; she seems to follow in the steps of her teacher Alfred Brendel, her prodigious virtuosity coexisting with lyrical and emotional wisdom.
This album includes the Davidsbündlertänze which she describes as a 'work of stirring beauty and humour that make it one of the great romantic masterpieces for the piano'.
It also illustrates the journey between two sets of variations: Schumann's first published and last composed piano pieces. While the 'Abegg' is 'virtuosic, extroverted, challenging to play, and charming', the Geistervariationen are 'introverted and sparse, with a deep but elusive emotion'.
Finally, in the two Novelletten Imogen Cooper reveals what she calls the 'hidden narrative filaments to be discovered' in Schumann's music; this requires 'a skill which is very necessary in the interpretation of scores that frequently appear disjointed and illogical'.
"Everything Cooper does speaks of long acquaintance and real empathy…her readings are unfailingly absorbing" (Gramophone Magazine)
Imogen Cooper, piano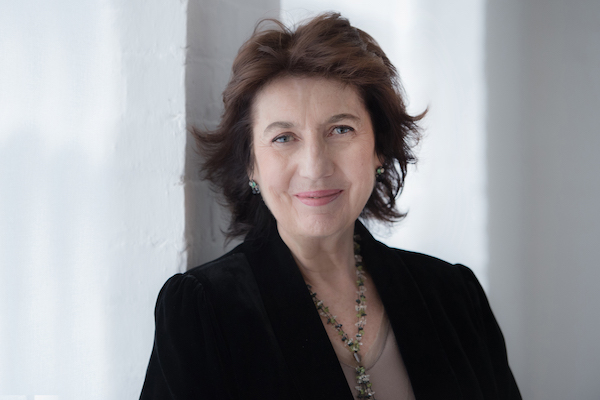 Imogen Cooper
Pianistically alone, Cooper commands a dynamic and colouristic range beyond the reach of most pianists. She understands that musical, like verbal, speech acquires the eloquence and continuity through the close, asymmetrical juxtaposition of extreme but varied contrasts – as in any polysyllabic word. Nowhere is this truer than in Schumann, whose own juxtaposition of emotional-psychological extremes requires a maximum of characterisation with a minimum of evidence – the art that conceals art. Cooper's gifts in this department are unmistakable even before she reaches the end of the first, brief piece in the Davidsbündlertänze. And as she begins, so she continues. Every piece in this recital is a study in portraiture worthy of Schumann's beloved ETA Hoffman. Variety and organic momentum (structure, in short, in a sea of diversity) go hand in hand.
Regarded as one of the finest interpreters of Classical and Romantic repertoire, Imogen Cooper is internationally renowned for her virtuosity and lyricism. Recent and future concerto performances include the Berliner Philharmoniker and Sir Simon Rattle, Sydney Symphony with Simone Young and the BBC Scottish Symphony Orchestra with Thomas Dausgaard. This season she will perform lieder recitals with Mark Padmore, including at the Concertgebouw in Amsterdam and a series of solo recitals at the Wigmore Hall in London, focussing on Haydn and Beethoven.

Imogen has a widespread international career and has appeared with the New York Philharmonic, Philadelphia, Boston, Cleveland, Vienna Philharmonic, Royal Concertgebouw, Leipzig Gewandhaus, Budapest Festival, NHK and London Symphony Orchestras. She has also undertaken tours with the Camerata Salzburg, Australian and Orpheus Chamber Orchestras. She has played at the BBC Proms and with all the major British orchestras, including particularly close relationships with the Royal Northern Sinfonia and Britten Sinfonia, play/directing. Her recital appearances have included Tokyo, Hong Kong, New York, Singapore, Paris, Vienna, Prague and the Schubertiade in Schwarzenberg. 

As a supporter of new music, Imogen has premiered two works at the Cheltenham International Festival; Traced Overhead by Thomas Adès (1996) and Decorated Skin by Deirdre Gribbin (2003). In 1996, she also collaborated with members of the Berliner Philharmoniker in the premiere of the quintet, Voices for Angels, written by the ensemble's viola player, Brett Dean.
Imogen is a committed chamber musician and performs regularly with Henning Kraggerud and Adrian Brendel. As a Lieder recitalist, she has had a long collaboration with Wolfgang Holzmair in both the concert hall and recording studio. Her discography also includes Mozart Concertos with the Royal Northern Sinfonia (Avie), a solo recital at the Wigmore Hall (Wigmore Live) and a cycle of solo works by Schubert recorded live and released under the label 'Schubert Live'. Her recent recordings for Chandos Records feature music by Brahms, Chopin, Liszt, Wagner and Robert and Clara Schumann.

Imogen received a CBE in the Queen's New Year Honours in 2007 and was the recipient of an award from the Royal Philharmonic Society the following year. In 1997 she was awarded Honorary Membership of the Royal Academy of Music and in 1999 she was made a Doctor of Music at Exeter University. Imogen was the Humanitas Visiting Professor in Classical Music and Music Education at the University of Oxford for 2012-13. The Imogen Cooper Music Trust was founded in 2015, to support young pianists at the cusp of their careers, and give them time in an environment of peace and beauty.


Booklet für Schumann: "Abegg" Variations, Davidsbündlertänze, Novelletten & "Geistervariationen"