---
Album Info
Album Veröffentlichung:
2021
HRA-Veröffentlichung:
14.10.2021
Das Album enthält Albumcover Booklet (PDF)
1

Kamali

03:55

2

Mixo Mode 19

04:55

3

Shymal Bose Chakradar

07:30

4

Pairs

07:12

5

Theme and Variations

05:18

6

Wise One

06:55

7

Rupak Tukra

05:02

8

Back of the Plane

08:02

9

After the Rain

03:27

Total Runtime

52:16
Info zu Mise En Place
Der Saxofonist und Komponist Ohad Talmor präsentiert nach seinem Album «Long Forms» mit dem Newsreel Sextet (Intakt CD 341) eine Trio Aufnahme mit seinen engsten musikalischen Brooklyner Freunden: dem Gitarristen Miles Okazaki und dem Schlagzeuger Dan Weiss.
Ohad Talmor, der Inbegriff eines kosmopolitischen Künstlers, der drei Pässe besitzt – amerikanisch, schweizerisch und israelisch – lebt im polyglotten Stadtteil Brooklyn, New York. Er spielte in der Band des grossen Altsaxofonisten Lee Konitz und arbeitete mit Jason Moran und Steve Swallow. Sein musikalisches Spektrum reicht von ikonischen Tenorsaxofonisten wie Sonny Rollins und Wayne Shorter über so unterschiedliche europäische Komponisten wie Bruckner und Ligeti bis hin zu den Feinheiten der klassischen Hindustani-Musik.
Talmor hat den Titel dieses Trio-Albums «Mise en place» einer französischen Redewendung entnommen, die sich auf die Vorbereitung aller Zutaten vor dem Kochen bezieht wie auch ein umgangssprachlicher französischer Begriff ist für rhythmische Genauigkeit im Jazz. Ein fliessendes, präzises "Zeitgefühl" ist ein Merkmal seines Trios mit Okazaki und Weiss. Das Trio spielt wie aus einem Guss. "Trotz der technischen Anforderungen dieser Stücke", so Talmor, "ist es unser Ziel, auf Standard-Licks zu verzichten, wirklich zuzuhören, wirklich zu improvisieren – immer im Moment mit der Musik zu sein."
Ohad Talmor, Tenorsaxofon
Miles Okazaki, Gitarre
Dan Weiss, Schlagzeug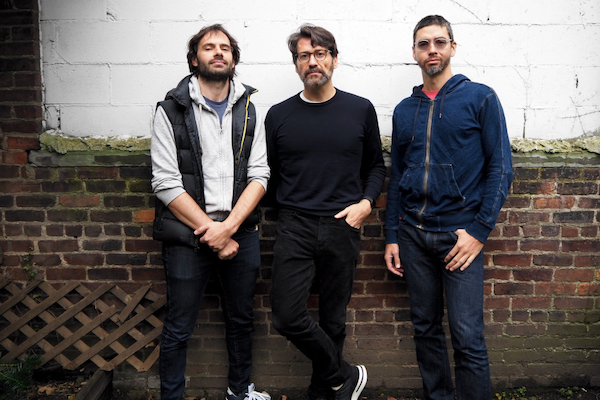 Ohad Talmor
Originally from Israel, Ohad Talmor grew up in Geneva, Switzerland and is a long time Brooklyn, NY resident. He belongs to a new generation of composers/performers whose music claims multiple roots all of which contribute to his identity as an internationally recognized saxophonist and omposer. He plays regularly with his own project; NEWSREEL a flexible group mirroring his multi-faceted musical identity. The project features some of New York's most creative musicians: Dan Weiss, Jacob Sacks, Miles Okazaki, Shane Endsley, and Matt Pavolka. Ohad is also a member of the Steve Swallow Trio (featuring Adam Nussbaum) and MASS TRANSFORMATION, a trans-continental Nonet that focuses on the Music of Anton Bruckner. Talmor has a long and privileged relationship with his friend and mentor Lee Konitz, with whom he co-led three projects: the Lee Konitz New Nonet, the Konitz-Talmor String Project and the Konitz-Talmor Big Band. Ohad is a frequent collaborator with musicians such as Jason Moran, Josh Redman, Kurt Rosenwinkel, Chris Cheek, Dave Douglas, Carla Bley, Joe Lovano, Chris Potter, Billy Hart and many others.
As a Composer and Arranger, Ohad is equally involved in writing for Jazz and Classical idioms. His music has been performed by various Jazz ensembles all over the world, including: Portugal's OJM Big Band, Switzerlands Big Band de Lausanne, Brazils SoundScape Orquestra, the Brecker Brothers, Steve Swallow 6tet Lhistoire du Clochard or Belgiums Bruxelles Jazz Orchestra. His contributions in the Classical idiom include music for virtuoso pianist Martha Argerich, Sao Paulo's Symphonic Band, the Spring String Quartet from Austria or the Portugal National Orchestra. Ohad's Composition for orchestral includes a Concerto for Piano/Drums and Double Orchestras premiered in February 2010 by the Porto National Orchestra, the OJM Big Band with Jason Moran and Dan Weiss as featured soloists.
In parallel to his career in the world of Jazz/Classical Music, Ohad also scores music for films. His latest project in Hollywood includes scoring for the Sundance primed movie Low Down featuring actors such as Glenn Close and John Hawkes. Since 2010, Ohad heads a cross-artistic performance space: SEEDS::Brooklyn. This venue aims at serving the NY music community and beyond, as well as to be a New York antenna for guest musicians from the rest of the world.
Ohad Talmor is the Professor of Composition at the Geneva Conservatory. He holds a Composition Degree from the Manhattan School of Music, now deeply buried in a trunk in his basement, and is a recipient of multiple Awards including 2012 Switzerland Musician of the Year Award. ...
Miles Okazaki
is a NYC-based guitarist originally from Port Townsend, a small seaside town in Washington State. His approach to the guitar is described by the New York Times as "utterly contemporary, free from the expectations of what it means to play a guitar in a group setting — not just in jazz, but any kind." His sideman experience over the last two decades covers a broad spectrum, from standards to experimental music (Kenny Barron, John Zorn, Stanley Turrentine, Dan Weiss, Matt Mitchell, Jonathan Finlayson, Jane Monheit, Amir ElSaffar, Darcy James Argue, and many others). He was seen prominently with Steve Coleman and Five Elements from 2009–2017. As a leader, Okazaki has released eight albums of original compositions over the last 12 years, and is currently an artist on the Pi Recordings label. Other large projects include a six-album recording of the complete compositions of Thelonious Monk for solo guitar and a published book, Fundamentals of Guitar, with Mel Bay. He taught guitar and rhythmic theory at the University of Michigan from 2013-21, joined the faculty a Princeton University in 2021, and holds degrees from Harvard University, Manhattan School of Music, and the Juilliard School.
Dan Weiss
Two-time Shifting Foundation Grantee Dan Weiss has been hailed as one of the top five jazz drummers by The New York Times and his large ensemble recording "Fourteen" made their top ten list of the best records of 2014. Weiss's innovative drumming and forward thinking compositions have been pushing musical limits for decades.
Weiss's intense study of jazz, classical Indian, contemporary classical, West African, and metal sets a musical platform that creates a sound that transcends conventional style or genre. His compositional trademarks are angular yet emotive melodies; long rhythmic cycles native to many non-western music, complex through-composed drum parts, and melodic shapes drawing directly from the raga system found in Indian classical music.
Weiss has been studying tabla under Samir Chatterjee for twenty five years. He's performed classical Indian music with the legendary Ashish Khan and Ramesh Misra, and recorded the tabla solo cd, "3dcd" (2007). Weiss also recorded two unprecedented cds, "Teental Drumset Solo" (2005) and "Jhaptal Drumset Solo" (2011) where he performs classical Indian repertoire on drum set.
With his trio, which includes Jacob Sacks and Thomas Morgan, he's released three records ('Now Yes When', 'Timshel', and 'Utica Box' ) which have been critically acclaimed for their unique approach to song structure and endless creative improvisation. This band has toured Europe, the United States, and Puerto Rico.
Weiss also leads a unique sixteen piece large ensemble that features some of NYC's most gifted musicians including Miguel Zenon and Jen Shyu. The two albums 'Fourteen' (2014) and 'Sixteen: Drummers Suite' (2016) released on the Pi record label have made numerous critic polls.
His latest project 'Starebaby' blends metallic jazz, prog and post rock that melds deep sophistication with visceral impact. The band has been featured in The New York Times, toured the US and Europe, and played the prestigious North Sea Jazz Festival. Starebaby's second record called 'Natural Selection' was released in 2020.
As a sideman, Weiss has played/toured with Lee Konitz, Chris Potter, Noah Preminger, Kenny Werner, Rudresh Mahanthappa, David Binney, John Zorn, and many others.
Weiss is currently working on a new trio project (new album in 2022) and a duo project with Miles Okazaki (double vinyl release scheduled for late 2021).
In addition to his musical projects, Weiss is a highly sought-after teacher. He's currently working on an instructional course and book.


Booklet für Mise En Place