---
Album Info
Album Veröffentlichung:
2019
HRA-Veröffentlichung:
19.04.2019
Das Album enthält Albumcover Booklet (PDF)
William Alwyn (1905 - 1985): 12 Preludes:

1

12 Preludes: No. 1 in E-Flat

02:23

2

12 Preludes: No. 2 in A

02:02

3

12 Preludes: No. 3 in A

01:42

4

12 Preludes: No. 4 in F

01:34

5

12 Preludes: No. 5 in D (In memoriam "R.F.")

03:34

6

12 Preludes: No. 6 in G & F-Sharp

02:38

7

12 Preludes: No. 7 in B

02:44

8

12 Preludes: No. 8 in E-Flat

01:42

9

12 Preludes: No. 9 in C

01:20

10

12 Preludes: No. 10 in D

02:09

11

12 Preludes: No. 11 in D-Flat

01:25

12

12 Preludes: No. 12 in D

02:41

Peter Dickinson (b. 1934): Paraphrase II (Mark):

13

Paraphrase II (Mark): Theme

01:55

14

Paraphrase II (Mark): Var. 1

01:00

15

Paraphrase II (Mark): Var. 2

02:44

16

Paraphrase II (Mark): Var. 3

01:10

17

Paraphrase II (Mark): Var. 4

01:26

18

Paraphrase II (Mark): Var. 5

01:51

19

Paraphrase II (Mark): Var. 6

04:17

Frederick Delius (1862 - 1934): Suite for Orchestra, RT VI/1 "Florida":

20

Suite for Orchestra, RT VI/1 "Florida": IV. At Night (Arr. R. Threlfall for Piano)

08:48

Margot la rouge, RT I/7 (Arr. M. Ravel for Piano):

21

Margot la rouge, RT I/7 (Arr. M. Ravel for Piano): Prelude

03:11

22

Margot la rouge, RT I/7 (Arr. M. Ravel for Piano): Duet

02:46

Elisabeth Lutyens (1906 - 1983):

23

The Ring of Bone, Op. 106

10:16

Anthony Herschel Hill (1939 - 2016):

24

Litany

06:57

25

Toccata

05:21

Total Runtime

01:17:36
Info zu Colour & Light: 20th-Century British Piano Music
Following Great American Sonatas, his admired debut on SOMM RECORDINGS, pianist Nathan Williamson turns to British piano music of the 20th century in Colour and Light, a revealing exploration of how the past influences the present and the new.
A century-spanning programme from Delius's quixotic 1887 Nocturne (more familiar as An Nacht, the Florida Suite's finale, here in Robert Threlfall's 1986 transcription) to Anthony Herschel Hill's combustible Toccata of 1985 also lights on three other distinctive but highly contrasted composers.
Modernity makes itself felt in Elisabeth Lutyens' The Ring of Bone (1975) which strikingly employs the use of spoken text in what Williamson describes in his booklet notes as "a bold and heartfelt gesture". William Alwyn's Twelve Preludes (1958) pay a glancing nod to Lutyens' serialist techniques even while displaying "a peculiarly English combination of both tonality and modality" characteristically his own.
Peter Dickinson's "postmodern, poly-stylistic" Paraphrase II (1967) is the work of a composer open to the broadest influences, its seven sections inventively re-working an earlier three-part motet and receiving here their first studio recordings.
Slowly emerging into the light (his Nocturne featured on Julian Jacobson and Mariko Brown's 2017 release – SOMMCD 0178) Anthony Herschel Hill's Litany (1992) and Toccata (1985) – heard here in first recordings – are the product of a wholly individual compositional voice, boasting, says Williamson, "some of the most gorgeously idiomatic and exhilarating piano writing of any late-20th century composer".
Delius's Prelude and Duet from his one-act opera Margot la Rouge, composed in 1902 yet un-performed until 1983, are distinctive for their delicate harmonic textures and colours, masterfully transcribed for piano by Maurice Ravel.
Featuring music by Bernstein, Copland, Charles Ives and Lou Harrison, Great American Sonatas, Nathan Williamson's 2017 SOMM Recordings (SOMMCD 0163) debut was hailed by Gramophone as "a release of distinction".
Nathan Williamson, piano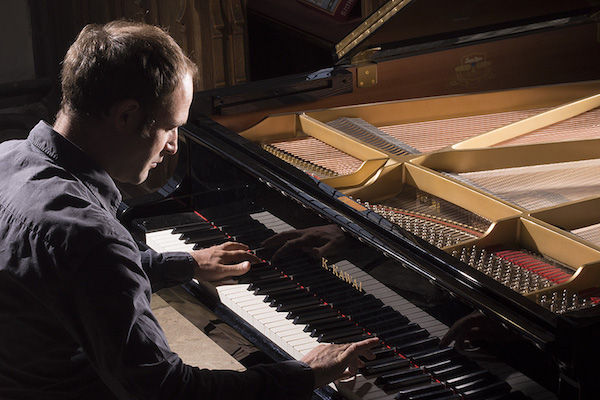 Nathan Williamson
Williamson's approach is visionary and romantic. But in this he is never crude, mannered or artificial. Rather one senses he has looked deep inside these works and explored their complex interior with thoughtful contemplation as well as love and empathy. Donald Sturrock
Nathan Williamson leads a varied and individual career as pianist, composer and artistic director. Alongside regular solo, chamber and concerto performances, Nathan is in demand for new work from a wide variety of artists both at home and abroad. He also stages and facilitates projects at local and national level, ranging from collaborations on new repertoire, performances for the theatre and concert hall, and outreach work for musicians of all ages and abilities.
Nathan's performing career has led to appearances at the Wigmore Hall, Amsterdam Concertgebouw, De Doelen, Carnegie Hall, Bargemusic, the Southbank Centre, and the Aldeburgh, Lucerne, Bolzano, Spoleto and William Alwyn festivals. Recent concerto performances include works by Mozart, Schumann and Brahms with orchestras in London, Suffolk, Sussex and Salamanca. Nathan has collaborated with a wide variety of artists including Claire Bloom, James Gilchrist, Guy Johnston, Arisa Fujita, The Gryphon Trio, Njabulo Madlala, Alexander Baillie, Linda Merrick, and the Allegri and Sacconi Quartets, as well as working alongside numerous living composers in performances of their work. In April 2016 Nathan was appointed a member of Piano Circus, one of the world's leading contemporary music ensembles.
Nathan's debut solo disc, Brahms & Schubert: Late Piano Works, was released in 2013, to acclaim from leading authorities such as Bryce Morrison, who wrote: There are very few recordings of these works that equal this. The artist's technique and pianistic command allows him an ideal musical freedom. The effect is of intense commitment and an ultimate sense of poetry. A CD of American piano music will be released on SOMM in early 2017, alongside a recording of British 20th Century violin and piano music with violinist Fenella Humphreys, including Sonatas by Doreen Carwithen and Thomas Pitfield, on Lyrita in February 2017. Trans-Atlantic Flight of Fancy, commissioned by NOW Ensemble, was featured on NOW's album Dreamfall (New Amsterdam Records) and Homecoming, a commission for violinist Piotr Szewczyk as part of his Violin Futura project, is available on Navona Records.
Nathan's music has been performed throughout Europe and North America. Highlights include The little that was once a man, a song cycle to texts by Bryan Heiser, written for tenor James Gilchrist and premiered with the composer at the piano, a Cello Sonata for Charles Watt, works for the Daejeon Philharmonic Orchestra, Bury St Edmund's Cathedral, piano-duo Mariko Brown and Julian Jacobson, Tuscaloosa Symphony Orchestrama and Endymion. A cycle of String Quartets has led to premieres by the Tin Alley and Barbirolli Quartets. Nathan has premiered several of his own piano works in recitals, and in 2010 conducted the first performances of his opera, A Fountain Sealed, to a libretto by Thomas Walton.
Nathan studied at the Guildhall School of Music and Drama with Joan Havill and Malcolm Singer, at Oxford University with Robert Saxton, and Yale University with Ezra Laderman, Martin Bresnick and Joan Panetti, where he also held a prestigious fellowship. He lives in Southwold, on the Suffolk coast, where he founded and directs the Southwold Concert Series and the Southwold Music Trust, which aim to make music central to the local community. Nathan is also director of 'Music at Wardens', staging events at Ness House, Sizewell. He is a regular coach and outreach leader at the Yehudi Menuhin School, is involved in various education projects at Aldeburgh Music, and has been commissioned work for younger performers by Pro Corda and Music Works chamber music courses, Rugby School, Waveney and Blyth Arts, and the Chamber Music 2000 project.


Booklet für Colour & Light: 20th-Century British Piano Music