---
Biographie Aline Zylberajch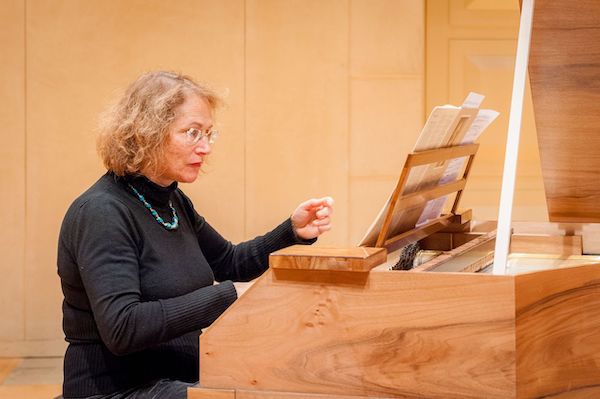 Aline Zylberajch
From behind her harpsichord, Aline Zylberajch has been making her presence felt on the Baroque scene for some considerable time now. After studying on both sides of the Atlantic, in Paris (CNSMD) and Boston (New England Conservatory), she contributed to the early work of ensembles such as La Chapelle Royale, Les Musiciens du Louvre and Le Parlement de Musique, with whom she recorded numerous operas and oratorios. These concerts fostered her predilection for vocal music and the way it is echoed in works written for keyboard instruments.
She later came across the music of C.P.E. Bach, and also that of many Central European composers who are often still overlooked nowadays, and as a result she took up a number of other equally expressive keyboard instruments. For instance, she then began exploring the hugely diverse soundscapes of 18th century music, using a whole host of different instruments, such as Cristofori, Silbermanns, Pantalonflügeln, and a range of different pianoforte mechanisms as varied as the ones on which Mozart performed during his travels across Europe. This period, which also saw the increasing popularity of duos, trios and quartets all with prerequisite keyboard instruments, opened up a whole new field of research into chamber music, another of her passions. On her musical journey, Aline then came across the psaltery/dulcimer, whose leather or flannel-covered wooden hammers set the strings vibrating with a kind of poetry which is ripe for rediscovery. So, naturally enough, the tangent piano and the magical palette of colours it offers became the ideal medium for her work with longstanding musical partner Alice Piérot, sharing all the melancholy, fiery passion, humour and tenderness found in the music of C.P.E. Bach. Although based in Strasbourg, where she teaches the harpsichord at the Conservatoire, Aline frequently travels abroad to give classes in the performing arts in Germany, Australia, Austria, Spain, the United States, Japan, Mexico and Poland.
Her recordings have been reviewed very favourably, including a "Diapason d'Or", a score of 10 awarded by Répertoire, a "Choc du Monde de la Musique", Recommended by Classica, Gramophone, Early Music Review, etc.