---
Album Info
Album Veröffentlichung:
2019
HRA-Veröffentlichung:
10.04.2020
Das Album enthält Albumcover Booklet (PDF)
Johann Sebastian Bach (1685 - 1750): Cello Suite No. 2 in D Minor, BWV 1008 (Arr. M. Wegrzyk for Guitar):

1

Cello Suite No. 2 in D Minor, BWV 1008 (Arr. M. Wegrzyk for Guitar): I. Prélude

03:18

2

Cello Suite No. 2 in D Minor, BWV 1008 (Arr. M. Wegrzyk for Guitar): II. Allemande

04:17

3

Cello Suite No. 2 in D Minor, BWV 1008 (Arr. M. Wegrzyk for Guitar): III. Courante

02:05

4

Cello Suite No. 2 in D Minor, BWV 1008 (Arr. M. Wegrzyk for Guitar): IV. Sarabande

03:49

5

Cello Suite No. 2 in D Minor, BWV 1008 (Arr. M. Wegrzyk for Guitar): V. Menuetts I & II

02:35

6

Cello Suite No. 2 in D Minor, BWV 1008 (Arr. M. Wegrzyk for Guitar): VI. Gigue

02:35

Prelude in E Minor, BWV 855a (Arr. M. Wegrzyk for Guitar):

7

Prelude in E Minor, BWV 855a (Arr. M. Wegrzyk for Guitar)

02:46

Violin Partita No. 1 in B Minor, BWV 1002 (Arr. M. Wegrzyk for Guitar):

8

Violin Partita No. 1 in B Minor, BWV 1002 (Arr. M. Wegrzyk for Guitar): I. Allemanda

05:18

9

Violin Partita No. 1 in B Minor, BWV 1002 (Arr. M. Wegrzyk for Guitar): II. Double

04:19

10

Violin Partita No. 1 in B Minor, BWV 1002 (Arr. M. Wegrzyk for Guitar): III. Courante

03:23

11

Violin Partita No. 1 in B Minor, BWV 1002 (Arr. M. Wegrzyk for Guitar): IV. Double. Presto

03:43

12

Violin Partita No. 1 in B Minor, BWV 1002 (Arr. M. Wegrzyk for Guitar): V. Sarabanda

03:38

13

Violin Partita No. 1 in B Minor, BWV 1002 (Arr. M. Wegrzyk for Guitar): VI. Double

02:50

14

Violin Partita No. 1 in B Minor, BWV 1002 (Arr. M. Wegrzyk for Guitar): VII. Tempo di bourrée

03:10

15

Violin Partita No. 1 in B Minor, BWV 1002 (Arr. M. Wegrzyk for Guitar): VIII. Double

03:18

Total Runtime

51:04
Info zu J.S. Bach: Guitar Works
A totally new way of approaching transcriptions of Bach for the guitar. Marek Wegrzyk's playing is both subtle and virtuoso, suffused with a touch of nobility and melancholy.
Marek Wegrzyk, classical guitar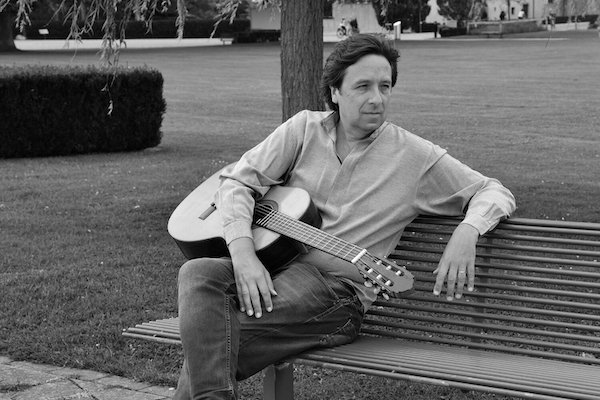 Marek Wegrzyk
Born in Poland, Marek began studying guitar when he moved to Geneva, Switzerland in 1981. At the Conservatoire de Fontenay in Paris he studied with Pedro Ibañez, later continuing at the Manhattan School of Music with Manuel Barrueco, in New York. Marek obtained his Licence de Concert in 1996 at the Conservatoire de Lausanne (Switzerland) where he studied with Dagoberto Linhares.
He completed his formal studies in musicology at the University of Geneva with a dissertation analysing the works of flamenco guitarist Paco de Lucia.
His stay in the United States allowed him to develop his interest in contemporary music, participating in the performance of Steve Reich's Electric Counterpoint for twelve guitars as well as in the U.S premier of "Polimetria" for four prepared guitars by the Brasilian composer Arthur Kampela (recipient of the Guggenheim Award for Creative Arts, 2014.) This composer also dedicated his "Percussion Study IV- Exoskeleton" for alto (alla chitarra) to Marek, who gave the European premiere in Annecy in 2007.
However, the determining influence on Marek's musical journey has no doubt been his meeting with the Hungarian pianist and teacher György Sebök, during seminars at his summer music festival at Ernen, Switzerland.
Marek Wegrzyk has given numerous recitals in Switzerland and abroad (France, Spain, Portugal, Germany, Poland and the United States) as both a soloist and member of chamber groups. He has performed with the Orchestre de Chambre de Lausanne, I Solisti Veneti, l'Ensemble Contrechamps, and the l'Orchestre Philharmonique de Oradea directed by d'Armin Jordan, Claudio Scimone, Stefan Asbury, and Erwin Acel, in works by J. Rodrigo, H. Lachenmann and W. Rihm, among others.
In a completely different register, Marek has been a member of the Celtic music group Celtofools, well known on the Romande (Switzerland) music scene. He has also collaborated with the Italian tenor Oscar Mancino in recitals of Neapolitain songs and joined the flamenco company Sin Fronteras for two series of shows "Seville" and "Vuelvo al Sur" in 2001 and 2002.
Since 2005 Marek Wegrzyk has been teaching guitar and initiation to flamenco guitar at the Conservatoire Populaire de Musique, Danse et Théâtre in Geneva, Switzerland.
Marek's first solo recording Fragments was released in 1999 with the Cascavelle label, followed by the first CD in this series of Bach transcriptions in 2014. Since 2008, in collaboration with guitarist and Baroque specialist Ricardo Lopes Garcia, Marek has dedicated himself to the ambitious project of adapting a selection of Bach's works for solo instruments to the classical guitar, of which this is the second volume.


Booklet für J.S. Bach: Guitar Works