---
Album Info
Album Veröffentlichung:
2019
HRA-Veröffentlichung:
04.10.2019
Das Album enthält Albumcover Booklet (PDF)
Heino Eller (1887 - 1970):

1

Night Calls

17:39

Symphonic Suite "White Night":

2

Symphonic Suite "White Night": I. White Night

02:29

3

Symphonic Suite "White Night": II. In Dance Rhythm

02:55

4

Symphonic Suite "White Night": III. Reminiscences

04:33

5

Symphonic Suite "White Night": IV. Camp Fire

03:20

6

Symphonic Suite "White Night": V. Fisherman's Song

07:29

7

Symphonic Suite "White Night": VI. In March Rhythm

05:19

8

Symphonic Suite "White Night": VII. White Night

02:51

Heino Eller:

9

Twilight

05:09

10

Dawn

07:42

Total Runtime

59:26
Info zu Eller: Symphonic Poems
This second volume in a series dedicated to the orchestral works of Heino Eller (1887–1970) by the Estonian National Symphony Orchestra under conductor Olari Elts is a ground-breaking introduction to one of the founders of the Estonian school of music. The present volume consists of Eller's symphonic poems and contains some of Eller's earliest symphonic works, including one of his most well-known works, Dawn (Koit).
Twilight and Dawn, Eller's first symphonic scores, have proven to be his most popular and accessible works, sometimes performed as a pair. The charming Twilight, with a somewhat Wagnerian middle section, carries the seeds of Eller's hallmark bittersweet lyricism and delicate modal harmonies, that manifest in full bloom in the Dawn. Both works can be perceived as Eller's homage to Estonian nature. In a radio interview in 1946, the composer, talking about Dawn, says this: "I have bound all my love towards the nature into this work. This love harks back to boyhood, when I often wondered on the floodplains of the river Emajõgi. And to this day it has stayed in me, and is in fact the essence of all my works."
Large symphonic poem Night Calls was premiered in Tartu 8th of April 1921, in the first concert of Eller's works in Estonia. According to Eller, the idea for Night Calls stems from a storm he witnessed one night. Years later Eller also mentioned of having been influenced by Mussorgsky's Night on the Bald Mountain. This work shows Eller's early skills in writing music that is full of drama and atmosphere.
Symphonic Suite White Night was completed in 1939. In this work cast in 7 movements we find Eller's mature voice, and it is considered to be one of the best examples of the 'Ellerian' style. During WW2 two scores of the work were destroyed and the composer considered the work as lost. Luckily, the original score of the work was found years later at the radio archives in Stockholm by Eduard Tubin and the work was performed again in 1962 at the composer's 75th anniversary concert.
Estonian National Symphony Orchestra
Olari Elts, conductor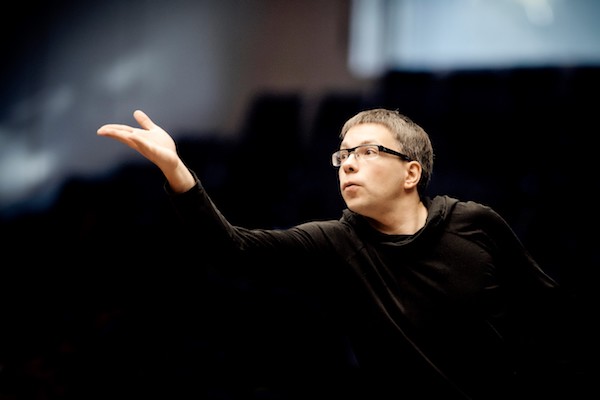 The Estonian National Symphony Orchestra (ENSO)
is the longest continually operating professional orchestra of its kind in the country. The orchestra's history dates back to 1926 and, like that of many other world orchestras, is connected to the birth of national broadcasting. The orchestra performs with renowned conductors and soloists from around the world, including Estonian musicians of the highest calibre. Its recordings demonstrate a quality recognized by many prestigious music magazines, having won several prizes, including a GRAMMY ® Award. In addition, ENSO has regularly given concerts in European and Scandinavian countries, appearing at many prestigious festivals including Köln, New York, Verona, Genoa, Munich, and Stockholm. With a repertoire ranging from the Baroque period to the present, the Estonian National Symphony Orchestra has also given premiere performances of symphonic works by several Estonian composers, including Arvo Pärt, Erkki-Sven Tüür, Eduard Tubin, Eino Tamberg, Jaan Rääts, Lepo Sumera, Tõnu Kõrvits and Helena Tulve.
Olari Elts
international career sees him throughout all continents, performing with such orchestras as the Gewandhausorchester Leipzig, Wiener Symphoniker, Rotterdam Philharmonic, BBC Symphony, City of Birmingham Symphony, Scottish Chamber Orchestra, BBC National Orchestra of Wales, Helsinki Philharmonic Orchestra, the Norwegian, Danish, Finnish and Netherlands Radio Symphony Orchestras, NDR Sinfonieorchester Hamburg, SWR Radio- Sinfonieorchester Stuttgart, Munich Chamber Orchestra, Orchestre National de France, Orchestre de Lyon, Orchestre National du Capitol de Toulouse, Orquesta Sinfónica do Porto Casa da Música, the Seattle and Cincinnati Symphonies and the National Arts Centre Orchestra in Ottawa. In the Far East, he works with the Yomiuri Nippon Symphony Orchestra and Malaysian Philharmonic. In Australia and New Zealand, he conducts the symphony orchestras in Melbourne, Perth, Hobart and Adelaide as well as the New Zealand Symphony Orchestra. Soloists with whom he collaborates include Jean-Efflam Bavouzet, Gautier and Renaud Capuçon, Brett Dean, Isabelle Faust, Alban Gerhardt, Martin Grubinger, Martin Helmchen, Stephen Hough, Felix Kleiser, Kari Kriikku, Sally Matthews, Karita Mattila, Baiba Skride and Antoine Tamastit. Olari Elts is founder of his contemporary music ensemble, NYYD Ensemble. Through a broad range of repertoire he combines a strong commitment to vocal and choral as well as contemporary music, with close associations to his fellow Estonians, Arvo Pärt and Erkki-Sven Tüür.


Booklet für Eller: Symphonic Poems