---
Album Info
Album Veröffentlichung:
2020
HRA-Veröffentlichung:
31.01.2020
Das Album enthält Albumcover Booklet (PDF)
1

Kossassa

04:33

2

Payanké

04:29

3

Zenfants la Creuse

04:33

4

Singular Insularity

04:52

5

Soufflèr

05:52

6

La Beaumarchais

05:11

7

Ti Bird

04:50

8

Largue pa tienbo

05:08

9

Ralé-Poussé

06:06

10

À bord du Zeta

05:51

Total Runtime

51:25
Info zu Singular Insularity
Toots Thielemans "gave birth to musical sons like Olivier Ker Ourio" writes Michel Contat in his 2016 article published in Télérama magazine, "who continue in his legendary wake to honor the 'mouth organ' with emotion."
After the ambitious "Somminkèr" with Danyel Waro and "Orkès Péï", a project paying tribute to the music of Reunion Island rated best of year by Jazz Magazine ("Choc"), Olivier Ker Ourio tirelessly continues to defend his vision of jazz: jazz with creole roots and a singular insularity.
An insularity that is in fact unique, not least because instead of isolating himself on Reunion Island, Ker Ourio wanted to share that microcosm, confront and mix it up with those of other islands far away geographically, yet incredibly close in terms of their history and musical origins.
"Singular Insularity" is the name Ker Ourio chose to describe this latest musical adventure. In it, he initiates a dialogue between diverse creole musical cultures from all over the world like a family get-together between cousins, building a monumental musical bridge between his homeland in the Indian Ocean and the Caribbean Islands.
Ker Ourio has surrounded himself with jazz musicians committed to the powerful roots and traditions of their home islands, yet also open and sensitive to the musicality that could emerge from them as a group. The goal was to inspire the expression of a new kind of creole family, related through diversity.
The playground for this vibrant and heartfelt exchange: ten original compositions by Ker Ourio. While singer Bastien Picot and flutist Christophe Zoogonès share Olivier's creole homeland of Reunion Island, the creole roots of their other partners stretch across the globe: pianist Grégory Privat from Martinique, drummer Arnaud Dolmen from Guadeloupe, percussionist Inor Sotolongo from Cuba and bass player Gino Chantoiseau from Mauritius.
This inter-creole encounter was the genesis of a musical passion fruit of extreme finesse and intensity that relies on completely original songs, some sung in creole, others instrumental, powerful melodies that swing with the irresistible rhythms of the islands.
Olivier Ker Ourio, harmonica
Grégory Privat, piano, Fender Rhodes
Gino Chantoiseau, bass
Yoann Danier, drums
Inor Sotolongo, congas, percussions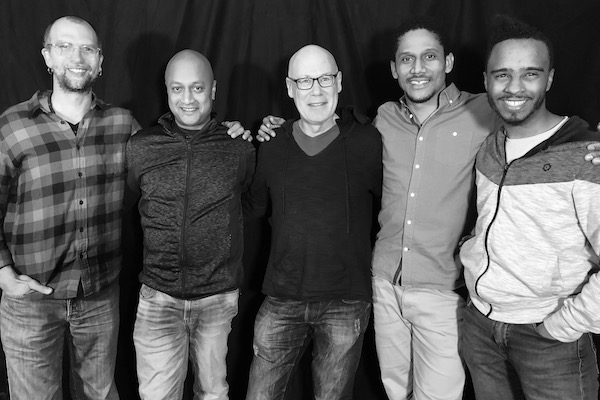 Olivier Ker Ourio
Paris-based musician, composer, band leader, and highly-regarded soloist, Olivier Ker Ourio has established himself as one of the world's premiere chromatic jazz harmonica players.
Acclaimed by critics as the true inheritor of Toots Thielemans, OKO is a highly demanded soloist (Alexandre Desplat, Jean-Claude Petit, Sylvain Luc, Marcel Azzola, Michel Legrand, Didier Lockwood, Danyel Waro, Ralph Towner…) as much as a great composer and project leader.
In his 11 albums recorded as a leader, his compositions combine lyric melodies with invigorating rhythms and inventive harmonies. Emotionally expressive, warm and inviting, Ker Ourio's music is committed, fresh, and melodic — and above all, straight from the heart.
His new album "Singular Insularity" recorded with his companions of insularity: Gregory Privat (piano/fender rhodes), Gino Chantoiseau (bass), Arnaud Dolmen (drums) & Inor Stolongo (percussions) will be released January 31st, 2020.


Booklet für Singular Insularity