---
Album Info
Album Veröffentlichung:
2019
HRA-Veröffentlichung:
21.06.2019
Das Album enthält Albumcover
Entschuldigen Sie bitte!
Sehr geehrter HIGHRESAUDIO Besucher,
leider kann das Album zurzeit aufgrund von Länder- und Lizenzbeschränkungen nicht gekauft werden oder uns liegt der offizielle Veröffentlichungstermin für Ihr Land noch nicht vor. Wir aktualisieren unsere Veröffentlichungstermine ein- bis zweimal die Woche. Bitte schauen Sie ab und zu mal wieder rein.
Wir empfehlen Ihnen das Album auf Ihre Merkliste zu setzen.
Wir bedanken uns für Ihr Verständnis und Ihre Geduld.
Ihr, HIGHRESAUDIO
1

Billy Jack

06:57

2

You're Everything

04:50

3

We're A Winner

05:32

4

Stairway To The Stars

04:56

5

Brooklyn Blues

02:56

6

Once In A Lifetime

05:53

7

Just To Keep You Satisfied

05:17

8

Sacred Sounds

08:16

9

Long As You're Living

04:40

10

Love Will Find A Way

06:31

Total Runtime

55:48
Info zu Love Will Find A Way
Siebzehn Jahre nach seinem letzten, betont jazzigen Soloalbum "Soul On Jazz" meldet sich der Sänger Philip Bailey – eine der unverkennbaren Stimmen des Rhythm'n'Blues und Funk – endlich mit einem neuen grandiosen Album zurück.
Mit der Single-Auskopplung "Billy Jack", die von Robert Glasper koproduziert wurde, kündigt der legendäre Falsett-Sänger und Mitbegründer von Earth Wind & Fire sein am 21. Juni erscheinendes Verve-Album "Love Will Find A Way" an, auf dem er neben neuen Eigenkompositionen u.a. Klassiker von Curtis Mayfield, Pharoah Sanders und den Talking Heads interpretiert. So illuster wie das Repertoire ist auch die atemberaubende Besetzung, die Bailey auf diesem Album zur Seite steht: denn neben Glasper geben sich hier auch Kamasi Washington, Chick Corea, Christian Scott aTunde Adjuah, Bilal, Christian McBride, Steve Gadd, will.i.am und viele andere die Ehre.
Als Earth Wind & Fire Anfang der 1970er Jahre ihre ersten Aufnahmen machten, hatten Bailey und seine Bandkollegen, wie viele große Künstler jener Zeit, wenig Interesse daran, Genres auseinanderzuhalten oder für ein selektives Publikum zu spielen. Diese Philosophie verhalf der Band damals zu einem beispiellosen kreativen und kommerziellen Erfolg.
"Billy Jack" stammt aus der Feder von Curtis Mayfield und wurde von ihm erstmals 1975 für das Album "There's No Place Like America Today" aufgenommen. In dieser modernisierten Version ist der Sänger, der hier auch Perkussion spielt, mit Kendrick Scott am Schlagzeug und Robert Glasper an den Keyboards zu hören.
Auf "Love Will Find A Way" beweist Bailey, dass die Ideale von Earth Wind & Fire – z.B. Respekt vor echter Musikalität und die Überzeugung, dass jede Art von Musik Bedeutung hat – auch 2019 immer noch ihre Berechtigung haben und beim Publikum auf fruchtbaren Boden fallen. Neben altvertrauten Freunden wie dem Bassisten Christian McBride, dem ikonischen Jazzpianisten Chick Corea und der Schlagzeug-Legende Steve Gadd präsentiert Bailey auf dem Album einige der größten zeitgenössischen Stars des Jazz, Rhythm'n'Blues und Pop: darunter Keyboarder Robert Glasper, Saxophonist Kamasi Washington, der Rapper, Musiker und Produzent will.i.am, Trompeter Christian Scott aTunde Adjuah, Sänger/Songwriter Bilal, Saxophonist Casey Benjamin, Gitarrist Lionel Loueke, Schlagzeuger Kendrick Scott und Bassist Derrick Hodge.
Die Aufnahmen von "Love Will Find A Way" entstanden über einen Zeitraum von zwei Jahren. Alles begann, als Bailey auf die neue zukunftsweisende Jazzgeneration aufmerksam wurde, für die Genregrenzen überhaupt nicht mehr zu existieren scheinen. "Ich hatte gehört, dass Rob Glasper dem Jazz ein neues Gesicht verlieh", erzählt Bailey. Das weckte seine Neugier. Also besuchte er ein Konzert des Keyboarders, um sich ein eigenes Urteil zu bilden und war danach restlos begeistert. Nicht nur war die Musik heiß und progressiv, auch das Publikum war hip, bunt gemischt, jugendlich und leidenschaftlich.
Bailey holte Glasper schnell an Bord, um auf einigen Tracks zu spielen und als Produzent mitzuwirken. Darüber hinaus erwies er sich bei der Rekrutierung von Musikern und anderen Entscheidungen von unschätzbarem Wert für den Sänger. Aber Bailey hörte sich selbst auch weiter um. Beim Jazz Fest in New Orleans wollte er unter keinen Umständen den Auftritt von Kamasi Washington verpassen. Als er ihn nach dem Konzert traf, stellte er fest, wie klein die Welt doch ist. "Er stellte mir seinen Vater [den Holzbläser Rickey Washington] vor", erinnert sich Bailey glucksend. "Und siehe da, Ricky und ich kennen uns seit Jahren! Wir besuchten dieselbe Kirche! Kamasi ging mit meinen Kindern zur Bibelschule."
"Künstler wie Robert und Kamasi und Christian sind offen für die Nuancen des Jazz und seinen historischen Wert", fährt Bailey fort. "Aber sie haben dem Genre wirklich neue Möglichkeiten eröffnet. Und dafür bin ich sehr empfänglich."
"Love Will Find A Way" beginnt mit einem westafrikanisch anmutenden Take von Mayfields "Billy Jack". Die Nummer bietet Bailey die perfekte Gelegenheit, dem Falsett-Sänger, der ihn wohl am meisten beeinflusst hat, Tribut zu zollen. Danach erinnern Bailey und Chick Corea mit einer charmant groovenden Version des Return To Forever-Klassikers "You're Everything" an die Blütezeit der Jazz-Fusion.
Bei "We're A Winner", einer weiteren Nummer von Curtis Mayfield, erhält Bailey gesangliche Unterstützung von Bilal. Im überwiegend instrumentalen "Stairway To The Stars", das will.i.am mit einem hypnotisierenden Tribal Beat unterlegte, setzt sich Christian Scott aTunde Adjuah mit seiner mit viel Halleffekten gespielten Trompete in Szene. Das Stück geht nahtlos in den "Brooklyn Blues" über, in dem Bailey mit seiner Kalimba ein meditatives Ambiente kreiert, unter das ein siedender Jazzrhythmus des 21. Jahrhunderts gelegt wurde. Dann feiert Talking Heads' "Once In A Lifetime" – mit einer Spoken-Word-Einlage von Bailey – als atmosphärische Slow-Jam-Nummer Wiederauferstehung.
"Just To Keep You Satisfied" ist eine wunderbar ehrfürchtige Hommage an Baileys Idol Marvin Gaye. Kamasi Washingtons kerniges Tenorsaxophon passt perfekt zu der spirituellen 70er-Jahre-Stimmung von "Sacred Souls". Im Titelstück, "Love Will Find A Way" von Pharoah Sanders, wird Baileys Falsett subtil von Casey Benjamins Saxophon und Vocoder komplementiert. Für den soul-jazzigen Groove in "Long As You're Living" sorgt der großartige Bassist Christian McBride. Die Nummer war 1959 von Julian Priester und Tommy Turrentine für Max Roachs Album "Quiet As It's Kept" geschrieben worden und erhielt später einen Text von Oscar Brown.
"Love Will Find A Way" ist Philip Baileys zwölftes Soloalbum, seit er 1983 mit "Continuation" debütierte. Seinen größten Erfolg hatte er ein Jahr später mit dem von Phil Collins produzierten Platin-Album "Chinese Wall", welches den Mega-Hit "Easy Lover" enthielt und für zwei Grammys nominiert war. Zwischen 1984 und 1991 veröffentlichte er vier Gospel-Alben, darunter den Grammy-Gewinner "Triumph". Mit dem Album "Dreams" wagte sich Bailey dann 1999 erstmals auf jazzigere Gefilde vor. Noch jazzbetonter war 2002 der Nachfolger "Soul on Jazz", der damals Platz 45 der Billboard Jazz Albums Charts erreichte.
Philip Bailey, Gesang
Chick Corea, Klavier
Robert Glasper, Keyboards
Lionel Loueke, Gitarre
Kamasi Washington, Saxophon
Christian Scott aTunde Adjuah, Trompette
Casey Benjamin, Saxophon, Gesang
Christian McBride, Bass
Derrick Hodge, Bass
Steve Gadd, Schlagzeug
Kendrick Scott, Schlagzeug
Produced by Robert Glasper and Philip Bailey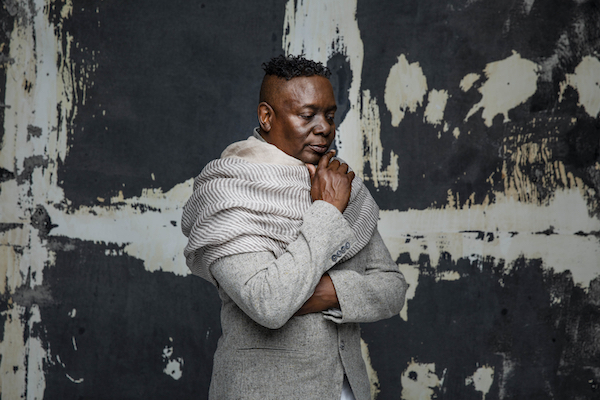 Philip Bailey
The voice of Philip Bailey is a four-octave wonder, and it's been defying gravity for as long as even his family can remember. Best known to millions around the world as the celebrated lead vocalist with the legendary supergroup Earth, Wind & Fire, Philip has also enjoyed a parallel career as a successful solo artist with six R&B/pop albums and four gospel recordings to his credit.
Although Philip Bailey recalls being able to sing before he could talk, as a kid growing up in Denver, Colorado, he was convinced his future lay in the world of percussion. He says, "One of my earliest memories is of being at a parade when I was seven years old and being mesmerized by the drums in the marching band. I remember feeling like my heart was coming out of my body! As I got older, I used to love making as much noise as possible on the tops of overturned trash cans…so much noise that my mom eventually bought me some drums of my own."
Bailey's fascination with music grew when he was introduced to jazz through an album collection owned by his best friend's mom. "All the other kids in the neighborhood would be outside playing, and I'd be in the house in front of the record player," he notes. "Around that time, my mom took me out to a jazz club to hear my older cousin play saxophone. And I just couldn't get over the sound of that instrument and the whole vibe of the music."
As a teenager, Philip Bailey pursued his dream, playing drums and bass in the high school jazz band, then rushing off to rehearsals with the school choir. In college, he expanded his percussion talents to include marimba and timpani and strongly considered joining a symphony orchestra after graduation.
"But my first love was always jazz," he confides. "Miles and Coltrane, drummers like Max Roach and Art Blakey, have always been icons for me." Not surprisingly, Bailey became a regular on the bill at several local clubs, singing from 9 p.m. to 2 a.m., then playing drums from 3:30 to 6 in the morning. One night, his band supported the embryonic Earth, Wind & Fire, and brief introductions were made. It was an encounter that was to prove vital to Philip's future and to the history of American popular music.
Philip Bailey left college a year later and decided to chance his musical luck in Los Angeles. Once he arrived on the West Coast, it didn't take long to hook up again with Earth, Wind & Fire. The group's founder Maurice White, a former session drummer for such artists as Etta James, Fontella Bass and Billy Stewart, had arrived in L.A. only the year before with visions of creating a truly universal music group – one that was spiritually charged and ambitious in scope, defying boundaries of color, culture and categorization. Those ideas appealed to Philip as well, and his soon-to-be trademark falsetto blended so perfectly with White's charismatic tenor that the young singer was invited to join the band.
As EWF skyrocked to the top of the charts, both fans and critics began championing Bailey's incomparable upper-register flights on such hits as "Shining Star," "Reasons," "All 'N All" and "After The Love Has Gone." Throughout the next decade, Earth, Wind & Fire's astronomical success (six Grammy Awards, four American Music Awards and more than 50 gold and platinum albums) provided the critically-acclaimed singer with the perfect launching pad for a solo career.
In 1982, while continuing his work with EWF, Philip Bailey recorded his first solo project, "Continuation." Soon to follow were the R&B/pop albums "Chinese Wall" (1984), which spawned the worldwide hit duet with Phil Collins, "Easy Lover," and "Inside Out" (1986). During that time, Bailey also began making a name for himself in the gospel world and has since released four gospel recordings, including "The Wonders of His Love" (1984), the Grammy-winning "Triumph" (1986), "Family Affair" (1989) and "The Best of Philip Bailey: A Gospel Collection" (1991).
Shortly after returning to the studio with Earth, Wind & Fire to record the band's Grammy-nominated "Millennium," Philip collaborated with singer Brian McKnight and members of the hit groups PM Dawn and Arrested Development to co-write and record yet another R&B/pop solo project – "Philip Bailey" (1994). In 1998, his album "Life and Love" was released throughout Europe.
Philip's album, "Dreams," gave him an opportunity to focus on his first love – jazz – as he teamed with a veritable Who's Who of contemporary jazz artists, including Gerald Albright, Randy Brecker, Luis Conte, George Duke, Everette Harp, Joe McBride, Pat Metheny, Morris Pleasure (who also co-produced some tracks), Gerald Veasley, the late Grover Washington, Jr., Kirk Whalum and Peter White.
"It really was a dream having all these different musicians involved," notes Bailey, "I'd worked with many of them in the past. George Duke produced my very first solo album. Kirk, Grover, Joe and both Geralds had also played with me before. And, of course, Morris and I met in Earth, Wind & Fire. But it's still so flattering to have all these people giving a hand and creating this album with me."
"When I called Pat Metheny and asked him to write something for this project, he suggested I listen first to 'Something To Remind You,' a song he had written a few years ago with Lyle Mays, because it had been inspired by Earth, Wind & Fire," says Bailey. "I loved the song, so I asked my son Sir, who has often co-written with me, to come up with some lyrics. It's now one of my favorites on the album."
"It's just a great time in my life, and I feel very blessed. I love the fact that as musicians, we get to take a stab at leaving behind something that's pure, preserved for the future. It's a wonderful feeling to be able to do that."


Dieses Album enthält kein Booklet