---
Album Info
Album Veröffentlichung:
2018
HRA-Veröffentlichung:
30.11.2018
Das Album enthält Albumcover
1

Any Day Now, Pt. 1

07:41

2

Why? (Intro)

02:53

3

Why?

05:30

4

Don't You

02:15

5

Take Me (Tøyen Blues)

14:04

6

In Your Arms

07:48

7

And, Pt. 1 (If I Was a Panther)

06:43

8

And, Pt. 2 (Philming)

07:55

9

Carry Me

03:48

10

(Out) Of This...

04:51

11

Lonely Place?

03:09

12

Any Day Now, Pt. 2

07:03

Total Runtime

01:13:40
Info zu Any Day Now
Martin Myhre Olsen, a saxophonist whose talents have been an integral part of various acclaimed ensembles (including Chick Corea & Trondheim Jazz Orchestra, Megalodon Collective, Wako, and the Norwegian Grammy Award winning band Hegge), brings forth a new vision of the large improvising ensemble.
Taking the Ellington Spirit into the 21 st century – an intention that Myhre Olsen declares as a starting point for the ensemble - is one thing, but not only do MMO-Ensemble achieve this, they elaborate on it, not only temporally, but spatially, not so much weaving a new web, but a perfect cocoon that envelops the listener. The music is both its own visible surface, and its own logos.
This, the third project for the ensemble, follows on from the Emily Dickinson inspired "Western Mystery" (2016-2017) and "Lonely Creatures" (2014-2016), a fairy-tale for octet. For "Any Day Now", texts by James Baldwin, Emily Dickinson and e.e. cummings provide linguistic and thematic starting points and touchstones for the music, as well as becoming part of the collage as a whole (both spoken and sung). Recorded live in front of an appreciative audience, "Any Day Now" marks a key milestone in the ensemble's development.With variegated textures supplied by the twelve musicians, listeners will find atmospheres built from extended playing techniques, suggested rhythmic pulses, moments of drama that fall like a whisper or rise like an industrial behemoth roaring to the sky. Equally, there are moments of big band groove, propelled forwards on urban rails like unstoppable engines. Whether acting as disparate agents or as a forceful unity, the musicians remain connected throughout, never one of them out of sight of the others.
Within the near-crystalline structures of the music, both composed and improvised, there is a reflection of the structures of the poetry, both in terms of the dramaturgy of the words themselves, and the poetical structures. Indeed, James Baldwin's poem from which the album derives its name also supplies the titles of the individual tracks (while the poetry of cummings and Dickinson is thematically resonant with them):
The music of MMO-Ensemble runs the gauntlet between intellectual and emotional, abstract and evocative, imposing and intimate, frenetic and tranquil. These explorations carry a uniquely sensual experience that appeals both to the higher mind and to pure instinct.
MMO-Ensemble was formed by Martin Myhre Olsen as a project-based ensemble. In his own words, the band was formed "out of a need to express my most intimate musical visions." His handpicked ensemble of talented musicians have grown with Myhre Olsen compositional ambition, each functioning with perfect taste in relation to the necessities and exciting possibilities for exploration contained within each composition and performance. "Any Day Now" sees the largest version of the ensemble to date, with twelve musicians in the line-up:
Martin Myhre Olsen, alto & soprano saxophone
André Roligheten, tenor & baritone saxophone, bass clarinet
Erik Kimestad Pedersen, trumpet
Siril Malmedal Hauge, vocals
Øyvind Brække, trombone
Ayumi Tanaka, piano
Karl Bjorå, guitar
Håkon Aase, violin
Adrian Løseth Waade, violin
Kaja Fjellberg Pettersen, cello
Christian Meaas Svendsen, double bass, voice
Simon Olderskog Albertsen, drums, vibraphone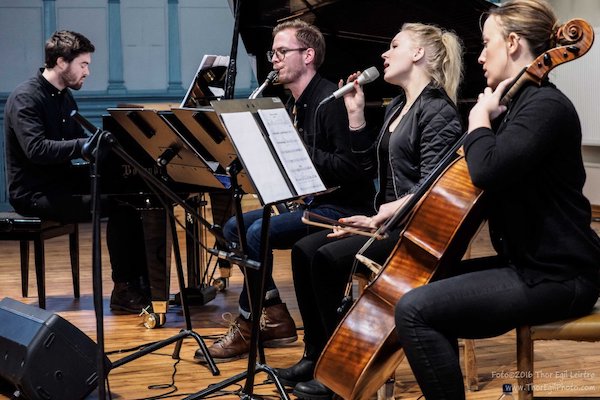 MMO-Ensemble
was formed by Martin Myhre Olsen as a project-based ensemble. In his own words, the band was formed "out of a need to express my most intimate musical visions." His handpicked ensemble of talented musicians have grown with Myhre Olsen's compositional ambition, each functioning with perfect taste in relation to the necessities and exciting possibilities for exploration contained within each composition and performance.
The music of MMO-Ensemble runs the gauntlet between intellectual and emotional, abstract and evocative, imposing and intimate, frenetic and tranquil. These explorations carry a uniquely sensual experience that appeals both to the higher mind and to pure instinct.
Martin Myhre Olsen
27 year old saxophone player and composer from Leirsund living in Oslo, Norway.
After receiving his bachelor degree in performing arts at the acclaimed «Jazzlinja» in Trondheim 2014, he has toured extensively in Scandinavia and Europe and released a handful of albums in his own name and in collaboration with others. He honed his composing and arrangment skills for four years by working as the musical director of MNJ Youth Orchestra, and has in the two past years been on stage with Chick Corea on several occasions as a soloist. In 2018 he won the Norwegian Grammy «Spellemann» for best jazz album of 2017 with the highly praised quintet «Hegge», and was awarded the prestigious title «NTNU-Ambassador» at Jazzfest 2018 for his achievements.


Dieses Album enthält kein Booklet