---
Album Info
Album Veröffentlichung:
2018
HRA-Veröffentlichung:
13.09.2018
Das Album enthält Albumcover Booklet (PDF)
Entschuldigen Sie bitte!
Sehr geehrter HIGHRESAUDIO Besucher,
leider kann das Album zurzeit aufgrund von Länder- und Lizenzbeschränkungen nicht gekauft werden oder uns liegt der offizielle Veröffentlichungstermin für Ihr Land noch nicht vor. Wir aktualisieren unsere Veröffentlichungstermine ein- bis zweimal die Woche. Bitte schauen Sie ab und zu mal wieder rein.
Wir empfehlen Ihnen das Album auf Ihre Merkliste zu setzen.
Wir bedanken uns für Ihr Verständnis und Ihre Geduld.
Ihr, HIGHRESAUDIO
1

Spark Of Life / Sudovian Dance (Live)

12:29

2

Message In A Bottle (Live)

10:43

3

Three Reflections (Live)

09:13

4

Night Train To You (Live)

13:32

5

Austin (Live)

07:42

6

Actual Proof (Live)

10:40

Total Runtime

01:04:19
Info zu Live
Mit "Live" legt das Wasilewski Trio endlich ein von vielen Fans sehnlichst erwünschtes Live-Album vor, auf dem es sich von seiner energischen und extrovertierten Seite zeigt.
Seit Jahren steht bei den Fans des polnischen Marcin Wasilewski Trios ein Live-Album ganz oben auf der Wunschliste. Jetzt wird ihnen dieser Wunsch endlich erfüllt. Mitgeschnitten wurde "Live" ohne das Wissen der Akteure im August 2016 beim "Jazz Middelheim"-Festival in Antwerpen. Als die Musiker die Aufnahmen hörten, spürten sie, dass die "Seele der Dinge" ziemlich gut eingefangen worden war, "vielleicht, weil uns gar nicht bewusst war, dass alles mitgeschnitten wurde". Das unbefangene Trio spielte äußerst dynamisch und ging aus sich heraus. Das Publikum antwortete mit entsprechender Begeisterung. "Wenn man vor 4.000 Leuten auftritt, ändert das nichts an deinem Spiel oder deinen Fähigkeiten", meint Marcin Wasilewski, "aber bei einem Publikum dieser Größenordnung muss man mehr Energie ausstrahlen. Das kann man bei dieser Aufnahme hören." Bassist Sławomir Kurkiewicz fügt hinzu: "Ich denke, dieses Album fängt gut ein, was wir im Laufe der Jahre beim Live-Spielen entwickelt haben, und wie sich die Musik während eines Konzertes verändern kann. Es ist ein wichtiges Dokument für uns."
Für das Wasilewski Trio ergänzen sich Studio- und Live-Erfahrungen. "Die Studioarbeit ist ein ziemlich hermetischer Prozess", sagt Marcin. "Hier versuchen wir, optimale, kompakte und verdichtete Versionen der Stücke zu erhalten. Bei Live-Auftritten geht es um die Anpassung des Flows und die Kommunikation mit einem Publikum. Wir mögen beide Aspekte."
Das Repertoire von "Live" stammt größtenteils aus dem Programm von "Spark Of Life", der 2013 erfolgten Zusammenarbeit der Gruppe mit dem Saxophonisten Joakim Milder. Im Klaviertrio werden diese Stücke nun in ausgedehnten und aufgepeppten Versionen präsentiert. Der Titeltrack von "Spark Of Life" geht gleich zu Beginn des Albums nahtlos in "Sudovian Dance" über. Die anderen Wasilewski-Originale sind "Three Reflections", "Austin" (mit besonders ansprechenden Soli von Sławomir und Marcin) und "Night Train To You" (das erstmals 2011 auf "Faithful" zu hören war), bei dem das Trio gewaltig Dampf macht. "Actual Proof" konvertiert die Energie und die treibenden Rhythmen dieses Herbie-Hancock-Stücks (das ursprünglich für den Film "The Spook Who Sat By The Door" geschrieben und 1974 für "Thrust" weiterentwickelt wurde) wirkungsvoll in den akustischen Kontext. Marcin Wasilewski, Sławomir Kurkiewicz und Michał Miśkiewicz, die allesamt Hancock zu ihren prägenden Einflüssen zählen, legen hier eine echte Powerhouse Performance hin.
"Message In A Bottle" gehört neben Stücken von Björk und Prince zu den Popnummern, die das Trio im Laufe der Jahre adaptiert hat. Eine Studioversion gab es schon auf "Spark Of Life" zu hören, aber die Auseinandersetzung mit dem alten Police-Hit reicht tatsächlich sehr viel weiter zurück. Denn sie spielten ihn schon um 1990 in der Anfangszeit des Trios, als sie noch in Koszalin zur Schule gingen. Als sie die Nummer zum ersten Mal in Angriff nahmen, spielte Slawomir - wie sich Marcin erinnert - Gitarre. "Das war vor meiner Zeit", lacht Drummer Miskiewicz, der 1993 zur Band stieß und so eine der beständigsten Besetzungen im modernen Jazz komplettierte. Wenn man ihnen auf "Live" zuhört, spürt man in jedem Moment das tiefe musikalische Einfühlungsvermögen dieser drei Akteure, eine Qualität, die der Guardian als "ihre Fähigkeit, die Gedanken des anderen aufzunehmen und zu verstärken" beschrieb - es ist die Art improvisierter Kommunikation, die nur im Laufe der Zeit entwickelt werden kann.
Für ECM waren Marcin Wasilewski, Sławomir Kurkiewicz und Michał Miśkiewicz erstmals 2001 als Mitglieder von Tomasz Stankos Quartett im Studio, als der Trompeter sein Album "Soul Of Things" einspielte. Danach begleiteten sie Stanko noch auf "Suspended Night" (2003) und "Lontano" (2005). Die ersten Alben im Trio-Format waren "Trio" (2004), "January" (2007) und "Faithful" (2011). Dann spielten sie 2013 mit dem schwedischen Saxophonisten Joakim Milder "Spark Of Life" ein. Im selben Jahr waren sie außerdem gemeinsam und mit Trygve Seim auf Jacob Youngs "Forever Young" zu hören. Wasilewski und Kurkiewicz wirkten darüber hinaus noch an der Einspielung von Manu Katches "Neighbourhood" (2004) und "Playground" (2007) mit.
Marcin Wasilewski, Klavier
Slawomir Kurkiewicz, Kontrabass
Michal Miskiewicz, Schlagzeug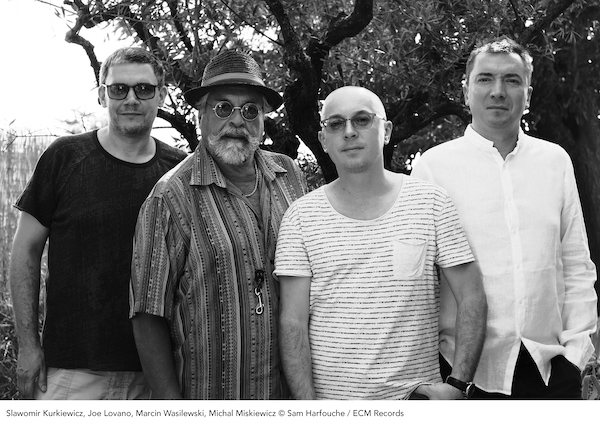 The Wasilewski Trio
The trio's members have been playing together since high school days in Koszalin, Poland; the present line-up was established in 1993. Marcin Wasilewski, Slawomir Kurkiewicz and Michal Miskiewicz first recorded for ECM as members of Tomasz Stanko's quartet on the album Soul of Things in 2001, soon followed by Suspended Night and Lontano. Previous ECM albums in trio format are Trio (2004), January (2007), Faithful(2011), and Live (recorded 2016, released in 2018). For Spark of Life (2014), the trio was joined by Swedish saxophonist Joakim Milder. Wasilewski, Kurkiewicz and Miskiewicz also appear on Norwegian guitarist Jacob Young's album Forever Young (2013).
Joe Lovano made his ECM debut in 1981 with Paul Motian's Psalm. Further recordings with the Motian/Lovano/Frisell are It Should have Happened A Long Time Ago, I Have The Room Above Her, and Time And Time Again. Lovano has also recorded for ECM with John Abercrombie (Open Land, Within A Song), Marc Johnson (Shades of Jade, Swept Away), and Steve Kuhn (Mostly Coltrane). 2019 saw the release of two critically-acclaimed recordings with Lovano – Trio Tapestry, introducing Joe's trio with Marilyn Crispell and Carmen Castaldi, and Roma, a live album with Enrico Rava, Giovanni Guidi, Dezron Douglas and Gerald Cleaver.
As an autonomous force, the trio's biography begins in 1990, when Wasilewski and Kurkiewicz as 15-year old students at the Koszalin High School of Music began playing jazz together. Their first trio was formed the following year. In 1993 drummer Miskiewicz joined them, and the group's line-up has been stable ever since. As the Simple Acoustic Trio they won awards in their homeland and issued five albums on local labels. Their first international release, for ECM, entitled just "Trio" was recorded in 2004 and released the following year, immediately winning the Quarterly Prize of the German Record Critics. In the US, too, critics were taking notice. "Their years together have resulted in an ensemble with an utterly symbiotic creative flow," wrote Don Heckman in the Los Angeles Times.
The release of "January" - recorded in New York with producer Manfred Eicher early in 2007 - also signals a change of name. Henceforth the group is, simply, the MarcinWasilewski Trio. The group continues to be run as a collective of equals, but its members have come to accept the convention that piano trios are traditionally identified by their pianists. Besides, Marcin is the band's principal songwriter: he contributes four pieces to the present disc, including the title track and the beautiful opener, "The First Touch". Wasilewski also, at the urging of the producer, addresses pieces written by Gary Peacock and by Carla Bley - pieces identified with two major pianists, respectively Keith Jarrett and Paul Bley. Wasilewski does not flinch from the challenge but, with his trio partners, makes of this music something of his own.


Booklet für Live