---
Album Info
Album Veröffentlichung:
2018
HRA-Veröffentlichung:
16.03.2018
Das Album enthält Albumcover Booklet (PDF)
Entschuldigen Sie bitte!
Sehr geehrter HIGHRESAUDIO Besucher,
leider kann das Album zurzeit aufgrund von Länder- und Lizenzbeschränkungen nicht gekauft werden oder uns liegt der offizielle Veröffentlichungstermin für Ihr Land noch nicht vor. Wir aktualisieren unsere Veröffentlichungstermine ein- bis zweimal die Woche. Bitte schauen Sie ab und zu mal wieder rein.
Wir empfehlen Ihnen das Album auf Ihre Merkliste zu setzen.
Wir bedanken uns für Ihr Verständnis und Ihre Geduld.
Ihr, HIGHRESAUDIO
1

Pretty Stars

03:58

2

Winslow Homer

03:27

3

Change in the Air

02:20

4

What Do You Want?

02:45

5

Thankful

05:10

6

Ron Carter

04:44

7

Think About it

01:00

8

In Line

05:00

9

Rambler

06:33

10

The Pioneers

04:13

11

Monica Jane

05:39

12

Miss You

03:34

13

Go Happy Lucky

02:55

14

Kentucky Derby

02:05

15

Made to Shine

02:21

16

Rambler (Alternate Version) (Bonus Track)

02:50

Total Runtime

58:34
Info zu Music IS
Bill Frisell steht meist in aller Frühe auf, trinkt dann eine Tasse Kaffee und beginnt zu komponieren. Bis heute hat er auf diese Weise Berge von Notenpapier mit seiner eleganten Handschrift gefüllt. "Woher mir die Melodien zufliegen, weiß ich nicht«, sagt Frisell. »Aber ich versuche, sie nicht zu beurteilen und einfach existieren zu lassen.
Frisells Mantra oder Lebensmotto lautet: "Musik ist gut." So formulierte es einmal sein guter Freund, der große Banjo-Spieler Danny Barns. "Das stimmt wirklich immer. Es ist perfekt. Ich muss nichts wissen als diesen Satz: ›Musik ist gut.‹ Fast hätte ich das Album so genannt, doch dann dachte ich, dass das vielleicht zu eng, zu wörtlich sein könnte. Es ist besser, den Titel offen zu formulieren."
Music IS ist das erste Soloalbum des Jazz-Künstlers seit der CD Ghost Town, die vor 18 Jahren erschien.
"Solo-Auftritte sind immer eine Herausforderung", sagt Frisell. "Ich wollte immer mit anderen Menschen Musik machen. Ein Gespräch führen. Frage und Antwort. Allein zu spielen ist eine Reise, die ein ganz anderes Denken erfordert." Um die Aufnahme vorzubereiten, trat Frisell eine Woche lang im The Stone in New York auf: Jeden Abend schnappte er sich neue Stücke aus einem der vielen Papierstapel, die er im Laufe der Jahre angehäuft hat, und probierte sie aus. "Ich habe dabei bewusst versucht, in einem gewissen Ungleichgewicht zu bleiben. Mich unwohl zu fühlen. Unsicher. Ich wollte nicht auf Musik zurückgreifen, von der ich wusste, dass ich sie beherrschte. Und ich wollte im Studio direkt an diese Erfahrung anknüpfen – es sollte nicht alles im Voraus geplant sein."
Frisell versuchte, sich diese Leichtigkeit und Spontaneität bei der Aufnahme zu erhalten. Die Auswahl der Stücke, das Spielen des Gigs, das Tracking im Studio – das alles war für ihn letztlich eine Art Reise durch seine Erinnerungen. Es gab kein geplantes Konzept, doch was dabei herauskam, wirkt fast wie ein Überblick über sein Schaffen.
Music IS will in erster Linie Musikgeschichten aus Frisells authentischem, unvergleichlichem Blickwinkel erzählen: Manche der Interpretationen sind »nackt«, exponiert, absolut solistisch, während andere dank nachvertontem Layering und seiner unvergleichlichen Loop-Technik vollstimmiger wirken.
Frisell war stets unglaublich aktiv: Er ist auf über 250 Platten vertreten, auf mehr als 40 davon als Lead-Musiker. Die Bandbreite der Stücke auf Music IS reicht von seinen frühesten Jazz-Platten aus der Mitte der 1980er bis zu Ausschnitten aus neuen, genreübergreifenden Projekten.
Music IS wurde im August 2017 in Portland, Oregon im Flora Recording and Playback Studio von Tucker Martine aufgenommen; Produzent war Frisells langjähriger Mitarbeiter Lee Townsend. Alle Stücke auf der CD sind von Frisell; einige davon sind brandneu (»Change in the Air«, »Thankful«, »What Do You Want«, »Miss You« und »Go Happy Lucky«), andere dagegen Solo-Arrangements bereits früher eingespielter Klassiker Frisells, etwa »Ron Carter«, »Pretty Stars«, »Monica Jane« und »The Pioneers«. »In Line« und »Rambler« stammen von Frisells beiden ersten ECM-Alben.
"Lee Townsend und Tucker Marine sind seit langen Jahren zwei der Musikbrüder, die mir am nähesten stehen", erklärt Frisell. "Wir sind durch dick und dünn gegangen. Sie ermöglichten mir, einfach zu SPIELEN. Ins Studio brachte ich einen Haufen Musik mit, und dann ging es los. Eins führte zum anderen. Wir ließen uns einfach treiben, vertrauten dem, was gerade passierte, und erledigten das Mischen gleich mit. Komponieren, Arrangieren, Spielen, Aufnehmen und Mischen –alles floss in eins zusammen."
"Ich wusste gleich, dass ich meine eigenen Werke aufnehmen wollte", sagt Frisell. "In den letzten Jahren habe ich viele Projekte mit Musik anderer Leute gemacht (John Lennon, Guitar in the Space Age, When You Wish Upon a Star usw.). Das ist wunderbar... und verlockend. So lerne ich. Ich könnte den Rest meines Lebens damit verbringen, Burt Bacharach zu studieren... oder Charlie Parker... oder Bach... oder? Das hört nie auf. Doch es wurde Zeit, zu meinem eigenen Material zurückzukehren. Auf dem neuen Album sind schließlich ganz unterschiedliche Stücke gelandet. Einige sind brandneu, andere aus alten Zeiten. ›In Line‹ und ›Rambler‹ stammen von meinen allerersten ECM-Platten. Ich rackere mich jetzt seit 50 Jahren mit Musik ab, vollständig verstehen werde ich sie wohl nie. Doch einer der großartigen Aspekte des Älterwerdens ist, dass ich Stücke wiederaufgreifen kann, die ich vor langer Zeit gespielt habe. Da gibt es immer etwas Neues zu entdecken, etwas zu enthüllen. Neue Wege öffnen sich. Und wenn ich wirklich Glück habe, merke ich manchmal sogar, dass ich im Laufe der Zeit etwas dazugelernt habe. Es ist herrlich, meine eigene Musik durch diese große Linse anzuschauen."
Bill Frisell, Elektrik- und Akustikgitarre, Loops, Bass, Ukelele, Music Boxes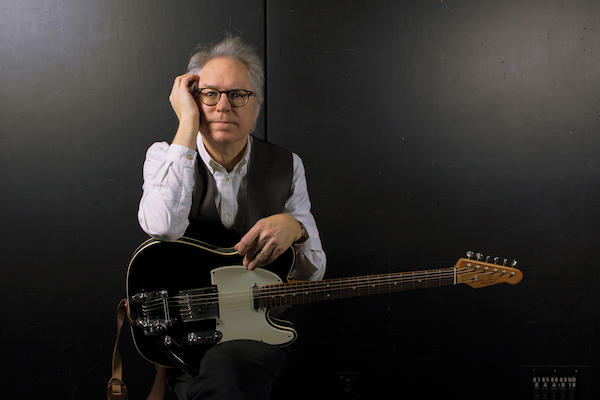 Bill Frisell
Frisell's career as a guitarist and composer has spanned more than 40 years and many celebrated recordings, whose catalog has been cited by Downbeat as "the best recorded output of the decade."
Released March of '18, Frisell's latest album for OKeh/Sony is a solo album titled, Music IS - "Taken as a whole, the album beautifully encapsulates Frisell's depth and range in all its meditative glory."- Chicago Reader. It was recorded in August, 2017 at Tucker Martine's Flora Recording and Playback studio in Portland, Oregon and produced by longtime collaborator Lee Townsend. All of the compositions on Music IS were written by Frisell, some of them brand new – Change in the Air, Thankful, What Do You Want, Miss You and Go Happy Lucky – others being solo adaptations of now classic original compositions he had previously recorded, such as Ron Carter, Pretty Stars, Monica Jane, and The Pioneers. In Line, and Rambler are from Frisell's first two ECM albums.
Frisell's previous project, the Grammy nominated When You Wish Upon a Star also with OKeh/Sony, germinated at Lincoln Center during his two-year appointment as guest curator for the Roots of Americana series (September '13 – May '15). It features Frisell with vocalist Petra Haden, Eyvind Kang (viola), Thomas Morgan (bass) and Rudy Royston (drums) performing Frisell's arrangements and interpretations of Music from Film and Television. Jazz Times described the project as follows: "unforgettable themes are the real draw here, reconfigured with ingenuity, wit and affection by Frisell and a terrific group."
"Frisell has had a lot of practice putting high concept into a humble package. Long hailed as one of the most distinctive and original improvising guitarists of our time, he has also earned a reputation for teasing out thematic connections with his music... There's a reason that Jazz at Lincoln Center had him program a series called Roots of Americana." - New York Times
Recognized as one of America's 21 most vital and productive performing artists, Frisell was named an inaugural Doris Duke Artist in 2012. He is also a recipient of grants from United States Artists, Meet the Composer among others. In 2016, he was a beneficiary of the first FreshGrass Composition commission to preserve and support innovative grassroots music. Upon San Francisco Jazz opening their doors in 2013, he served as one of their Resident Artistic Directors. Bill is also the subject of a new documentary film by director Emma Franz, entitled Bill Frisell: A Portrait, which examines his creative process in depth.


Booklet für Music IS