---
Album Info
Album Veröffentlichung:
2021
HRA-Veröffentlichung:
19.03.2021
Das Album enthält Albumcover Booklet (PDF)
Antonio Vivaldi (1678 - 1741): Concerto in E-Flat Major, RV 257 (Arr. for Recorder & Orchestra):

1

Vivaldi: Concerto in E-Flat Major, RV 257 (Arr. for Recorder & Orchestra): I. Andante molto e quasi allegro

04:34

2

Vivaldi: Concerto in E-Flat Major, RV 257 (Arr. for Recorder & Orchestra): II. Adagio

02:25

3

Vivaldi: Concerto in E-Flat Major, RV 257 (Arr. for Recorder & Orchestra): III. Allegro

03:35

Concerto in A Major, RV 335a "Il rosignuolo" (Arr. for Recorder & Orchestra):

4

Vivaldi: Concerto in A Major, RV 335a "Il rosignuolo" (Arr. for Recorder & Orchestra): I. Allegro

04:20

5

Vivaldi: Concerto in A Major, RV 335a "Il rosignuolo" (Arr. for Recorder & Orchestra): II. Grave

02:23

6

Vivaldi: Concerto in A Major, RV 335a "Il rosignuolo" (Arr. for Recorder & Orchestra): III. Allegro

04:10

Concerto in E Major, RV 271 "L'amoroso" (Arr. for Recorder & Orchestra):

7

Vivaldi: Concerto in E Major, RV 271 "L'amoroso" (Arr. for Recorder & Orchestra): I. Allegro

03:37

8

Vivaldi: Concerto in E Major, RV 271 "L'amoroso" (Arr. for Recorder & Orchestra): II. Cantabile

02:27

9

Vivaldi: Concerto in E Major, RV 271 "L'amoroso" (Arr. for Recorder & Orchestra): III. Allegro

03:37

The Four Seasons, Concerto in E Major, Op. 8 No. 1, RV 269 "Spring" (Arr. for Recorder & Orchestra):

10

Vivaldi: The Four Seasons, Concerto in E Major, Op. 8 No. 1, RV 269 "Spring" (Arr. for Recorder & Orchestra): I. Allegro

03:15

11

Vivaldi: The Four Seasons, Concerto in E Major, Op. 8 No. 1, RV 269 "Spring" (Arr. for Recorder & Orchestra): II. Largo e pianissimo sempre

02:46

12

Vivaldi: The Four Seasons, Concerto in E Major, Op. 8 No. 1, RV 269 "Spring" (Arr. for Recorder & Orchestra): III. Danza pastorale. Allegro

03:41

Concerto in D Minor, Op. 8 No. 9, RV 236 (Arr. for Recorder & Orchestra):

13

Vivaldi: Concerto in D Minor, Op. 8 No. 9, RV 236 (Arr. for Recorder & Orchestra): I. Allegro

03:05

14

Vivaldi: Concerto in D Minor, Op. 8 No. 9, RV 236 (Arr. for Recorder & Orchestra): II. Largo

02:25

15

Vivaldi: Concerto in D Minor, Op. 8 No. 9, RV 236 (Arr. for Recorder & Orchestra): III. Allegro

02:50

Concerto in C Major Op. 4 No. 7, RV 185 (Arr. for Recorder & Orchestra):

16

Vivaldi: Concerto in C Major Op. 4 No. 7, RV 185 (Arr. for Recorder & Orchestra): I. Largo

02:31

17

Vivaldi: Concerto in C Major Op. 4 No. 7, RV 185 (Arr. for Recorder & Orchestra): II. Allegro

02:16

18

Vivaldi: Concerto in C Major Op. 4 No. 7, RV 185 (Arr. for Recorder & Orchestra): III. Largo

01:44

19

Vivaldi: Concerto in C Major Op. 4 No. 7, RV 185 (Arr. for Recorder & Orchestra): IV. Allegro

02:21

Concerto in D Minor Op. 4 No. 8, RV 249 (Arr. for Recorder & Orchestra):

20

Vivaldi: Concerto in D Minor Op. 4 No. 8, RV 249 (Arr. for Recorder & Orchestra): I. Allegro

01:51

21

Vivaldi: Concerto in D Minor Op. 4 No. 8, RV 249 (Arr. for Recorder & Orchestra): II. Adagio - Presto - Adagio

02:23

22

Vivaldi: Concerto in D Minor Op. 4 No. 8, RV 249 (Arr. for Recorder & Orchestra): III. Allegro

03:41

The Four Seasons, Concerto in G Minor, Op. 8 No. 2, RV 315 "Summer" (Arr. for Recorder & Orchestra):

23

Vivaldi: The Four Seasons, Concerto in G Minor, Op. 8 No. 2, RV 315 "Summer" (Arr. for Recorder & Orchestra): I. Allegro non molto

05:27

24

Vivaldi: The Four Seasons, Concerto in G Minor, Op. 8 No. 2, RV 315 "Summer" (Arr. for Recorder & Orchestra): II. Adagio

02:08

25

Vivaldi: The Four Seasons, Concerto in G Minor, Op. 8 No. 2, RV 315 "Summer" (Arr. for Recorder & Orchestra): III. Presto

03:00

Concerto in C Major, RV 449 (Arr. for Recorder & Orchestra):

26

Vivaldi: Concerto in C Major, RV 449 (Arr. for Recorder & Orchestra): I. Allegro

03:16

27

Vivaldi: Concerto in C Major, RV 449 (Arr. for Recorder & Orchestra): II. Largo

02:30

28

Vivaldi: Concerto in C Major, RV 449 (Arr. for Recorder & Orchestra): III. Allegro

03:40

Concerto in G Minor, Op. 4 No. 6, RV 316a (Arr. for Recorder & Orchestra):

29

Vivaldi: Concerto in G Minor, Op. 4 No. 6, RV 316a (Arr. for Recorder & Orchestra): I. Allegro

02:49

30

Vivaldi: Concerto in G Minor, Op. 4 No. 6, RV 316a (Arr. for Recorder & Orchestra): II. Largo

02:39

31

Vivaldi: Concerto in G Minor, Op. 4 No. 6, RV 316a (Arr. for Recorder & Orchestra): III. Allegro

04:09

Concerto in A Minor, Op. 4 No. 4, RV 357 (Arr. for Recorder & Orchestra):

32

Vivaldi: Concerto in A Minor, Op. 4 No. 4, RV 357 (Arr. for Recorder & Orchestra): I. Allegro

03:09

33

Vivaldi: Concerto in A Minor, Op. 4 No. 4, RV 357 (Arr. for Recorder & Orchestra): II. Grave

02:39

34

Vivaldi: Concerto in A Minor, Op. 4 No. 4, RV 357 (Arr. for Recorder & Orchestra): III. Allegro

02:51

The Four Seasons, Concerto in F Major, Op. 8 No. 3, RV 293 "Autumn" (Arr. for Recorder & Orchestra):

35

Vivaldi: The Four Seasons, Concerto in F Major, Op. 8 No. 3, RV 293 "Autumn" (Arr. for Recorder & Orchestra): I. Allegro

05:00

36

Vivaldi: The Four Seasons, Concerto in F Major, Op. 8 No. 3, RV 293 "Autumn" (Arr. for Recorder & Orchestra): II. Adagio molto

02:42

37

Vivaldi: The Four Seasons, Concerto in F Major, Op. 8 No. 3, RV 293 "Autumn" (Arr. for Recorder & Orchestra): III. Allegro

03:22

Concerto in G Minor, Op. 9 No. 3, RV 334 (Arr. for Recorder & Orchestra):

38

Vivaldi: Concerto in G Minor, Op. 9 No. 3, RV 334 (Arr. for Recorder & Orchestra): I. Allegro non molto

03:30

39

Vivaldi: Concerto in G Minor, Op. 9 No. 3, RV 334 (Arr. for Recorder & Orchestra): II. Largo

04:12

40

Vivaldi: Concerto in G Minor, Op. 9 No. 3, RV 334 (Arr. for Recorder & Orchestra): III. Allegro non molto

03:01

Concerto in B Minor, RV 389 (Arr. for Recorder & Orchestra):

41

Vivaldi: Concerto in B Minor, RV 389 (Arr. for Recorder & Orchestra): I. Allegro poco

04:11

42

Vivaldi: Concerto in B Minor, RV 389 (Arr. for Recorder & Orchestra): II. Largo

02:50

43

Vivaldi: Concerto in B Minor, RV 389 (Arr. for Recorder & Orchestra): III. Allegro

04:27

Concerto in C Minor, Op. 4 No. 10, RV 196 (Arr. for Recorder & Orchestra):

44

Vivaldi: Concerto in C Minor, Op. 4 No. 10, RV 196 (Arr. for Recorder & Orchestra): I. Spirituoso

03:06

45

Vivaldi: Concerto in C Minor, Op. 4 No. 10, RV 196 (Arr. for Recorder & Orchestra): II. Adagio

02:16

46

Vivaldi: Concerto in C Minor, Op. 4 No. 10, RV 196 (Arr. for Recorder & Orchestra): III. Allegro

02:57

The Four Seasons, Concerto in F Minor, Op. 8 No. 4, RV 297 "Winter" (Arr. for Recorder & Orchestra):

47

Vivaldi: The Four Seasons, Concerto in F Minor, Op. 8 No. 4, RV 297 "Winter" (Arr. for Recorder & Orchestra): I. Allegro non molto

03:20

48

Vivaldi: The Four Seasons, Concerto in F Minor, Op. 8 No. 4, RV 297 "Winter" (Arr. for Recorder & Orchestra): II. Largo

01:52

49

Vivaldi: The Four Seasons, Concerto in F Minor, Op. 8 No. 4, RV 297 "Winter" (Arr. for Recorder & Orchestra): III. Allegro

03:22

Total Runtime

02:34:22
Info zu Vivaldi's Seasons
Recorder player Bolette Roed and Arte dei Suonatori present Vivaldi's famous violin concertos, "The Four Seasons", combined with other concertos that share a kinship with them, resulting in Vivaldi's Seasons; a programme consisting of sixteen concertos, four for each season, including favourites such as Il rosignuolo and l'Amoroso. Roed's use of the recorder in place of the violin brings a unique sound to these works, whilst simultaneously expanding the recorder repertoire.
Titles and nicknames have long been applied to pieces to describe aspects of the music ("Unfinished," "Surprise") or to reflect extra-musical associations with stories, objects, moods, etc. ("The Storm at Sea", "Emperor", "Pathetique"). All too often, works bearing names - whether given by the composer, a performer, a music critic, or a publisher - have tended to receive far more attention than those only known by genetic titles, such as Concerto in D, Sonata Op. 2 #5, or Suite in F Minor. This is a particular problem for Vivaldi, whose numerous works are mostly known by generic titles and RV catalog numbers. The fact that a composer did not supply a specific nickname does not necessarily mean that the composer did not have extra-musical ideas in mind and simply wished not to limit the imagination of the audience. It is therefore tempting to wonder what would happen if nicknames existed for some of the many equally wonderful pieces that lack these catchy keyword tags. (Nicholas Lockey)
Bolette Roed is one of the most in-demand recorder players of Europe. After having released Telemann's Garden with the Elephant House Quartet in 2019, she now extends her PENTATONE discography with this solo album. The players of Arte dei Suonatori make their PENTATONE debut, while their leader Aureliusz Goliński already featured on Telemann's Garden.
Bolette Roed, recorder
Arte dei Suonatori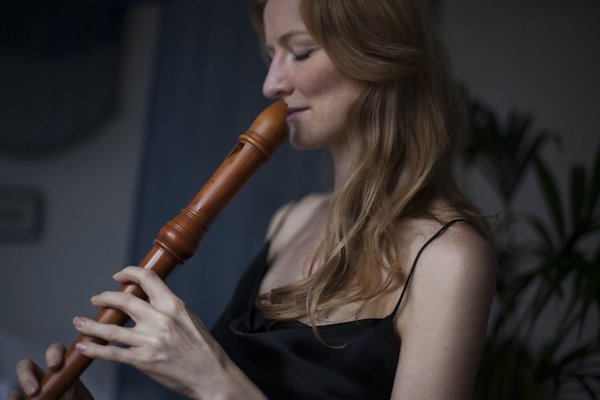 Bolette Roed
(1979) graduated from the advanced solo performance class of the Royal Danish Academy of Music in Copenhagen, March 2004, and since then, her solo career has brought her to festivals and concert scenes all over Europe, Asia and the US. In addition to her studies in Copenhagen, Bolette also attended the Conservatoire National Superieur Musique et Danse de Lyon. In parallel, she graduated as a medical doctor from the University of Copenhagen.
Soon after her debut, Bolette was appointed Artist-in-Residence of the Danish National Radio and in 2011 she was nominated for the Nordic Council's Music Prize. Furthermore, she received the Grand Prize of Jacob Gade Foundation in 2003. Bolette's latest award is "The Danish Music Critics Prize 2014". She is furthermore part of The Danish State Art Councils "Young Elite" 2014 program.
Bolette is an all-embracing musician, working not only with the classical repertoire for recorder, but also with improvisation, folk and world music. Her repertoire ranges from medieval through renaissance and baroque to contemporary music and she has world premiered a large number of works. As part of her innate curiosity, Bolette is constantly striving to expand the musical playground of the recorder. She works with many different instrument combinations and styles, including innovative co-operations with DJ's, jazz musicians and the theatrical stages.
Bolette has toured as a soloist with the baroque orchestra Arte dei Suonatori since 2004, has appeared as soloist with Concerto Copenhagen, the Danish National Chamber Orchestra, the Danish National Symphony Orchestra and the Royal Danish Orchestra. Furthermore, she often performs with her own ensembles, Alpha (recorder, saxophone, Peter Navarro-Alonso and percussion, David Hildebrandt) and the baroque groups, Concert Pastoral (recorder and galoubet & tambourin, Poul Høxbro) and Elephant House Quartet (recorder, violin, Aureliusz Golinski, gamba, Reiko Ichise, and harpsichord Allan Rasmussen).
Bolette is the founder of Copenhagen Baroque Festival, inaugurated in 2019. In previous years she was involved in the management of Denmark's largest baroque music festival, Midsommerbarok, in Frederiksberg, Copenhagen. Finally, she is head of the Early Music Department at the Royal Danish Academy of Music since 2009, where she also teaches recorder.
Bolette has recently recorded with the aforementioned Elephant House Quartet and Alpha ensembles, respectively "Telemann's Garden" (Pentatone, 2019) and "J. S. Bach Goldberg Variations Recomposed by Peter Navarro-Alonso" (Dacapo, 2018). In addition to a solo double album of J. S. Bach sonatas and partitas (Ondine, 2017). Earlier recordings and featured appearances include: "Royal Recorder Concertos" with Arte dei Suonatori (Dacapo), "Early & Late" with Gáman trio (Dacapo) "Alpha", "Through the Looking Glass" (Dacapo) and Alpha World (Gateway) with her trio Alpha, "A Joker's Tale" with Paradox (BIS-CD) and Bach harpsichord concertos (Concerto Copenhagen, CPO).
Arte dei Suonatori
is a Baroque orchestra who has managed to capture the true essence of the Baroque era. The musicians have adopted not only the knowledge, but also the 18th century way of thinking about music. The ensemble was formed in Poznań (Poland) in 1993 by the violin players Ewa and Aureliusz Golinski, who gathered together a group of the most talented young Polish period-instrument performers. The core of the ensemble were originally Polish string and continuo players, but over the years the orchestra has become more international, featuring as regular members musicians from, among others, Germany, England, Holland, France and Ireland. Since 1998, the orchestra has initiated an extensive series of early music events which very quickly evolved to become "Early Music – Persona Grata", a festival which is considered today to be an integral part of the Polish musical culture scene.
In the course of years Arte dei Suonatori was also the co- creator and co- organiser of several other festivals, including "Music in Paradise" in Paradyz, "Haendel Festival" in Torun, "Baroque Bows and Strings Festival" in Poznan, "Three Baroques Festival" in Wroclaw and "Midsommer Barok" in Copenhagen. The orchestra regularly cooperates with distinguished soloists and conductors from all over the world, with whom they appear on some of Europe's best known recording labels, including BIS Records, Alpha and Channel Classics.


Booklet für Vivaldi's Seasons