---
Frode Fjellheim: Northern Lights Cantus
Entschuldigen Sie bitte!
Sehr geehrter HIGHRESAUDIO Besucher,
leider kann das Album zurzeit aufgrund von Länder- und Lizenzbeschränkungen nicht gekauft werden oder uns liegt der offizielle Veröffentlichungstermin für Ihr Land noch nicht vor. Wir aktualisieren unsere Veröffentlichungstermine ein- bis zweimal die Woche. Bitte schauen Sie ab und zu mal wieder rein.
Wir empfehlen Ihnen das Album auf Ihre Merkliste zu setzen.
Wir bedanken uns für Ihr Verständnis und Ihre Geduld.
Ihr, HIGHRESAUDIO
1

Vuelie

03:21

2

Dona Nobis Pacem

04:29

3

Northern Lights

03:31

4

Winter's Night

03:26

5

Sacred

04:03

6

Aejlies

04:20

7

Njoktje

05:35

8

Kyrie

05:37

9

Mu Vaibmu

04:26

10

Psalm

04:16

11

Pater Noster

03:39

12

Night Yoik

04:20

Total Runtime

51:03
Info zu Frode Fjellheim: Northern Lights
Das neue Album des norwegischen Frauenchors Cantus knüpft an den erfolgreichen Song "Vuelie" aus der Filmmusik zum Disneyfilm "Frozen" an. Auf "Northern Light" lässt sich ein weiteres Mal die Klangschönheit und die glasklare Intonation des Chores entdecken. Der 1986 gegründete Chor präsentiert neben geistlichen Werken wie "Dona Nobis Pacem" oder "Kyrie" traditionell norwegische Kompositionen wie "Njoktje" oder "Mu Vaibmu".
Der norwegische Frauenchor Cantus offenbart auf seinem neuen Album "Northern Lights" mit traditioneller skandinavischer Musik die pure Schönheit der menschlichen Stimme.
Mit dem Song "Vuelie" für den Soundtrack zum Disneyfilm "Frozen" ist der norwegische Frauenchor Cantus zum ersten Mal vor einem breiten Publikum in Erscheinung getreten und faszinierte mit seiner glasklaren Intonation und der sphärischen Klangschönheit der hellen Stimmen. Das neue Album "Northern Lights" knüpft an den Erfolg an und zeigt ein weites Spektrum der stimmlichen Gestaltungsmöglichkeiten des Ensembles. Die ausgewählte Musik schmeckt nach Weite und Einsamkeit Norwegens und trägt zugleich Frieden und Entspannung in sich. Beim Hören fühlt man sich sofort in eine andere Welt versetzt und taucht in ein außergewöhnliches Klangerlebnis ein.
30 Jahre Klanggestaltung: Cantus wurde 1986 gegründet und besteht aus 30 ganz unterschiedlichen Frauen zwischen 20 und 40 aus dem norwegischen Trondheim, die in ihrer freien Zeit die große Leidenschaft fürs Singen eint. Unter der Leitung von Tove Ramlo-Ystad kommen Studentinnen, Krankenschwestern, Feuerwehrfrauen, Lehrerinnen und Architektinnen zusammen, um sich intensiv der Musik zu widmen und Konzerte in traditionellen skandinavischen Kostümen zu geben. Das Ergebnis ist mehr als beeindruckend und in jeder Hinsicht hochprofessionell. So verwundert es nicht, dass sich der erfolgreiche Crossover-Spezialist Jon Cohen dem musikalischen Projekt angenommen hat, um mit "Northern Lights" für Decca ein ausdrucksstarkes Album aufzunehmen und zu produzieren, das die musikalische Identität des Vokalensembles transportiert.
Musikalische Zeitreise: Der Song "Vuelie" von Frode Fjellheim darf auf dem neuen Album "Northern Lights" natürlich nicht fehlen, er ist seit 2013 für den Chor sozusagen zu einer musikalischen Visitenkarte geworden. Zwölf Titel, bestehend aus traditioneller norwegischer Volksmusik und zeitgenössischen skandinavischen Kompositionen, verbinden sich auf dem Album zu einem komplexen, musikalischen Porträt der spezifischen und ganz eigenen Klangwelt, die Cantus kreiert. Im Mittelpunkt steht dabei immer die pure und ungekünstelte Klangschönheit der Frauenstimmen, die in all ihren Schattierungen und Färbungen wunderbar miteinander harmonieren und sich wie in einem Kaleidoskop der Töne zu immer wieder neuen Klangbildern zusammen fügen. Ob mit geistlichen Werken wie einem "Dona Nobis Pacem" oder einem "Kyrie" oder ganz ursprünglichen traditionellen norwegischen Kompositionen wie "Njoktje" oder "Mu Vaibmu" - die hellen Stimmen von Cantus tanzen und flirren wie Nordlichter mit schwereloser Leichtigkeit.
Cantus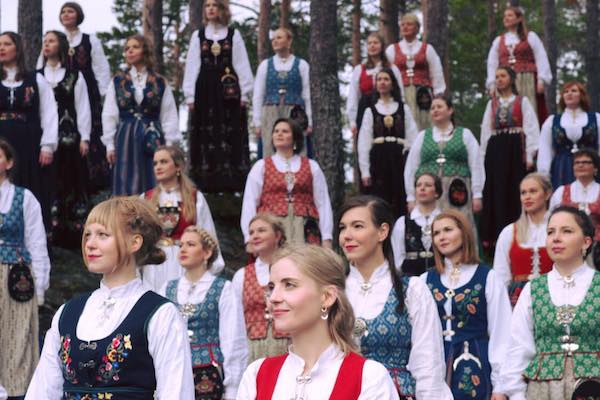 Cantus
was founded in 1986 by a group of teenage girls who wanted to sing in a choir where they themselves could be in charge. More than 20 years later, Cantus is still a choir which likes to follow its own ideas. A lucky strike led to the crossing of the paths of the newly founded choir and the young singer and conductor Tove Ramlo. Tove became Cantus' first, and so far, only conductor.
Versatility has always been one of the main characteristics of Cantus. During our entire existence we have altered between different musical genres and feel as much at home with popular music, folk music and jazz as with contemporary music and the classical choral music. We have participated in a number of international choir competitions and we believe that this has helped us to focus and perform at our best when needed. In addition to this we have also put up a number of stage performances with popular music which train us in communication with our audience. Both of these approaches have been equally important in the forming of our identity.
The members of Cantus are all amateur singers and we spend a lot of time on the choir both artistically and with the running of the organization. Being a member of Cantus is a time-consuming activity but we have great fun. And all this time we have been in charge ourselves.
Tove Ramlo-Ystad
has been Cantus' conductor since the choir was founded in 1986. Tove has a permanent position in Cantus but the relationship between Tove and Cantus is much more than a simple contract. The growth and reputation of Cantus is firmly linked to Tove and her creativity.
Tove was educated from Trøndelag Conservatory of Music followed by a Master Degree in music from the Norwegian University of Science and Technology. She has continued studying choir direction with Stefan Skiöld and more recently with Anders Eby, Professor of choir direction at the Royal College of Music in Stockholm, Sweden.
For many years Tove worked full-time as a freelance choir instructor but has recently taken up a part-time position at the Norwegian Choir Association, South Trøndelag Region.
Tove Ramlo-Ystad is one of Norway's most acknowledged choir conductors. She is a very popular and inspiring guest conductor nation-wide and she is frequently used as an adjudicator in international choir competitions.


Dieses Album enthält kein Booklet