---
Album Info
Album Veröffentlichung:
1960
HRA-Veröffentlichung:
16.06.2017
Das Album enthält Albumcover Booklet (PDF)
Entschuldigen Sie bitte!
Sehr geehrter HIGHRESAUDIO Besucher,
leider kann das Album zurzeit aufgrund von Länder- und Lizenzbeschränkungen nicht gekauft werden oder uns liegt der offizielle Veröffentlichungstermin für Ihr Land noch nicht vor. Wir aktualisieren unsere Veröffentlichungstermine ein- bis zweimal die Woche. Bitte schauen Sie ab und zu mal wieder rein.
Wir empfehlen Ihnen das Album auf Ihre Merkliste zu setzen.
Wir bedanken uns für Ihr Verständnis und Ihre Geduld.
Ihr, HIGHRESAUDIO
Georges Bizet (1838 - 1875): Carmen, WD 31:

1

Overture

03:37

Act 1:

2

Sur la place chacun passe (Moralès, Micaëla, Chorus)

05:52

3

Avec la garde montante (Chorus, Moralès, José)

04:08

4

C'est bien là, n'est-ce pas? (Zuniga, José)

01:36

5

La cloche a sonné... Dans l'air, nous suivons des yeux la fumée (Chorus)

04:20

6

Quand je vous aimerai?... L'amour est un oiseau rebelle (Carmen, Chorus)

05:03

7

Carmen! sur tes pas, nous nous pressons tous! (Chorus, Carmen, José)

01:25

8

Bizet: Carmen, WD 31, Act 1 : Quels regards! Quelle effronterie! (José, Micaëla)

01:00

9

Parle-moi de ma mère! (José, Micaëla)

04:47

10

Reste là, maintenant, pendant que je lirai (José, Micaëla)

02:00

11

Au secours! Au secours! (Chorus)

03:10

12

Mon officier, c'était une querelle (José, Zurniga, Carmen)

04:47

13

Près des ramparts de Séville (Carmen, José)

05:00

14

Voici l'ordre; partez (Zuniga, Carmen)

02:23

Act 2:

15

Entr'acte 1

01:59

16

Les tringles des sistres tintaient (Carmen)

04:47

17

Messieurs, Pastia me dit... (Frasquita, Zuniga, Carmen, Mercédès)

00:59

18

Vivat! vivat le Toréro! (Chorus, Zuniga)

01:09

19

Votre toast, je peux vous le rendre (Escamillo, Chorus)

04:54

20

La belle, un mot (Escamillo, Carmen, Zuniga)

01:47

21

Eh bien! vite, quelles nouvelles?... Nous avons en tête une affaire (Frasquita, Le Dancaïre, Mercédès, Le Remendado, Carmen)

05:21

22

Mais qui donc attends-tu? (Le Dancaïre, Carmen, Le Remendado)

00:33

23

Halte là! (José, Carmen, Frasquita, Mercédès, Le Dancaïre, Le Remendado)

01:37

24

Enfin c'est toi! (Carmen, José)

00:53

25

Tout doux, Monsieur, tout doux (Carmen, José)

05:41

26

La fleur que tu m'avais jetée (José)

04:45

27

Non, tu ne m'aimes pas!... Là-bas, là-bas, dans la montagne (Carmen, José)

05:05

28

Holà Carmen! Holà! Holà! (Zuniga, José, Carmen, Le Dancaïre, Le Remendado)

04:55

Act 3:

29

Entr'acte 2

02:34

30

Écoute, écoute, compagnon, écoute (Chorus, Le Dancaïre, Le Remendado, José, Carmen, Mercédès, Frasquita)

04:27

31

Reposons-nous une heure ici, mes camarades (Le Dancaïre, Carmen, José)

02:23

32

Mêlons! Coupons! (Frasquita, Mercédès, Carmen)

07:38

33

Eh bien? (Carmen, Le Dancaïre, Frasquita)

00:43

34

Quant au douanier, c'est notre affaire (Carmen, Mercédès, Frasquita)

03:15

35

C'est des contrebandiers le refuge ordinaire... Je dis, que rien ne m'épouvante (Micaëla)

06:21

36

Je ne me trompe pas... C'est lui sur ce rocher (Micaëla)

00:29

37

Quelques lignes plus bas (Escamillo, José)

03:24

38

Holà, Holà! José (Carmen, Escamillo, Le Dancaïre, José, Micaëla, Frasquita, Mercédès, Le Remendado, Chorus)

08:40

39

Entr'acte 3

02:29

Act 4:

40

A deux cuartos! A deux cuartos! (Chorus, Zuniga)

02:13

41

Les voici! voici la quadrille (Chorus, Escamillo, Carmen, Frasquita)

07:31

42

C'est toi!... Carmen, il est temps encore (Carmen, José)

05:34

43

Viva viva! la course est belle! (Chorus, Carmen, José)

03:51

Total Runtime

02:35:05
Info zu Bizet: Carmen (Remastered)
Packend wie am ersten Tag: Beechams legendäre Carmen! Wie luxuriös waren doch früher die Boxen mit Opern-Gesamtaufnahmen ausgestattet! Herrliche Cover, komplette mehrsprachige Libretti, eine aufwändige, reich bebilderte Aufmachung. Nun ersteht diese Pracht in der Serie Oper Deluxe wieder auf: Legendäre Aufnahmen der Plattengeschichte in neuestem Remastering der Originalbänder aus der Hand der Abbey Road-Experten, denen bereits die sensationelle Callas-Edition 2014 zu verdanken ist.
1959 entstand die Carmen-Gesamtaufnahme unter der Stabführung von Sir Thomas Beecham. In dieser packenden Interpretation mit Victoria de Los Angeles und Nicolai Gedda ist der Geist alter Schule spürbar: Beecham sieht Carmen als große Tragödie, setzt mit dem französischen Orchester auch die leichteren, scheinbar unbefangenen Abschnitte, die der Tradition der Opéra comique geschuldet sind, in dramatische Aktionen um. Gerade die sängerischen Leistungen von de los Angeles und Gedda gelten als unerreicht, im Falle der Carmen-Darstellerin gerade durch ihre spanische Herkunft.
"Ein Opern-Denkmal von unvergänglichem Wert. Sir Thomas mischt Esprit mit Wärme, Bizet mit Debussy. Carmen und Jose sind stimmlich perfekt. Eine Aufnahme, die kaum jemals veralten wird." (Hermes Opernlexikon)
"Idiomatischer kann man auch heute keine ›Carmen‹ besetzen und Beechams zupackende Lesart der Partitur raubt dem Zuhörer in ihrer vorwärtsdrängenden Kompromisslosigkeit immer noch den Atem. Vom Klangbild braucht sich auch diese Aufnahme nicht vor der jüngeren Konkurrenz zu verstecken, im Gegenteil." (Opernglas)
Victoria de los Angeles, Sopran (Carmen)
Denise Monteil, Sopran (Frasquita)
Janine Micheau, Sopran (Micaëla)
Monique Linval, Sopran (Mercédès)
Nicolai Gedda, Tenor (Don José)
Michael Hamel, Tenor (Remendado)
Ernest Blanc, Bariton (Escamillo)
Jean-Christophe Benoit, Bariton (Dancaïre)
Bernard Plantey, Bariton (Moralès)
Xavier Depraz, Bass (Zuniga)
Orchestre de la Radiodiffusion Franciase
Sir Thomas Beecham, Dirigent
Digitally remastered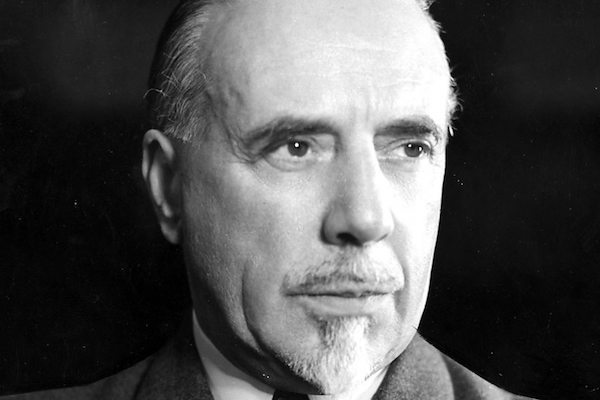 Sir Thomas Beecham
Destined to become one of the most colourful and controversial of all 20th-century British conductors, Sir Thomas Beecham (1879-1961) was born in the north-west of England, the son of a successful manufacturing chemist. After a spell at Wadham College, Oxford, he studied privately with Charles Wood in London and Moritz Moszkowski in Paris with the express intention of becoming a composer.
However, his comfortable background had enabled him to experience concerts and opera performances from a young age and also to dabble in conducting, a discipline in which he was self-taught. By his early twenties he was conducting professionally and in 1906 was appointed conductor of the New Symphony Orchestra. Three years later, backed by his father, he founded the first of several orchestras, the Beecham Symphony. From 1910 to 1915 the family's money also enabled him to mount impressive seasons of opera and ballet, including the British premieres of Russian operas and many by Richard Strauss, and the first visits to London by Diaghilev's Ballets Russes. In 1915 he created the Beecham Opera Company, which performed in London and around the country.
After the Great War Beecham suffered financial setbacks, which curtailed his own ability to back artistic ventures, but his drive and vision were unaffected. He was quite capable of persuading others to support his schemes and on his own he was able, in just a few years, to consolidate his international reputation as a conductor by visiting the major orchestras in North America, Paris, Vienna and Berlin. Back in London he achieved further success by founding another first-class orchestra, the London Philharmonic (in 1932), and becoming artistic director of Covent Garden (1932-39).
After the Second World War (which he spent mostly in America, conducting the Seattle Symphony [1941-43] and the New York Metropolitan Opera [1942-44]), he returned to London to find that the LPO had become a self-governing organisation, so he founded another superb orchestra, the Royal Philharmonic (in 1946), over which he could exercise full control. Visits to foreign orchestras (particularly in America), a profuse recording schedule and regular appearances in the opera house, kept Beecham active to the end of his long life.
His repertory was wide and varied, but he is remembered particularly for his championship of the music of his friend Frederick Delius, for his loving interpretations of 19th-century French music (particularly Berlioz and Bizet), and for his devotion to the music of Mozart, Haydn, Puccini, Sibelius and Richard Strauss. Many of his most famous recordings are reissued in the EMI Classics series Great Recordings of the Century.


Booklet für Bizet: Carmen (Remastered)