---
Album Info
Album Veröffentlichung:
2022
HRA-Veröffentlichung:
28.01.2022
Label: Chandos
Genre: Classical
Subgenre: Instrumental
Interpret: Simon Johnson
Komponist: Johann Sebastian Bach (1685–1750), Johannes Brahms (1833-1897), Franz Liszt (1811–1886), Felix Mendelssohn Bartholdy (1809-1847), Max Reger (1873-1916), Robert Schumann (1810-1856), Sigfrid Karg-Elert (1877-1933)
Das Album enthält Albumcover Booklet (PDF)
Johann Sebastian Bach (1685 - 1750): Art of the Fugue in D Minor, BWV 1080 (Roger Vuataz Orchestration):

1

Bach: Art of the Fugue in D Minor, BWV 1080 (Roger Vuataz Orchestration): Contrapunctus XIV a4 "Unfinished Fugue"

11:44

Rudolf Lutz (b. 1951), Felix Mendelssohn Bartholdy (1809 - 1847): Sonata on the Choral O Haupt voll Blut und Wunden:

2

Lutz, Mendelssohn: Sonata on the Choral O Haupt voll Blut und Wunden: I. Choral

08:12

3

Lutz, Mendelssohn: Sonata on the Choral O Haupt voll Blut und Wunden: II. Fuga

05:31

4

Lutz, Mendelssohn: Sonata on the Choral O Haupt voll Blut und Wunden: III. Finale

03:15

Robert Schumann (1810 - 1856): Sechs Fugen über den Namen B.A.C.H, Op. 60:

5

Schumann: Sechs Fugen über den Namen B.A.C.H, Op. 60: Fuga I

06:29

6

Schumann: Sechs Fugen über den Namen B.A.C.H, Op. 60: Fuga II

06:16

7

Schumann: Sechs Fugen über den Namen B.A.C.H, Op. 60: Fuga III

04:03

8

Schumann: Sechs Fugen über den Namen B.A.C.H, Op. 60: Fuga IV

05:48

9

Schumann: Sechs Fugen über den Namen B.A.C.H, Op. 60: Fuga V

02:48

10

Schumann: Sechs Fugen über den Namen B.A.C.H, Op. 60: Fuga VI

08:10

Johannes Brahms (1833 - 1897):

11

Brahms: Fugue, WoO 8

07:23

Johann Sebastian Bach:

12

Bach: Ricercar à 6

10:02

Franz Liszt (1811 - 1886): Präludium und Fuge über den Namen B.A.C.H, S. 260:

13

Liszt: Präludium und Fuge über den Namen B.A.C.H, S. 260: I. Präludium

04:12

14

Liszt: Präludium und Fuge über den Namen B.A.C.H, S. 260: II. Fuga

02:46

15

Liszt: Präludium und Fuge über den Namen B.A.C.H, S. 260: III. Allegro

03:50

16

Liszt: Präludium und Fuge über den Namen B.A.C.H, S. 260: IV. Maestoso

02:45

Max Reger (1873 - 1916): Fantasie und Fuge über B.A.C.H, Op.46:

17

Reger: Fantasie und Fuge über B.A.C.H, Op.46: I. Fantasie

08:57

18

Reger: Fantasie und Fuge über B.A.C.H, Op.46: II. Fuge

11:24

Sigfrid Karg-Elert (1877 - 1933): Passacaglia and Fugue on B.A.C.H, Op. 150:

19

Karg-Elert: Passacaglia and Fugue on B.A.C.H, Op. 150: I. Introduzione

01:34

20

Karg-Elert: Passacaglia and Fugue on B.A.C.H, Op. 150: II. Prima parte

03:40

21

Karg-Elert: Passacaglia and Fugue on B.A.C.H, Op. 150: III. Seconda parte

02:52

22

Karg-Elert: Passacaglia and Fugue on B.A.C.H, Op. 150: IV. Terza parte

04:34

23

Karg-Elert: Passacaglia and Fugue on B.A.C.H, Op. 150: V. Adagio e piano

01:17

24

Karg-Elert: Passacaglia and Fugue on B.A.C.H, Op. 150: VI. Fuga

07:35

Total Runtime

02:15:07
Info zu B.A.C.H: Anatomy of a Motif
In mu sical notation in Germany, the letter 'h' is used to represent the note b natural. So, the name 'Bach' forms an elegant phrase of two pairs of falling semitones. This proved an inspiration to Johann Sebastian, whose musical 'signature' appears again and again throughout his extensive output. Two shining examples are included on this album – the 'unfinished fugue' Contrapunctus XIV à 4 from Die Kunst der Fuge (as completed by Lionel Rogg) and the exquisite Ricercar à 6 from Musikalisches Opfer. Bach's signature – as well as musical invention – has directly influenced scores of other composers down the years, as evidenced by the works included here, from Mendelssohn to Karg-Elert. The organist and, from 2008 until 2021, Assistant Director of Music at St Paul's Cathedral, Simon Johnson has used his knowledge and insight to construct this programme to demonstrate the extraordinary range and scope of the cathedral's organ. Expertly recorded by the Chandos technical team, this album provides an outstanding testament to this fine instrument and to the unique acoustic of the world-renowned cathedral in which it sits.
"As an organist, I have been to many organ recitals and, over the years, heard many of these pieces included separately in a programme but hearing them all on one disc makes for a thrilling two hours of organ music. Every permutation of stops has been used to profound effect to create a noteworthy album." (Andrew Palmer, cumbriatimes.co.uk)
Simon Johnson, organ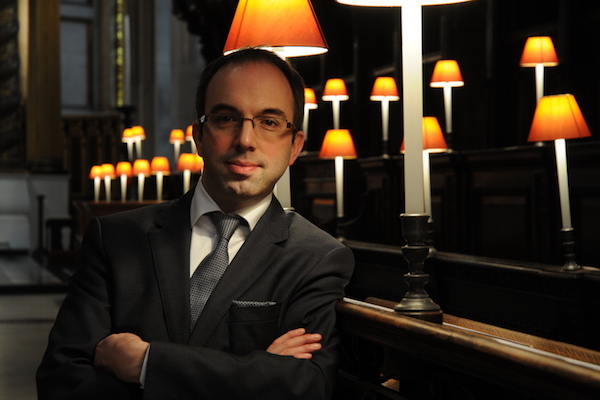 Simon Johnson
is one of the most versatile musicians of his generation, successfully combining life as a virtuoso organist with extensive work in choral direction, composition and arrangement.
As the Organist and Assistant Director of Music at St Paul's Cathedral, he has been involved in all the national occasions that have taken place there since his appointment in 2008, including the funeral service of Baroness Thatcher, the Diamond Jubilee of Her Majesty the Queen and Her Majesty's 90th Birthday celebrations, for which he also arranged some of the music. Recitals have taken him all over Europe and the USA, as well as to many of the premier venues in the UK. He has performed with groups such as the LSO, RPO, and The Sixteen and worked with Wes Anderson on the Oscar, Bafta and Grammy award-winning soundtrack for The Grand Budapest Hotel.
As a director he became well-known through his work with the St Albans Abbey Girls' Choir. He has led the St Paul's choirs in many full-scale orchestral performances.


Booklet für B.A.C.H: Anatomy of a Motif