---
Album Info
Album Veröffentlichung:
2020
HRA-Veröffentlichung:
10.04.2020
Das Album enthält Albumcover Booklet (PDF)
Igor Stravinsky (1882 - 1971): Concerto in D Major for violin and orchestra:

1

Concerto in D Major for violin and orchestra: I. Toccata

05:38

2

Concerto in D Major for violin and orchestra: II. Aria I

04:03

3

Concerto in D Major for violin and orchestra: III. Aria II

05:09

4

Concerto in D Major for violin and orchestra: IV. Capriccio

06:14

John Corigliano (b. 1938): The Red Violin, concerto for violin and orchestra:

5

The Red Violin, concerto for violin and orchestra: I. Chaconne

16:12

6

The Red Violin, concerto for violin and orchestra: II. Pianissimo Scherzo

05:26

7

The Red Violin, concerto for violin and orchestra: III. Andante Flautando

06:34

8

The Red Violin, concerto for violin and orchestra: IV. Accelerando Finale

09:26

Total Runtime

58:42
Info zu Stravinsky & Corigliano
Die französische Geigerin Amanda Favier besorgt eine knackig frische, sehr rhetorische Interpretation des Violinkonzerts von Igor Stravinsky. Die Klarheit des musikalischen Diskurses prägt diese Aufnahme auch im Orchesterpart. Fern jeder romantischen Verbrämung konzentrieren sich Solistin und Dirigent auf die Rhythmik, den federnden Schwung und die Farben der Musik. Extreme werden dabei tunlichst vermieden, so dass die Musik in ihrer ganzen Vitalität auch elegant bleibt.
Das originelle Musikprogramm dieser CD enthält auch das Violinkonzert The Red Violin von John Corigliano. Dieses war zunächst eine Filmmusik, eine sehr gute sogar, die der amerikanische Komponist John Corigliano für den faszinierenden Film The Red Violin geschrieben hatte. Dann zog der Komponist aus der Filmmusik eine Chaconne. Und in einer dritten Etappe entstand ein vollständiges, viersätziges Violinkonzert, in das die Chaconne als erster Satz integriert wurde.
Das dynamisch weit gespannte, im Ausdruck romantische Violinkonzert ist gespickt mit technischen Raffinessen, gibt dem Geiger aber hinreichend Gelegenheit, in seelenvollem Spiel zu glänzen, da Corigliano die mystische Atmosphäre des Films in sein neues Werk herüber gerettet hat.
Amanda Favier spielt das Konzert mit viel Hingabe, Klangphantasie und Ausdruckskraft. Adrien Perruchon leitet das von der Tontechnik sehr räumlich eingefangene Orchester aus Lüttich in einer spannungsvollen Interpretation, in der man oft den Atem anhält, so packend ist sie. (pizzicato.lu)
Amanda Favier, Violine
Orchestre Philharmonique Royal de Liege
Adrien Perruchon, Dirigent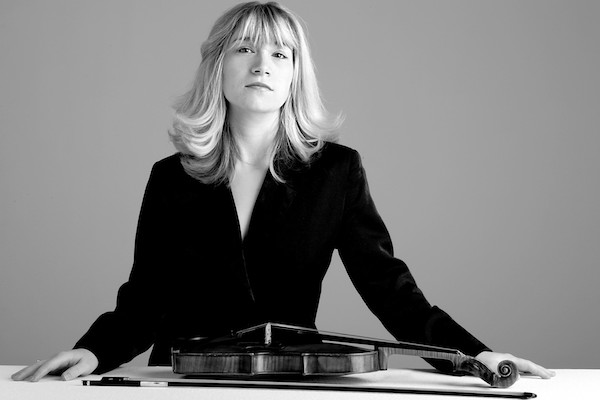 Amanda Favier
A precocious artist, Amanda Favier played her first concerto appearance at nine years old. She is the youngest laureate ever of the International J.S. Bach Competition in Leipzig, Germany, and has since collected international prizes, such as the Ifrah Neaman contest (Mainz), Louis Spohr (Weimar), Johann-Georg Pisendel (Dresden), Haverhill Sinfonia (England).
Having achieved outstanding musical studies at the Conservatoire National Supérieur de Musique in Paris, she received her Violin First Prize in the class of Gérard Poulet, as well as her upper level diploma with notable mention. After completing an improvement course, she learned another approach with the Slav violonist Igor Ozim (Bern) and Ifrah Neaman (London).
Amanda Favier has also been awarded with the Forthuny prize of the Académie des Beaux Arts and Berthier prize of the Palmes Académiques. Several private foundations have supported her like the Fondation Banque Populaire and the Mécénat Société Générale.
Trusted by many conductors and chamber music partners, Ms Favier hasperformed with the following orchestras: Pasdeloup, OSF, Bayonne Côte-Basque, the kammerorchester in Mainz and Leipzig, Haverhill Sinfonia Orchestra, French Republican Guards, Prague Symphony, Nuove Musiche Czech Virtuosi, Philharmonic orchestra of Moscow among others.
Frequently invited to music festivals, she performs in prestigious concert halls (Gewandhaus in Leipzig, Concertgebouw in Amsterdam, Salle Gaveau and Cité de la Musique in Paris, for example) and collaborates with several radio and television broadcasts.
She also presents international masterclasses, and some competitions have already invited her to be a jury member.
Amanda Favier regularly records albums for different record labels (Lyrinx, Saphir, Ligéa, Arion…)
Her recording of an innovative version of The Four Seasons of Antonio Vivaldi has received notable mentions: "Attention Talent" - Fnac, "Disk of the Month" - Air France, "Disk of the Month" - Women's Question, "Blow of Heart" - French music auditors (broadcast of Radio France Musique). The recording also received the coveted "Classique d'Or" – RTL.
Her last recroding « Dans la Malle du Poilu » has been issued end of 2013 wit the pianist Célimène Daudet. It is a tribute to Lucien Durosoir, French violinist and composer who was a soldier during the 1st World War. This special project has been performedmany times in France but also abroad (South America, UAE, Unites States, Europe, Isreaël, Africa) and has received the « Mission du Centenaire de la guerre 14-18 » recommendation. According to « Le Monde » newspaper,« Dans la Malle du Poilu is ranked in the Top 10 classical music album of 2014.
According to Pierre Gervasoni, Amanda Favier is the « ideal partner » for chamber music. She indeed regularly plays repertoire works but also her own projects.
Open minded and eager for new collaborations, she often combines music, poetry, litterature, jazz with actors like Brigitte Fossey, Marie Christine Barrault, François Castang or Jean Marie Machado. The special programs called : « De Venise à Venise, itinéraire d'un violon gâté », describing the history of her violin a Goffriler built in 1723 , has been played more than 100 timesthroughout France.
In 2015, Amanda has worked with the National orchestra of Belgique, with the Philharmonic orchestra of Moscow and the Chamber orchestra of Luxembourg.
She has begun to record the violin sonatas of Beethoven with Célimène Daudet (piano). The 1st part of the sonatas issued in May 2016 has been awarded by the "Choix de France Musique".


Booklet für Stravinsky & Corigliano