---
Album Info
Album Veröffentlichung:
2015
HRA-Veröffentlichung:
30.07.2021
Das Album enthält Albumcover Booklet (PDF)
1

Desire

05:49

2

Intro for dance / Dance with the wind

07:51

3

I dont got you mean

05:53

4

Tales of the woods

05:47

5

Intro for together / Together alone

07:14

6

The new beginning

05:40

7

Intro for Bach / Hommage to Bach

07:33

8

Survive

05:20

9

Music makes me alive

05:13

10

Intro for sweet / Sweet and bitter

08:38

Total Runtime

01:04:58
Info zu Endless Love
The new, jubilee album is a collection of the audience's favourite songs from the Group. The songs are special, different from the original ones, re-composed by József Balázs and by the only 14 years old Jr. Elemér Balázs, cooperated with the Budafoki Dohnányi Orchestra.
Eemér Balázs, drums

Nikoletta Szőke, vocals
Milán Szakonyi, vocals

József Balázs, Steinway D piano
József Czibere, percussions
Áron Komjáti, guitar
Krisztián Lakatos Pecek, double bass
Dohnányi Symphony Orchestra Budafok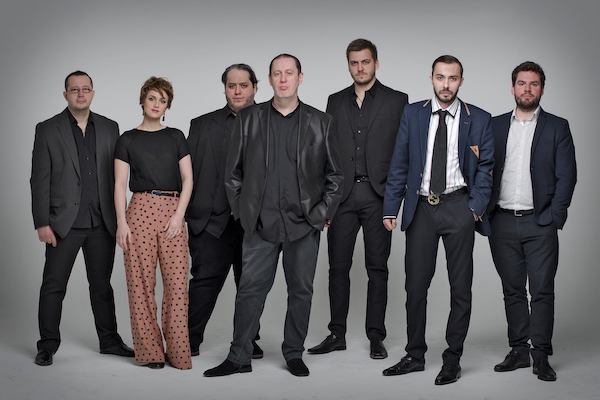 Elemér Balázs
was born in 1967, in Ózd. His parents realized at an early age that he has got a great affinity to rhythms. He started his musical studies when he was only 6 at the Rózsa Ferenc utcai Vasutasok Music School, where his teachers were Imre Kőszegi and József Gáti. Later on his teacher was Iván Nesztor at the Postás /Erkel Ferenc/ Music School. In 1983 Elemér got into the Jazz department of Bartók Béla Music School as an exceptional talent, where his drum teacher was Gyula Kovács. Next to the music academy he finished his high school studies on night school. Soon he played together with the most titled musicians in Hungary as they payed attention to him at a very young age. Until nowadays he already played with all of the great hungarian jazz musicians, like Dezső Ablakos Lakatos, GYula Babos, Balázs Berkes, Katalin Bontovics, Gyula Csepregi, László Dés, Gábor Gadó, Attila László, Aladár Pege, Ferenc Snétberger, Béla Szakcsi Lakatos or György Vukán…
Elemér is an important part of local jazz life as a drummer as well as a composer. He achieved great successes with his past and current bands. One of these band was called No-spa, which ended up third place in the Jazz Hoeilaart Competition in Brussels in 1989, and won the first place on the International Jazz Festival in Leverkusen one year later. Trio Midnight, which is an active band for 25 years had also great successes. Elemér plays in this band with the composer and pianist Kálmán Oláh and the talented doublebass player János Egri. Trio Midnight is a significant jazz band of it's generation. One of their success was the winning first place on Jazz Hoeilaart. Creative Art Trio played an important part in his life as well, where he played together with the famous composer and pianist György Vukán, and with Balázs Berkes on doublebass. Some of his main bands: Joy, Gadó Gábor Trio, Babos Gyula Trio, Szakcsi Lakatos Béla Trio, Dés László Septet, Oláh Kálmán Sextet.
Elemér's special drumming can be heard on almost a hundred albums. He is still an active drummer of the following bands: Trio Midnight, Balázs József Quintet, Szakcsi Jr. Trio, Szulák Andrea Quintet, Dés László – Balázs Elemér Quartet (Contemporary Gregorian), Pintér Zoltán Trio, Oláh Kálmán Sextet, CB Trio.
He attended to numerous jazz festivals all over the world, like in Perugia, Marciac, Nünberg, Zurich, Munich, Copenhagen, Tallinn, Bratislava, Ciney, Dinant, Detroit, Getxo, Brussels, Vienna, Bangkok, Toronto, Quebec or London. He worked together with famous musicians like Annette Lowman, Stjepko Gut, Zbigniew Namyslowski, Jukka Perkó, Paolo Fresu, Stephane Belmondo, Steve Houben, Lee Konitz, Art Farmer, Pat Metheny, Rick Margitza, Charlie Mariano, Randy Brecker, Al Jarreau, Nicholas Payton, Ben Monder, Dave Liebman, Darryl Jones, Joe Lovano and Tim Ries.
Pat Metheny, world-wide known jazz guitarist spoke of him in high terms: "In my opinion Elemér is one of the best drummers today. He plays with incomparable musicality and fineness. He is able to listen to every single musical moment with such attention, he is able to make such fine and spontaneous decisions on stage, that only encourages the quality of the play of the other musicians. He reaches out of his instrument with great taste. I always play with him with joy and so do I listen to his music."
Elemér always took a good care of choosing his bands. In 1990 he created his first Quintet under his name and later on they made three albums. The album called Always that moment won the "Jazz Album of the Year" in 2000 by the votes of Gramofon magazine. He created Balázs Elemér Group in that year as well, which is one of the most successful jazz band in Hungary. The audience started to like them straight after their first album, Around the World. The band grew itself out into regular performer of numerous jazz- and other music festivals and clubs at home as well as abroad. ...


Booklet für Endless Love