---
Album Info
Album Veröffentlichung:
2016
HRA-Veröffentlichung:
08.07.2021
Das Album enthält Albumcover
Lennox Berkeley (1903 - 1989): Stabat Mater:

1

Berkeley: Stabat Mater: I. Lento - Stabat Mater dolorosa

04:37

2

Berkeley: Stabat Mater: II. Andante con moto - O quam tristis et afflicta

02:53

3

Berkeley: Stabat Mater: III. Adagio - Quis et homo qui non fleret

03:11

4

Berkeley: Stabat Mater: IV. Allegro - Pro peccatis suae gentris

01:43

5

Berkeley: Stabat Mater: V. Andantino - Eia Mater, fons amoris

03:00

6

Berkeley: Stabat Mater: VI. Maestoso - Sancta Mater, istud agas

02:55

7

Berkeley: Stabat Mater: VII. Moderato - Fac me tecum pie flere

02:55

8

Berkeley: Stabat Mater: VIII. Andante - Virgo virginum preaclara

02:30

9

Berkeley: Stabat Mater: IX. Allegro moderato - Fac me plagis vulnerari

02:28

10

Berkeley: Stabat Mater: X. Andante - Christe, cum sit hinc exire

05:59

Mass for Five Voices:

11

Berkeley: Mass for Five Voices: Kyrie

02:53

12

Berkeley: Mass for Five Voices: Gloria

04:16

13

Berkeley: Mass for Five Voices: Sanctus

01:57

14

Berkeley: Mass for Five Voices: Benedictus

01:31

15

Berkeley: Mass for Five Voices: Agnus Dei

03:06

Lennox Berkeley:

16

Berkeley: Judica me

07:19

17

Touch Light (for soprano, countertenor and string quartet)

07:35

Total Runtime

01:00:48
Info zu Stabat Mater: Sacred Choral Music by Lennox & Michael Berkeley
Lennox Berkeley's Stabat Mater derives from one of the most fertile and inspired periods of his compositional life. A masterpiece, and until now the last of his major works to go unrecorded, it was written for a concert tour by his close friend Benjamin Britten's English Opera Group; hence the unusual but effective scoring for six solo voices and twelve instrumentalists. Delphian artists The Marian Consort – with five acclaimed discs of early music to their credit – now show their versatility in a cappella and accompanied music by both Lennox and his son Michael Berkeley.
They are partnered in the larger works by the Berkeley Ensemble, whose performances are enriched by their intimate knowledge of these composers' music. The same can be said of conductor David Wordsworth, who has known and worked with both composers, and who here realises a long-cherished ambition to direct this important addition to the catalogue.
"You are left in no doubt of the agony of the crucifixion in the vocal and horn climax of the opening chorus of Stabat Mater... intense and riveting." (The Times)
The Marian Consort's background in early music pays dividends in their superb precision of pitch, impeccable rhythmic placing and beautiful diction…the lush harmonies that open [Judica me] are sumptuously delivered and beautifully recorded" (Gramophone)
"Six solo voices and 12 instrumentalists weaving together a solemn sort of neo-classicism, all jagged-edged mysticism and glimmering triads. There's an earnest beauty in it and the instrumental playing on this recording is spot-on – the Berkeley Ensemble under David Wordsworth clinches the balance of chaste, plaintive and urgent" (Guardian)
"…. the score's cause is helped by the fact that it receives a searing and expert performance. This may be the works debut on disc but its been worth the wait to hear it in a performance of such quality. This is a very important disc…. Admirers of Lennox Berkeley's music should put this disc at the top of their shopping list…." (Music Web International – RECORDING OF THE MONTH)
The Marian Consort
Berkley Ensemble
David Wordsworth, conductor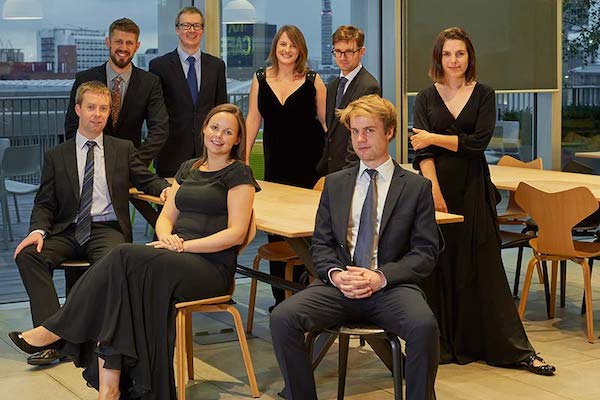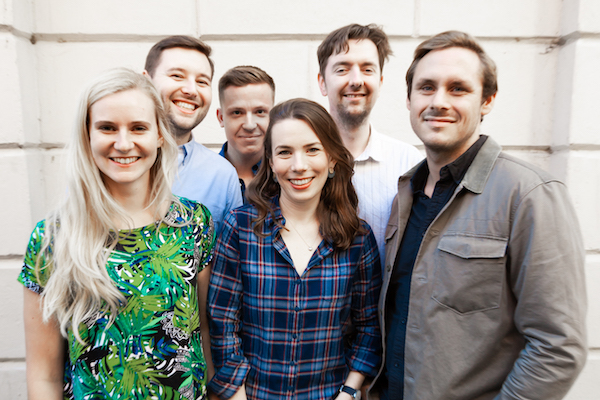 The Berkeley Ensemble
was formed by friends in a spirit of adventure. 'An instinctive collective' (The Strad), its members have come together from diverse corners of musical life to make music in new ways, reach new audiences and, most importantly, explore new repertoire, be it newly written or inadvertently forgotten.
It's acclaimed performances and recordings celebrate contemporary chamber music, especially by British composers. Since its founding in 2008 the ensemble has premiered over 40 works commissioned by or written for the group from composers including Michael Berkeley, John Woolrich, Lynne Plowman, Barnaby Martin and Misha Mullov-Abbado. The ensemble also champions unjustly neglected works and has given the first modern performances of pieces by Lennox Berkeley, Alan Bush and Dorothy Howell.
Its eight albums include 18 premiere recordings amongst a diverse catalogue ranging from Knussen to Beethoven and have attracted considerable praise. The ensemble's recent recording of Beethoven's Septet was lauded by BBC Radio 3's Andrew McGregor as 'inhabit[ing] the heart of this rewarding score with a grace and ease I found totally engaging' whilst Lennox Berkeley: Stabat Mater was nominated for a Gramophone Award in 2017 and praised in the magazine's initial review for 'a performance of shimmering intensity'.
The Berkeley Ensemble regularly appears at venues and festivals throughout the UK including Southbank Centre's Purcell Room, St David's Hall Cardiff, Wiltshire Music Centre and the Cheltenham, Spitalfields, and Lake District Summer Music Festivals.
The ensemble's own Little Venice Music Festival provides a unique platform to collaborate and explore whilst engaging and entertaining neighbours of the group's London base of St. Saviour's Church, Warwick Avenue. Since taking on the festival's curatorship in 2016, the ensemble has brought world-class chamber music right into the community, with guest artists including Imogen Cooper, Adrian Brendel and Laura Snowden appearing as soloists and as performers with the ensemble. The forthcoming 2021 programme will be inspired by the life and work of locally born codebreaker and father of modern computing, Alan Turing. Plans include duets with synthesisers, a composing project with local schools and a major new commission from Robert Laidlow, to be composed with the help of artificial intelligence.
Away from the concert platform, the Berkeley Ensemble works tirelessly to foster the creation, appreciation and performance of chamber music at every age, level and ability. Recent highlights have included collaborations with both PRS for Music and Tŷ Cerdd on professional development schemes for composers, as well as the release in 2019 of the first commercial recording of winning scores from the ensemble's New Cobbett Prize for composition. For amateur performers, the group runs a chamber course in Somerset, as well as a series of study days in London.
Residencies and associations with schools allow the ensemble to help create and develop musical communities of lasting and ever-deepening value. The ensemble is particularly proud of its longstanding links with Ibstock Place School in Barnes, Queen Elizabeth School in Kirkby Lonsdale and Meath Primary School near Woking.
The Marian Consort
is a vocal ensemble that presents bold and thrilling performances across the UK, Europe and North America. Led by founder and director, Rory McCleery, the group is composed of the very best singers in a flexible, intimate ensemble, allowing clarity of texture and subtlety of interpretation that illuminates the music for performer and audience alike. TMC features regularly on BBC Radio 3, and has released eleven recordings to critical acclaim, praised for 'precision and pellucid textures' (The Times).
The Marian Consort performs music from the fifteenth century to the present day, with a focus on bringing to light and championing lesser-known works by composers such as Vicente Lusitano, Raffaella Aleotti, and Jean Maillard. New music is of vital importance to TMC, and in recent years it has commissioned Dani Howard, Cheryl Frances-Hoad, Gabriel Jackson, Donna McKevitt, and Ben Rowarth.
Marian Consort is a pioneer of projects which move beyond the confines of the traditional concert, most notably 'Breaking the Rules', a staged concert-drama based on the life and crimes of Carlo Gesualdo called 'daring and vivid' by The Guardian. Other highlights include performances in the Bascule Chamber underneath London's Tower Bridge; the premiere of Dani Howard's 'Unbound' at Three Choirs Festival; and a Wigmore Hall recital presented in partnership with BBC Radio 3. The Marian Consort will make its debut tour of Japan in 2022.
David Wordsworth
After postgraduate studies at the City University and the Guildhall Hall School of Music & Drama and a period of teaching, David held senior positions with two major music publishers, Schott and OUP. Here he developed close working relationships with some of the most important composers of our time, including Tippett, Ligeti, Dutilleux, Penderecki, Shchedrin and Henze. After moving to OUP in 2008, David worked with John Rutter, Bob Chilcott, Michael Berkeley, Cecilia McDowall, Howard Skempton and Gabriel Jackson, whose music he has continued to champion as a performer.
David became Music Director of the Addison Singers in 1995 and has led the choir in almost all of their London performances since then, as well as taking them on tours to the US, France, Spain, Poland, Ireland, Cornwall, Scotland and Italy, giving concerts in such iconic venues as the Church of the Madeleine (Paris), Monserrat Basilica (Barcelona), the Cathedral Churches of Cork, Kilkenny, Truro, Krakow and, most recently. conducting the Mozart 'Requiem' in St Stephen's Cathedral (Vienna) and the Dvorak 'Mass' in Salzburg Cathedral. The Addison Chamber Choir travelled to the Isle of Man to give two concerts in July 2018 and the Oratorio Choir will visit Budapest in May 2019. Aside from conducting most of the standard choral repertoire, Handel's 'Messiah' and 'Coronation Anthems', the Requiems and Masses of Mozart, Haydn, Schubert, Faure, Verdi, as well as twentieth century classics by Britten, Bernstein, Vaughan Williams, Orff and many others, contemporary music is an important part of David's programmes. A whole range of composers have written works especially for David and the Addison Singers, including William Bolcom, Cecilia McDowall, Jill Jarman, Bob Chilcott, Kenneth Hesketh, Gavin Bryars, Howard Skempton, Gabriel Jackson, Edwin Roxburgh and David Matthews. Master of the Queen's Music, Judith Weir was 'Featured Composer' for the 17/18 season. New works for 2019 have been commissioned from Michael Berkeley ('Featured Composer' for 18/19), Howard Goodall and one of the choir's own singers, Zillah Myers.
In January 2012 David lead almost 150 singers in a highly successful singing day focusing on Howard Goodall's 'Eternal Light', given in the presence of the composer. This was followed by a Singing Day featuring the music of Morten Lauridsen (with the composer himself at the piano) and more recently 'Come & Sing Events' based around 'Eternal Light' and the Mozart Requiem for 'Singing for Syrians' in London and at Dorchester Abbey. David's most recent 'Come & Sing' events focused on American music (for St John's Smith Square) and he will lead a 'Come and Sing Parry' to commemorate the 100th anniversary of the death of the great English composer in October 2018.
David has had a much-valued association with King's Place, London – in 2011 he played an important part in the celebration of Percy Grainger, following this with a concert with the Gavin Bryars Ensemble (part of the award-winning 'Minimalism Unwrapped' series) in 2014 and a celebration of Howard Skempton's 70th birthday in 2017. In January 2018 he was invited to become Associate Musical Director of the Brandenburg Choral Festival, following a long period of collaboration with both the Festival and the Brandenburg Sinfonia, that has included many concerts at King's College Chapel (London), St Martin-in-the Fields, as well as the Addison Singers own concerts.
David has conducted and adjudicated in Hungary, Cuba, Mexico and throughout the US, holding residencies at the Universities of Syracuse, Iowa, Rhode Island, North Carolina, Michigan, Michigan State and Queen's, New York, and has lead pre-concert lectures/interviews for the Kennedy Centre, the Lincoln Center, the Juilliard School and Opera Theatre St Louis. He has addressed conferences and given workshops at the University of Aberdeen, the UST Conservatoire in Manilla (where he also conducted a concert with the Philippine Philharmonic) and the Chopin University in Warsaw.
David acted as Artistic Director of 'Singing Shakespeare', a major project focusing on choirs the world over singing new and existing settings of the Bard. The launch concert was at Holy Trinity, Stratford-upon-Avon and David lead further Shakespeare related workshops for the Brandenburg Choral Festival (London), the Association of British Choral Directors, the Cork International Choral Festival and Sound Scotland, that featured repertoire from his Shakespeare Anthology that was published by Novello in 2015. David's other publications include articles on American and Polish music, a celebration of John Joubert's 90th and Howard Skempton's 70th birthdays and memorial tributes to his friends Sir Richard Rodney Bennett and John McCabe, for 'Choir & Organ', as well as two anthologies of new Christmas Carols by over thirty leading composers (published by Chester-Novello), and several arrangements of pieces by composers as diverse as John Ireland and Stephen Sondheim. His new two pianos and percussion arrangement of Judith Weir's 'Stars, Night, Music and Light' was premiered in July 2018 and published by Chester Music.
In 2016 David conducted the Marian Consort and the Berkeley Ensemble in a revival of Sir Lennox Berkeley's 'Stabat Mater' – performing the work at the Aldeburgh Easter Festival, the Spitalfields Festival (for a BBC broadcast) and the Cheltenham International Festival, also recording the work for Delphian Records, a CD that was critically acclaimed and was short-listed for a Gramophone Award. 2016 also saw a 90th birthday concert for Joseph Horovitz with the Addison Singers and East London Brass (Cadogan Hall), at which David conducted Horovitz's dramatic Cantata for chorus and brass band, 'Samson'
2018 sees the 100th anniversary of the birth of Leonard Bernstein and to celebrate this occasion, David has curated a year-long festival of American music at St John's Smith Square, London – the year included some 80 concerts between January-December 2018, a day of performances on July 4th and over a week of concerts in mid-October, featuring amateur choirs and orchestras, alongside a great many soloists of international standing. In July 2018 David led a performance of the iconic 'Jesus' Blood Never Failed Me Yet' by Gavin Bryars at the Three Choirs Festival, involving amateur singers and players from the Hereford area. Further plans for the second half of 2018 include concerts with the Moonlight Symphony Orchestra at the Concertgebouw (Amsterdam) and Muiskverein (Vienna).
David was appointed Director of the John Ireland Trust in November 2017.


Dieses Album enthält kein Booklet