---
Album Info
Album Veröffentlichung:
2020
HRA-Veröffentlichung:
27.03.2020
Das Album enthält Albumcover
Rune Rebne (b. 1961), Ludvig Elblaus: DSDHT for Euphonium and Fixed Media:

1

DSDHT for Euphonium and Fixed Media: Part I

06:38

2

DSDHT for Euphonium and Fixed Media: Part II

08:43

3

DSDHT for Euphonium and Fixed Media: Part III

06:09

Bjørn Howard Kruse (b. 1946): Bom-bombardino for Euphonium and Percussion:

4

Bom-bombardino for Euphonium and Percussion: Part 1

04:06

5

Bom-bombardino for Euphonium and Percussion: Part 2

02:35

6

Bom-bombardino for Euphonium and Percussion: Part 3

00:51

7

Bom-bombardino for Euphonium and Percussion: Part 4

01:14

8

Bom-bombardino for Euphonium and Percussion: Part 5

02:32

9

Bom-bombardino for Euphonium and Percussion: Part 6

01:56

10

Bom-bombardino for Euphonium and Percussion: Part 7

01:23

11

Bom-bombardino for Euphonium and Percussion: Part 8

04:12

12

Bom-bombardino for Euphonium and Percussion: Part 9

00:50

13

Bom-bombardino for Euphonium and Percussion: Part 10

00:51

14

Bom-bombardino for Euphonium and Percussion: Part 11

00:44

15

Bom-bombardino for Euphonium and Percussion: Part 12

03:37

Total Runtime

46:21
Info zu Klangen fra de dype skoger
"Klangen fra de dype skoger" (Sounds from the deep forests) is the sound of a human being who does not separate their identity from their music. It is a sound rooted in a simple upbringing with good values, in a society where time stands still…where, as a child, one can be one with nature and culture hour after hour – completely undisturbed.
Sounds from the deep forests is the sound of a divided human being, in the face of academic norms and demands, whose natural and spontaneous musicality drowns in the correct and restrained expression of the classical world.
Sounds from the deep forests is the sound of a human being rising again, where creativity, will, and faith win in the end, where identity and music are one, while the trivial instrumental barriers are breached and the boundaries only face resistance in their own boldness.
Sounds from the deep forests is musician Bente Illevold's idea of expressing her own life, rooted in tradition, identity, and artistic innovation. Five composers have been challenged to channel the natural beauty and musical traditions of Rendalen, together with the seemingly mellow and measured character traits of Østerdalen, through new compositions for euphonium. The project contains, as of 2019, seven works, where the two largest are preserved on this recording.
Bente Illevold, euphonium
Anders Kregnes Hansen, percussion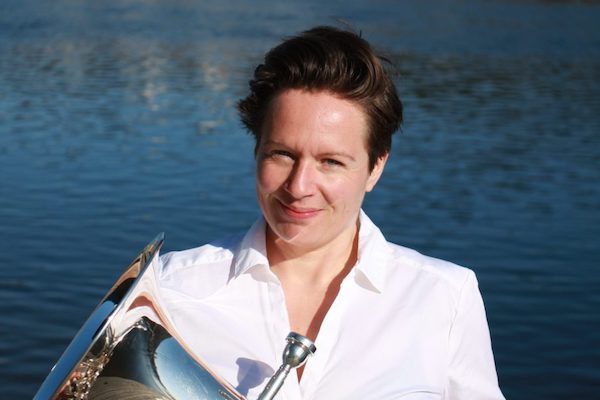 Bente Illevold
is a Norwegian euphonium artist. She performs on Willson 2900TA euphonium and Bach 4G mouthpiece. Bente holds a master's degree from the Norwegian Academy of Music, where she studied with Sverre Olsrud. She has her educational diploma from Barratt Due Institute of Music.
Bente works as a freelance musician based in Drammen nearby Oslo, and performs regularly as a soloist and chamber musician across the country. She has also perfomed with serveral of Norway's military bands and Kristiansand Symphony Orchestra, the Norwegian Radio Orchestra and at the Norwegian National Opera. Over the past years she has gain international recognition for her performances at several festivals and conferences in Europe and the United States.
Bente is constantly challenging the "impossible" on euphonium performance and develop new repertoire through her own transcriptions and arrangements, in addition to commission new music from Norway's finest contemporary composers. In 2020 she will premier her seventh commision, and her first solo album "Klangen fra de dype skoger" will be released on LAWO Classics, one of Norway's finest labels for classical music.
Bente is a well-known educator and band instructor at all levels and is regularly teaching masterclasses and holds lectures at high schools and universities. She also works as a school band conductor, and is passionate about her work with youths. Bente is the euphonium player in the Northern Lights Duo.
Anders Kregnes Hansen
(b. 1983) is a percussionist with a strong focus on contemporary music, performance, and innovative genres. He excels both as a chamber musician and soloist.
Hansen is a versatile musician who regularly works with most of the professional orchestras in Norway, as well as in the contemporary ensembles Aksiom and Oslo Sinfonietta. He also has contributed to several recordings in contemporary music, classical, jazz, and pop/rock. Of these, several have been nominated for the Norwegian Grammy Award (Spellemannprisen). As an educator he has held masterclasses at several musical institutions in Norway.
Hansen holds a master's degree classical percussion performance from the Norwegian Academy of Music, where he studied under Kjell Tore Innervik and Tomas Nilsson. During these studies he wrote a dissertation on composers and performers in creative collaboration.


Dieses Album enthält kein Booklet