---
Album Info
Album Veröffentlichung:
2017
HRA-Veröffentlichung:
15.12.2017
Das Album enthält Albumcover
Entschuldigen Sie bitte!
Sehr geehrter HIGHRESAUDIO Besucher,
leider kann das Album zurzeit aufgrund von Länder- und Lizenzbeschränkungen nicht gekauft werden oder uns liegt der offizielle Veröffentlichungstermin für Ihr Land noch nicht vor. Wir aktualisieren unsere Veröffentlichungstermine ein- bis zweimal die Woche. Bitte schauen Sie ab und zu mal wieder rein.
Wir empfehlen Ihnen das Album auf Ihre Merkliste zu setzen.
Wir bedanken uns für Ihr Verständnis und Ihre Geduld.
Ihr, HIGHRESAUDIO
1

Isotype (Single Mix)

03:48

2

Skin

03:00

3

The Punishment of Luxury (Single Mix)

03:09

4

The Punishment of Luxury (12" Extended Mix)

06:58

5

Lampe Licht

04:41

6

The Punishment of Luxury (Manhattan Clique Remix)

06:06

7

What Have We Done (Single Version)

03:23

8

What Have We Done (12" Extended Mix)

05:51

9

HAHAHA

03:28

10

What Have We Done (Chicky Remix)

04:05

Total Runtime

44:29
Info zu The Punishment of Luxury: B-Sides & Bonus Material
Nach der großartigen Reaktion auf ihr grandioses neues 13. Studioalbum "The Punishment Of Luxury", das jüngst in Großbritannien auf #4 und in Deutschland auf #9 chartete, veröffentlichen OMD am 15. Dezember 2017 eine Version mit allen B-Seiten, Remixen und Bonus Material aus der derzeitigen "The Punishment of Luxury" Ära, erstmalig gesammelt auf einem Album. Das Album enthält sowohl alle 12 Extended Mixe von "The Punishment Of Luxury" als auch die unveröffentlichten B-Seiten 'Skin', "Lampe Licht" und "HAHAHA".
Mit ihrem dreizehnten Album "The Punishment Of Luxury" melden sich OMD zurück. Der Longplayer ist der Nachfolger des von den Kritikern hochgelobten Albums "English Electric" aus dem Jahr 2013 und vereint einmal mehr hervorragenden Synthie-Pop mit meisterhaftem Songwriting. Komponiert, aufgenommen, produziert und abgemischt wurde das gesamte Album von den beiden OMD-Gründungsmitgliedern McCluskey und Humphreys. Mit den zwölf Songs verlassen OMD einige Male beherzt ihre Komfortzone, ohne dabei jedoch ihre künstlerische Integrität aufs Spiel zu setzen. "Nach all diesen Jahren ist es fast so, als wären wir noch einmal die Teenager von damals", sagt Andy. "Wir machen einfach, was wir wollen. Es gibt ja auch niemanden, der uns vorschreibt, was wir zu tun und zu lassen haben."
Das Album wurde in den jeweiligen Studios der beiden in Merseyside (Andy) und London (Paul) aufgenommen, endgültig abgemischt wurde das Ganze schließlich in Pauls Studio. Die jugendhafte Energie, die OMD schon immer ausmachte, bleibt auch auf Album Nummer dreizehn erhalten, auch wenn die Naivität und Begeisterung der Vergangenheit dieses Mal von einer eher reflektierten und heiteren Stimmung abgelöst wird. "Auf dieser Platte ist es uns gelungen, wunderschöne Dinge aus Geräuschen und sich wiederholenden Klangstrukturen zu schaffen", erklärt McCluskey.
Der Name des Albums geht auf ein Gemälde des italienischen Divisionisten Giovanni Segantini aus dem Jahr 1891 zurück, das in der Walker Art Gallery in Liverpool zu sehen ist, wo es auch Andy auffiel. Die Maltechniken des Divisionismus sind dem Pointillismus sehr ähnlich und so sind auf dem Segantini-Gemälde 'The Punishment of Luxury' zwei Frauen zu sehen, die aufgrund ihrer nicht standesgemäßen Einstellung bis zum Purgatorium in einer alpinen Landschaft schweben.
OMD waren schon immer Techno-Futuristen, jedoch haben sie nur selten so ungeschminkt elektronisch geklungen wie auf 'The Punishment Of Luxury', wo sie schon im Eröffnungsstück knarzende Elektrorhythmen mit den für die Band so charakteristischen fließenden Melodien vereinen oder Andys Blue Eyed Soul-Balladen "One More Time" und "The View From Here" in geschmeidige neue digitale Formen hüllen. Abgesehen von dem mächtig á la Kraftwerk nach vorne gehenden "Isotype", lassen sich in dem unschuldigen Dahingleiten von "Kiss Kiss Kiss Bang Bang Bang" auch Anklänge von Arpanet und Dopplereffekt finden, während das "As We Open, So We Close" durch die perfekte Verschmelzung von Glitch-basierten Beats und McCluskeys Gesang besticht.
Orchestral Manoeuvres In The Dark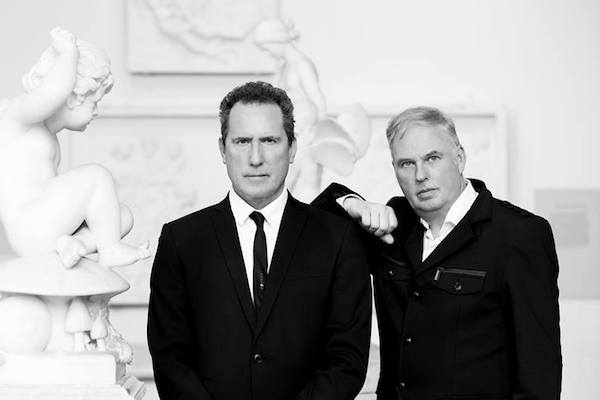 Orchestral Manoeuvres In The Dark
The Liverpool music scene in the late 1970's was an exciting and dynamic place to be. Everyone was either in a band, in-between bands or were forming a band. In the midst of all this activity was Eric's Club - a small discreet venue that was a favoured haunt for the people who would later form bands such as The Teardrop Explodes, Echo & The Bunnymen and Frankie Goes To Hollywood.
So it was quite apt that Eric's was the venue of choice for the debut performance of Orchestral Manoeuvres In The Dark in October 1978.
Founder members Andy McCluskey and Paul Humphreys had originally been inspired by the experimental electronic music of German bands such as Kraftwerk and Neu! Working with radio sets and home made synthesisers, Humphreys and McCluskey christened themselves VCLXI (after a valve diagram on the sleeve of Kraftwerk's Radioactivity album) and began their own musical experiments. This, however, was still a side project the pair indulged in on odd weekends while they were active in local bands such as Equinox, Pegasus and The Id. Although they had gained a lot of experience from working in a traditional band environment, it was never quite the creative platform they were looking for. It was time for a new approach.
Naming themselves after one of their own early songs, Humphreys and McCluskey launched their own unique style of catchy electronic melodies that helped form OMD's reputation for intelligent pop. Back then, to burden your band with such an unwieldy name as Orchestral Manoeuvres In The Dark might have seemed unwise, but the obvious commercial appeal of their music provoked enough interest that it eventually led to Factory Record's Tony Wilson offering them the chance to cut their debut single Electricity on the Factory label.
Electricity (and its flip side Almost) perfectly captured OMD's infectious blend of melody and melancholia. Electricity, with its frenetic dance rhythm, rapidly became OMD's theme song and maintained its status as a live favourite up to the present day. Attracting the interest of Virgin, OMD signed to their subsidiary label Din Disc in 1979.
After a brief period of touring, notably as support for Gary Numan, OMD quickly established themselves with a number of classic singles. Messages, with its simple but engaging melody, managed to get OMD into the public eye in 1980 by reaching No. 13 in the UK charts. Later the same year they made the UK top ten and scored their first international hit (5 million sales) with the dance pop of Enola Gay - an up tempo number inspired by the plane that dropped the atomic bomb on Hiroshima. The success in 1980 helped OMD to rapidly become one of the UK's premier pop acts. Their use of extra personnel for live performances led to Humphreys and McCluskey recruiting people in the studio as well with the band soon established as a four piece outfit with the assistance of Martin Cooper (keyboards, saxophone) and Malcolm Holmes (drums).
OMD's 1981 album, the ethereal Architecture & Morality proved to be one of their finest moments. Blending choral effects and wistful melody the album produced three classic singles: Souvenir with its bittersweet Humphreys vocal, the religiously inspired Joan Of Arc and its epic follow-up Maid Of Orleans. All three singles secured a top 5 chart position and by 1982 had turned OMD into household names.
With 3 hit albums and a string of million selling singles it seemed that the band had a Midas touch. It was about to desert them with the release of their most radical album to date.
The 1983 album Dazzle Ships described a fractured futurist soundscape of ideas that drew on everything from East European radio broadcasts to industrial robots for influences. Although the album concealed some fine pop songs, its lack of critical and commercial success was perhaps responsible for OMD taking a more cautious musical path in the future.
OMD's fifth album Junk Culture from 1984 saw the band steering closer to a more traditional band approach. The instant pop of Tesla Girls, percussive dance flavour of Locomotion and pastoral, dreamlike quality of Talking Loud And Clear proved that they could still deliver classic 3 minute pop songs, while retaining a flavour for the unusual.
Producer Stephen Hague was drafted in for the 1985 album Crush and the subsequent 1986 album The Pacific Age. Hague managed to give the songs on both albums a polished edge, while retaining an essential energy that was vital to the songs. Singles such as So In Love and (Forever) Live & Die drew on OMD's flair for writing engaging melodies, while demonstrating that they were taking much more of a traditionalist approach to song production.
This period also saw the band touring extensively in North America. If You Leave, specifically written for the John Hughes movie Pretty In Pink, was a huge success. However, the consistent schedule of touring took a toll on the band both professionally as well as personally and the 1988 single Dreaming was, at the time, the last single written by Humphreys and McCluskey.
OMD ended an era in 1989 with the departure of Humphreys, Holmes and Cooper leaving Andy McCluskey to forge ahead under the OMD banner. This resulted in the 1991 album Sugar Tax. It was a brash and dynamic approach that fused the classic OMD sound with a more mainstream 90's dance style. Sugar Tax managed to win over a lot of new converts, as well as the die-hard OMD enthusiast, with singles such as the spectacular Sailing On The Seven Seas and the dance pop of Pandora's Box (a paean to silent movie star Louise Brooks).
OMD followed up on the success of Sugar Tax with the 1993 album Liberator. This album saw OMD broadening their field of influences with the Barry White inspired Dream Of Me (Based On Love's Theme).
Following the Liberator tour, Andy McCluskey took some extended time off to reflect and consider OMDs future. Suitably refreshed, he began writing again - taking a unique musical direction. The result of this work was premiered in 1996 with the release of a new single Walking On The Milky Way and the follow-up album Universal. With its mix of ethereal ambience and epic production Universal captured a sense of wistful mood that hinted at early OMD, yet still had a unique style and character that was very much its own.
OMD were effectively retired for the latter part of the 1990's while Andy McCluskey focused on management and production, most notably for the girl pop trio Atomic Kitten who scored a No. 1 hit single in 2001 with the McCluskey co-written song Whole Again.
Finally, deciding the time was right for an OMD revival, Andy McCluskey and Paul Humphreys reunited alongside former band members Mal Holmes and Martin Cooper. In 2007 they embarked on an extensive UK and European tour showcasing their classic Architecture & Morality album. As well as playing the album in its entirety, the band also presented a stage show of their most classic hits to a spectacular visual backdrop.
The 2007 Architecture & Morality tour served as a reminder of what an engaging band OMD were live. They had lost none of the power or the impact that they had demonstrated on those early 80's performances. With a new album on the way and more live performances scheduled for the future, OMD continue to delight and entertain audiences globally.


Dieses Album enthält kein Booklet