---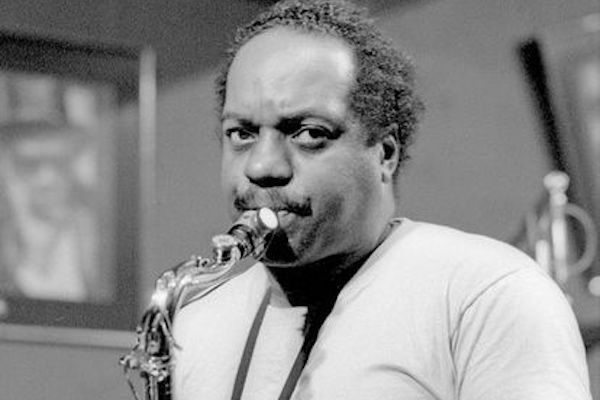 Eddie Harris
was born October 20, 1934 in Chicago, Illinois. He began his career as a singer in various Baptist churches throughout Chicago. Around the age of 3, Eddie's cousin, Bernice Benson, who played piano at Eddie's mother's church, began teaching him how to play the piano where he learned to play by ear and eventually learned to read music.
Eddie learned to play the clarinet, vibraphone, and saxophone while attending DuSable High School in Chicago, Illinois under the guidance of a well-known and influential musical director, Captain Walter Dyett. Captain Dyett was responsible for the development of several Jazz musicians who came out of Chicago from the 1940's to the early 1960's. Eddie always wanted to play the saxophone simply because he admired the way it looked, however in order to play saxophone for Captain Dyett one had to play the clarinet first, so Eddie's first wind instrument was the clarinet.
After high school, Eddie continued his musical studies at Illinois University and Roosevelt University. Eventually, he was drafted into the Army and placed in the area of electronics. He later went airborne and quickly grew disgusted with the realities of war. By this time, Eddie excelled at piano, saxophone, vibraphone, clarinet, trumpet, trombone, and bassoon and decided to audition for the Army band. He received a score of 98 out of 100 on the Army's music exam which tested reading, music, ear training, written phrases, and command of instrument. Eddie's score was so high that he was recommended to play saxophone with the Seventh Army Symphony Orchestra in Germany. The symphony was unable to take on additional band members at that time, so Eddie was placed in the Army band in Fulda, Germany for 8 months. After that, Eddie joined the Seventh Army Symphony Orchestra and became a part of the Jazz band that was formed from members of the orchestra. The Jazz band toured France and Germany and brought Eddie international notoriety. During this period, Eddie also took classical saxophone lessons at the Paris Conservatory of Music. Upon his return to the United States after leaving the armed services, Eddie began living and playing in New York City. He worked consistently with pit bands, jazz combos, and as a pianist. Due to an illness in his family, Eddie returned to Chicago and later met and married Sara and they eventually had two daughters, Lolita and Yvonne.
Eddie has always been known for his experiments with the tenor saxophone. His first known experimentation combined a tenor saxophone with a trombone mouthpiece that he called the "Saxobone." Later, Eddie began using a clarinet double barrel joint in between the neck and body of the instrument causing the tenor sax to sound like a bass clarinet. He also created a hybrid instrument with a bassoon bocal replacing the tenor sax neck. These experimental sounds are featured prominently on the album, "A Study in Jazz" on VeeJay Records. He could make all of these unique sounds by merging only a few spare parts with the tenor saxophone. One of Eddie's most popular creations was the reed mouthpiece for brass instruments. He holds the U.S. Patent for the reed mouthpiece for the trumpet, cornet, trombone, and flugelhorn. Eddie also experimented with the electric Varitone saxophone, a musical device that allowed the sound of a saxophone to be electronically manipulated. The electronics of the Varitone could add a sub-octave and also filter the timbre and tone of the sax.
Eddie later signed onto the Chicago Musical Instrument Company, also known as Noreland. He introduced their new unit called the W2, a filtering unit for the saxophone and the clarinet that emulated organ stops. He then went on to affiliate with a company called Innovex, a division of Hammond Organ that created a unit called the Condor. This unit was similar to the W2 but had more tabs and a modern circuitry. Eddie began advertising for a company called Frapp which had one of the most sophisticated audio pickups for their wind instruments. Eddie developed The Eddie Harris Attachment, a wind synthesizer housing four oscillators that enable any sax player to play in five-part harmony as in a reed section of a big band. Eddie features the reed trumpet and the Eddie Harris Attachment on his song "Freedom Jazz Dance."
In 1961, Eddie recorded his first album under the VeeJay Records label entitled "Exodus" after the motion picture of the same title. The song "Exodus" was first released as a 45 rpm and sold well over a million copies which earned Eddie – Gold status for a jazz recording. After 2 years, Eddie left Vee Jay Records and began recording for Columbia Records and then later Atlantic Records. Eddie recorded with Atlantic for over a decade. Eddie recorded "Listen Here" (a hit which coined Eddie, "The Electrifying Eddie Harris") and composed the jazz tune "Freedom Jazz Dance" which became a standard modern work recorded by Miles Davis and countless other artists. He is noted for a very successful partnership with pianist, Les McCann in the late 1960's; a union which produced the 1969 Atlantic LP "Swiss Movement" marking another Gold Status jazz recording. In addition, in 1970, "Swiss Movement" earned Eddie and Les a Grammy nomination at the 13th Annual Grammy Awards for the category of Best Jazz Performance/Small Group or Soloist with Small Group.