---
Thomas Albertus Irnberger, David Geringas, Lilya Zilberstein
---
Biographie Thomas Albertus Irnberger, David Geringas, Lilya Zilberstein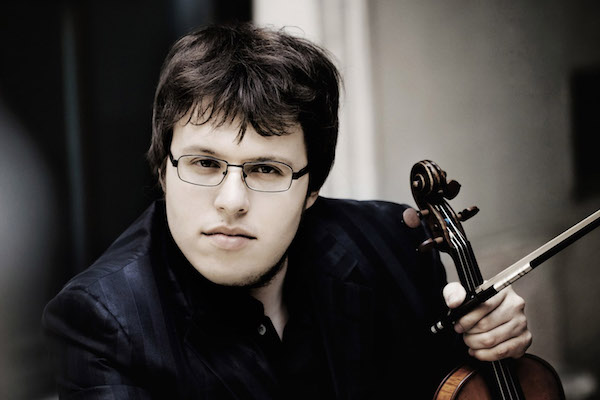 Thomas Albertus Irnberger
in Salzburg geboren, gehört zu den führenden österreichischen Geigern. Die deutsche Fachpresse urteilte: "Wie kaum ein anderer junger Künstler seines Faches, hat sich Irnberger in den letzten Jahren einen Spitzenplatz unter der Violinistenelite Europas erobert".
15-jährig feierte er sein aufsehenerregendes Debüt im Palais des Beaux Arts in Brüssel als Solist des Violinkonzerts von Tschaikowsky.
Seither konzertierte Thomas Albertus Irnberger als Solist und Kammermusiker in bedeutenden Sälen Europas, Israels und in Asien, wie dem Herkulessaal in München, im Konzerthaus Berlin, in der Beethovenhalle in Bonn, in der "Glocke" in Bremen, in der Laeiszhalle, Hamburg, in der Stadthalle in Karlsruhe, in der Meistersingerhalle, Nürnberg, in der Liederhalle, Stuttgart, der Fairfield Hall, London, dem Museum of Art, Tel Aviv, dem Henry Crown Auditorium, Jerusalem, dem Rebecca Crown Auditorium, Jerusalem, dem Heichal HaTarbut, Rishon LeZion, dem Théatre des Champs-Elysées, Paris, Casals Hall, Tokyo und im Wiener Musikverein.Weiters ist er Gast bei renommierten internationalen Festivals wie z. B. den "Festivals internationales de Violon – Signé Ivry Gitlis" in Frankreich, dem Mahler-Festival Toblach/Dobbiaco, den Weilburger Schlosskonzerten, Menuhin Festival Blonay, Schleswig Holstein Festival, Karel Halír Festival Prag, Bruckner Fest Linz und dem Usedom Festival etc.
Im Alter von 17 Jahren erschien seine Debüt-Doppel-CD bei Pan Classics mit Werken von Hindemith, Debussy, Enescu, Paganini, Kreisler, Fauré und Elgar, die von der Fachpresse ausgezeichnete Kritiken erhielt, in denen sein "brillantes technisches Können, verbunden mit reifer Gestaltungskraft und tonlicher Raffinesse", seine "differenzierten Klangfarben" und sein "sicheres Stilgefühl" hervorgehoben wurden.
Im Jahr 2004 unterzeichnete er dann einen Exklusivvertrag bei dem Wiener Traditionslabel Gramola und baute eine beachtliche und hochdekorierte Diskographie auf. 2022 wird der Künstler seine 62.CD-Einspielung vorlegen. Seine Aufnahmen wurden regelmäßig mit Schallplattenpreisen bzw. hervorragenden Wertungen von der internationalen Presse aufgenommen:
American Record Guide – Critic's Choice , Supersonic Award – Luxembourg, Opus d'or – Paris, Choc de musique 2019 – Paris, mehrfach Top-Einspielung (10 Sterne) bei Klassik heute – Deutschland, 5 Sterne im Ensemble Magazin – Deutschland, 5 Diapason ( Frankreich) , mehrfache Empfehlungen des Crescendo-Magazins – Deutschland, Nominierung zum Amadeus Classic Award 2006, Strad Selection – London, Gramophone-Empfehlung – London, BBC Music Editors Choice – London , Oe1-CD des Tages bzw. des Monats, Oe1 Pasticcio-Preis, CD des Tages plus bei Radio Stephansdom (Radio Klassik), Radio-Bremen Empfehlung, Grand prix du disque– Ehrendiplom Franz Liszt 2012, ION Arts Washington "10 world's best classic CDs 2011", Fanfare Magazine Recommendations – New York, American Record Review – Empfehlungen, The Record Geijutsu – Tokyo etc … CD der Woche beim Bayerischen Rundfunk, MDR – Figaro, SWR und WDR, Radio Toscana und Radio Bolzano etc …
Zu seinen regelmäßigen Kammermusikpartnern zählten und zählen Musikgrößen wie Paul Badura-Skoda, Jörg Demus, Michael Korstick, David Geringas, Barbara Moser, Pavel Kašpar und Edoardo Torbianelli. Thomas Albertus Irnberger widmet sich seit 2008 der Erforschung und Wiederentdeckung "verfemter Komponisten" und spielte in Israel die Erstaufführung des Violinkonzerts von "Hans Gál". Die enthusiastische Kritik schrieb "Musik, die eine Offenbarung darstellt". Einen weiteren Schwerpunkt seiner Arbeit zusammen mit Barbara Moser bildet das weite Feld der Musik von Komponistinnen, das zu Unrecht noch immer nicht den Stellenwert genießt, das ihr zustehen würde.