---
Biographie Naughty By Nature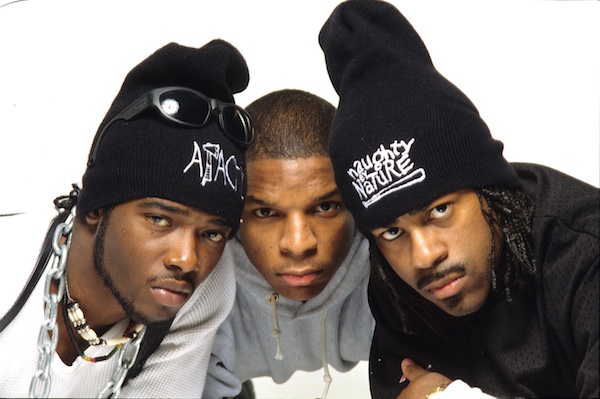 Naughty By Nature
The Grammy Award winning, Platinum-album selling, New Jersey super-group, Naughty By Nature, is celebrating their twenty year track record of creating the hits and party anthems that have become the soundtrack to our lives. Their music has smashed through mainstream barriers all while remaining true to the sound, message and grit of the hood.
And now, these three kings of the Hip-Hop anthem have formally claimed their titles and named their forthcoming reunion album, Anthem Inc. Life is good. Treach, Vin Rock and DJ Kay Gee are back in the studio, doing what they do best: creating undeniably classic, hand- raising, life-affirming, Hip-Hop music.
"We wouldn't have reunited if we didn't think we could give people that authentic Naughty feeling," says the group's master lyricist Treach. "This new album is definitely gonna take you back, but just like we always did, we've invented a new sound, a bunch of new flows and after being without an album for so long, we've gotta lotta things to say."
Few groups in music can boast a near twenty-year career that has been both consistent and history making. Naughty By Nature, the Grammy and American Music Award winning rap trio, initially called New Style, began performing at talent shows and were discovered by fellow New Jersey native and then- emerging Hip-Hop artist, Queen Latifah. Eventually signing the group to her management company "Flavor Unit Management," Latifah helped them land a deal with Tommy Boy Records.
Naughty By Nature's self-titled debut album was released in 1991 and quickly assaulted the music charts with the instant mega #1 hit "O.P.P." The group quickly became crossover stars, while maintaining their ghetto sensibility. To date, their success and longevity as a Hip-Hop group has been unparalleled. These three "Kings of The Hip-Hop Anthem" went on to produce their follow-up albums that have become part of America's Hip-Hop legacy: 19 Naughty III, Poverty's Paradise and Nature's Fury.
After years of steady touring and itching to get back in the studio, both Treach and Vin agreed in 2008 that in order for the next album to have that authentic sound and feel of Naughty By Nature, they must reunite with DJ Kay Gee. At this same time, VH1 bestowed their coveted "HipHop Honor" to the group as innovators of our culture. Joining the ranks of Big Daddy Kane, Rakim and Eazy E., the group received their "HipHop Honors" in October of 2008.
The group continues to tour globally, ripping stages from Australia to Canada and New Jersey to South Africa. Naughty By Nature is on their A-game and have no plans to stop anytime soon. In this next endeavor, they are completely independent and totally in control of their brand. Still setting trends, the group recently struck a deal with media-giant Microsoft, to cross promote their new single "Get To Know Me Better" with the release of the HTC Touch Pro 2 Windows Mobile device.