---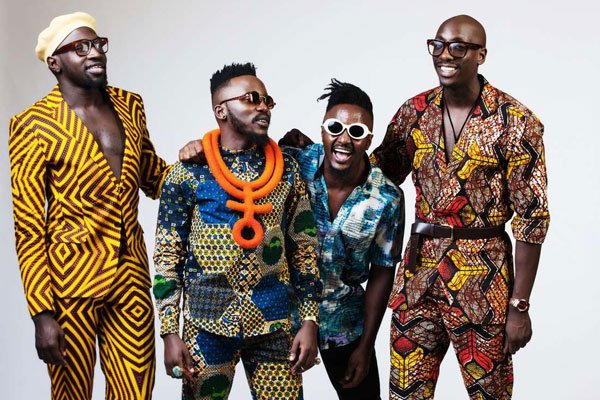 Sauti Sol
is an award-winning afro pop group from Kenya, crowned Best Group (Africa) at the MTV Africa Music Awards (2016 MTV MAMA), 2016 Soundcity MTV Awards and African Muzik Magazine Awards ( 2016 AFRIMMA). They also won Best African Group at All Africa Music Awards (2015 AFRIMA) and an MTV EMA Award for Best African Act in 2014. Comprising Bien-Aime Baraza, Willis Austin Chimano,Polycarp Otieno and Savara Mudigi; the group mixes their soulful voices with vocal harmonies, guitar riffs and drum rhythm. Sauti Sol blends warm resonant pop with traditional Kenyan influences. Their mélange of energetic rhythms has promoted the group to become one of Africa's most celebrated and East Africa's pioneers of a fresh sound that has inspired the sprouting of many other bands from East Africa. In 2016 Sauti Sol made history by being the first Kenyan artistes to run a successful and professional nationwide tour. After the Kenyan completion of Sauti Sol's Live and Die in Afrika, it took onto the world stage with a focus on African countries and a detailed American Tour.
Sauti Sol's discography stands at three albums namely: Mwanzo (2008), Sol Filosofia (2011) and Live and Die in Afrika (2015) have received high acclaim on Kenyan charts and gained international attention, including US President Barack Obama mentioning the fact that Sura Yako has influenced American pop culture. Sauti Sol did a 2012 self-titled collaborative EP with South African avant-garde innovative rapper/producer Spoek Mathambo.
Their third studio album, titled Live and Die in Afrika, released online on the 21 November 2015, was available to Sauti Sol fans globally for free download for 48 hours as an early Christmas present. The album was released under their imprint label Sauti Sol Entertainment as a self-produced work by Sauti Sol. A total of 400,000 downloads were made during the free download period.
Sauti Sol has steadily built their professional international experience. In 2016's most notable live performance include, Swaziland's Bushfire Festival, Mozambique's Azgo Festival and at 2baba's Disruption Africa (Kenya concert). Sauti Sol's 2015 notable showcases include a performance at the 2015 Global Citizen Festival alongside international acts Pearl Jam and Chris Martin (Coldplay), performing at the Milan Expo 2015, a 2015 #SautiSolRoad2BET American Tour (Washington DC, Minneapolis MN, Atlanta GA, Seattle, Dallas TX, New Jersey and Los Angeles CA), headlining at 2015 KigaliUp Festival, Sauti Sol Live in Kampala Concert, Sauti Sol Live in Dar es Salaam (Party in the Park 2015), Las Vegas Sauti Sol Valentines Show at the Hard Rock Café, Kenya's Koroga Festival, Tanzania's Jembeka Party and Dubai's Industry Nite, among others. In 2014, they performed at Blankets & Wine at 50 Festival (Kenya), Zanzibar International Film Festival, among shows in Europe. In 2013, they also headlined at Boombaataa Festival (Kenya) and City of Stars festival (Malawi).
A tour through Europe in 2010 took Sauti Sol to Sweden where they made a television appearance and recorded their sophomore album, Sol Filosofia. In February 2012 they debuted at the Festival sur le Niger in Mali where they were performed alongside some of their African idols: Habib Koite, Salif Keita and Lokua Kanza. In 2011 and 2012 the band performed at the South by Southwest Music Festival (SXSW) in Austin, Texas. In June same year, they performed at the Kalorvy Vary International film festival and Colours of Ostrava 2012, Czech Republic's biggest music festival. Between Sept-Dec 2012, Sauti Sol signed with Kenya's Niko Na Safaricom Live Tour transporting their renowned electric live performances to their fans in major Kenyan towns and cities.
Sauti Sol has also performed at widely televised events including: the MTV Africa Music Awards (2015 & 2014), Kenya's 51st Independence Day (2014), inauguration of Kenya's President Uhuru Kenyatta (2013), Africa Magic Viewers Choice Awards held in Nigeria (2013) and at Big Brother Africa Reality Show in South Africa (2012).