---
Biographie Artyom Dervoed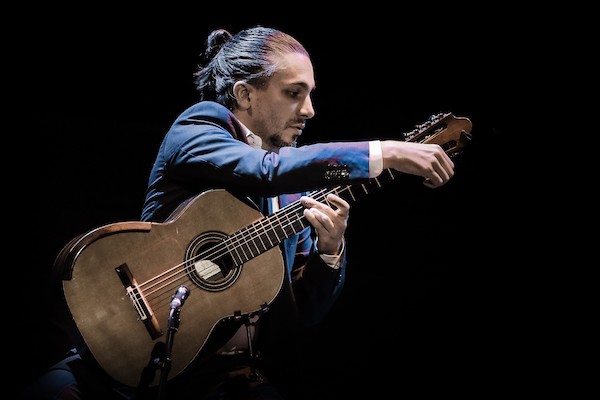 Artyom Dervoed
Universe Guitare (France) has famously dubbed Artyom Dervoed the "Tsar of the guitar". This bold claim is backed by the growing international demand, an active recording career, and no less than 16 first place awards in various international competitions. A regular guest on the world's most prestigious stages, including the Berliner Philharmonie, Kölner Philharmonie, Tonhalle Düsseldorf, Carnegie Hall, Jordan Hall, Bunka Kaikan, and Great Hall of the Moscow Conservatory, Mr. Dervoed is among the most eminent champions of the classical guitar. Having mastered the entire standard orchestral, chamber and solo guitar literature, he is significantly expanding the existing repertoire through collaborations with leading composers, whose works he inspires, commissions and performs.
Artyom Dervoed fell in love with the guitar as a child and became the first Russian to win two of the most prestigious contests, Michele Pittaluga Guitar Competition in Italy and Her Royal Highness Princess Cristina Competition in Spain. The international attention allowed him to focus on recording projects, including the album of new works by Russian composers, which was released worldwide on Naxos in 2008 and became one of the top ten bestselling chamber music records. "If your current budget runs to just a single item, make this the one," advised the UK Classical Guitar Magazine. The following year, Mr. Dervoed recorded the music of the Cuban classical guitar legend Leo Brouwer. His latest release (Ghosts & Shadows, Melodia Records, 2015) representing a survey of the 500 years of Spanish music, was nominated for the ICMA Best Solo Performance Award in the "Solo Instruments" category.
A magnetic personality and a bona fide virtuoso, Mr. Dervoed has an active media profile in Russia. He is frequently invited to speak on TV and radio about the classical guitar, its historic significance, musical versatility and exciting future. The world premiere of Stephen Goss's Guitar Concerto based on Paganini's Grand Sonata for Guitar and Violin, with Mikhail Pletnev and the Russian National Orchestra, was nationally televised, reaching hundreds of thousands of viewers. Among his recent world premieres – the Concerto for guitar and orchestra by living Russian composer Alexander Tchaikovsky in 2018 and "Angel­ – Suite" by Piazolla/Borodaev in 2017 and currently Mr. Dervoed's orchestral repertoire consists of no less than 32 concerti. Four highly anticipated lessons of Mr. Dervoed's series of educational videos was released in 2017/18 season, four more will be slated for release this year. Mr. Dervoed teaches at the prestigious Gnesin's Academy.
Mr. Dervoed is a founder of Moscow Chamber Guitar Music Festival "Golden Fingerboards" and the co-founder and Artistic Director of the annual Guitar Virtuosi Moscow International Festival, presented by the Moscow Philharmonic at the Tchaikovsky Hall. Its solo, chamber and orchestral performances are streamed online and have featured major international stars including Sergio and Odair Assad, violinist Dmitry Sitkovetsky and pianist Boris Berezovsky. The latter has recently collaborated with Mr. Dervoed on a program of classical and contemporary repertoire. In 2015 the festival opened with Mr. Dervoed's performance of his own transcription of Beethoven Violin Concerto with the Svetlanov State Symphony Orchestra under the baton of Fabio Mastrangelo.
Born in Southern Russia, Mr. Dervoed began his guitar studies with Sergey Annikov, Elena Svetozarova and Leonid Reznik. He later trained with Prof. Nikolay Komolyatov at the Schnittke Music College and Gnesin Academy in Moscow, Aniello Desiderio at the Koblenz Guitar Academy in Germany, and Oscar Ghiglia at Accademia Chigiana in Italy.
Recognized as "a musician with a wide dynamic range, an intelligent and expressive phrasing, and a technical facility with no discernible limitations," (Editions Orphee, USA), he has received honorary scholarships from the City of Moscow, Vladimir Spivakov International Foundation, and the Russian Foundation for the Performing Arts.