---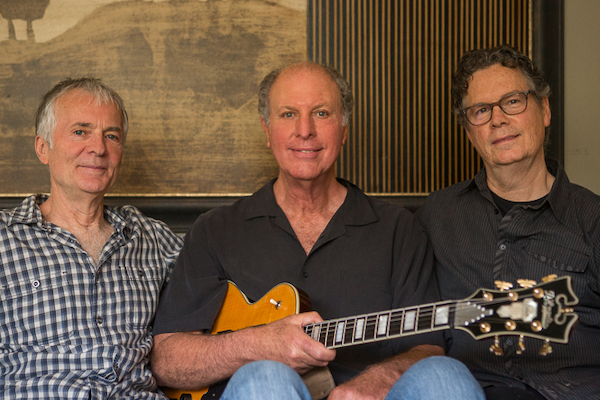 John Van Tongeren
I'm trying to remember the first time I met John Van Tongeren. I think it was in Berlin in 1983. We were in a club no bigger than a shoebox watching some early 80s German electro-punk band. We had to yell over the shriek of their synthesizers, but the meeting was auspicious, as it began nearly a quarter century of admiration for the man. We'd run into each other over the years and I'd always find out what he was up to. He's pretty modest when he talks about his work—you'd never know that before he was a big composer he used to perform with legendary bands and do all kinds of arranging for big stars. And of course, now he's composed for so many films and TV shows, it boggles the mind.
He started out as one of the original members of Media Ventures. That was Hans Zimmer's place. Part workshop, part Shangri-la. Back then, it was just Hans, John, and Mark Mancina. And I'll tell you, it was epic. John says it was like some kind of musical lab—with weird sci-fi going in one room, someone scoring a big blockbuster down the hall. Always some kind of experimental thing happening. I remember those days well. I could only imagine that kind of thrill—to be part of Hans Zimmer's camp! I'd go by sometimes and peer in, like a kid. Face pressed up against the glass like it was some kind of candy factory. It was magic. I'd see them in there—working through the night. John like a mad scientist, behind the board, with all that crazy hair...
Anyway it was at Media Ventures that John really established his own voice. His orchestral work was pretty hooky. See, he came from rock and roll, and had a good strong pop sensibility, and now he was getting into all of this orchestration, and I'm telling you, the classical guys weren't doing things like this. John can write anything—he has both the harder edge and the sophisticated side. That was the heyday over there—John worked on over twenty films, including Thelma and Louise, True Romance and Drop Zone with Hans Zimmer. He also collaborated with Mark on Speed, Assassins and Twister.
With those big films under his belt, he moved on to what I like to call his own personal TV series: The Outer Limits. This was something like sixty episodes of music! The opening strains of that theme still waft through my memory. It was like the soundtrack to the demented carnival that was my life in the mid-90s. See, I had met this girl, and we—oh, I won't bore you with the details, but I will say that John made out better than I did. He ended up winning two Gemini Awards (Canada's Emmy), and I ended up hitchhiking to Prague—well, maybe that's for another time. So, Outer Limits was a huge success and ran for seven years. That kept our boy busy for a while. But the crazy thing is that a year after Outer Limits started, John began work on Poltergeist: The Legacy. Very Gothic. The music was perfect: dark, twisted and romantic. A lot like my life at the time. I was in Amsterdam with some friends, and I lost my passport. Oh, but, I digress…this is about John. As I was saying, he did four years on Poltergeist. Four dozen episodes—zip boom bang—he handled it like it was nothing, and then followed it up with Speed 2: Cruise Control, (another Mancina collaboration) and then Armageddon with Trevor Rabin. Once that wrapped, he worked on Peter Benchley's Creature. I have to say, I'm a big fan of that one. I've got it on CD, and it's a fantastically creepy score.
You know, and if that weren't enough, jazz great, Tony Williams asked John to write three interludes for orchestra on his album, Wilderness. Well, he did that, alright, and he ended up co-producing the record as well! It wasn't enough that he got to compose for Miles Davis' drummer, there he was working with Herbie Hancock, Pat Metheny, Michael Brecker and Stanley Clarke. Icons! One lucky guy, that John Van Tongeren. Unbelievable, really. Unfair, absolutely!
The new millennium brought more big stuff for JVT, including some indie features, some animation scoring and xXx with Randy Edelman. And just when you think you've got the guy pegged, he's got a song on a double platinum album. That was The Cheetah Girls, a big Disney hit that he also scored. Then there was Malibu's Most Wanted, another departure for him with a little comedy, a little hip hop. Yeah, I know—he's a white guy, but he figured a few things out. John of all trades.
You'd think at this point, he'd get out of the studio for a while or take the family on a vacation, but instead he jumped into another huge project. It was Van Helsing: The London Assignment. His score for this animated prequel to Alan Silvestri's feature film has been described as "grandly symphonic." And there's more. They called it "a furious piece of orchestral action scoring." I'm not making this up. Go rent it yourself—you'll see. He created this virtual world with music. The thing is full of crazy energy—very cool.
He did another bunch of films after that: Miss Congeniality 2, Twitches, Initiation of Sarah and Empire, and more TV series work! I'm dizzy just thinking about all of it. Finally, there was The Passion of the Christ. John was there, performing percussion & synthesizer tracks for John Debney on that little piece of celluloid history. This, from the kid I met back in Berlin. Hard to believe.
So what's he been working on lately? He's gone back to his science fiction and fantasy roots with The 4400, currently running on USA, he orchestrated ten songs and provided the score for the animated family movie, Christmas Is Here Again, he scored War Games: The Dead Code for MGM. and he's also got some games and movies in the works.
I met up with him recently. Got a chance to check out Tongerland, his state-of-the-art facility in L.A. I had thought it was gonna be the kind of thing where I had to be blindfolded and driven in there, but he was cool about it. He gave me the address. Even met me out front.
We sat down and he played me some stuff he had been working on for a new game. I was blown away. He was telling me that he really liked being able to distill all of the work he's done in films and TV into little vignettes for the gaming world. He said he likes the immediacy of video games and the whole digital age, really. It made me yearn for my own virtual life, one where I can decide everything that happens. Well if I ever get one, I'll have John score it.
Anyway, it was a great afternoon catching up. He's got an incredible career. The sheer volume of work he's done on his own is staggering, he's collaborated with the biggest composers in the world, he's won awards, gotten all this acclaim, you name it. But with John, it's not about awards, fame or big names. It's about talent. You know he once said that people thought of him as this agro orchestral guy, but he's so much more than that. I mean, he's into string quartets and he owns a marimba. I saw it with my own eyes at his Christmas party. (Yes, I was invited. Got a proper invite too!) This is a guy who's into Bernard Herrmann, Toru Takemitsu, Shostakovich and Bartok. He's eclectic for sure. He's talented, absolutely. He's the real deal. And a nicer guy you couldn't meet. - Jean-Louis Delerue, Hollywood, California
Mike Clinco
I began my music journey by studying piano at the age of eight. It gave me a foundation that spawned a lifetime of musical interest. My next door neighbor loaned me an acoustic guitar and I was hooked.Age 11 , my parents bought me my first electric guitar, a Vox Lynx. I thought it looked cool but it sounded awful. My first real audition (age 15) was for Lowell Fulsom's band at a bar in Venice California. (The Roma) I was so scared because I wasn't ready for a professional gig but the process was beneficial and it really motivated me to study and practice. I used to frequent this blues/jazz club on Melrose called the Ash Grove. It hosted some of the most soulful and progressive artists of the time(1969-1972). I had a chance to experience the likes of Freddie King, Albert King, Johnny Guitar Watson, Charlie Musselwhite (w/ a young guitarist named Robben Ford), Larry Coryell and the 11th House and many others.High school music consisted of playing tenor saxophone in the marching band and playing with various rock groups at high school dances.By the time my senior year came, I was ready to leave Los Angeles and go study music further out of state. At that time (1972), the University of Utah had attracted an impressive number of great students all with a common interest of creativity.The next six years I managed to form my own trio, teach at both the U of U and Westminster College and stay busy doing top 40 gigs in clubs. I began listening to jazz and modern orchestral music. Various visiting faculty (Sam Rivers, Dave Liebman, Dave Holland) invigorated the scene. I was fascinated by artists on the ECM label. My record collection was filled with albums by John Abercrombie, Ralph Towner, Keith Jarrett and Jan Garbarek.In 1977, my musical world changed forever. I met Nelson Riddle who offered me a chance to work with Ella Fitzgerald and the Tommy Flanagan trio. This was too good to be true. I spent one month in Detroit, Michigan playing concerts and feeling like a jazz musician for the first time. I knew at that point that I needed to move back to Los Angeles and kick my career in to high gear.By 1980, I once again had an incredible opportunity presented to me. Henry Mancini was looking for a guitarist for his west coast touring band. Say no more, sign me up! For the next fourteen years, I came to know and work with one of the most gracious and talented men whose impact on my musicianship is immeasurable.1981 was an amazing flurry of activity with my association with Lionel Newman of 20th Century Fox. He hired me as a session guitarist for a multitude of films and television shows. The experience was remarkable. These events and situations provided a solid foundation for my professional career to blossom.Below is a partial list of the people that I have had the pleasure of touring/and or recording with (as a guitarist) over the years (1977-present): Bobby McFerrin Bo Diddley Ella Fitzgerald Nelson Riddle Henry Mancini Boston Pops Pasasdena Pops Bernadette Peters Connie Stevens Burt Bacharach Carol Bayer Sager Marilyn McCoo and Billy Davis Natalie Cole Carl Anderson Luciano Pavarotti Neil Sedaka Chubby Tavares BJ Thomas Timothy B. Schmit Peter Noone Suzanne Somers Ann-Margret Billy Vera and the Beaters Joely Fisher and many others.
Kendall Kay
Born in Durban, South Africa, Kendall showed an interest in the drums at an early age, He pursued this Interest eventually playing and recording with most of the major South African artists, including Steve Kekana, Mike Makelemele, Alan Kwela and Izzio Gross.
In 1983, Kendall moved to Texas, and studied at North Texas State University, graduating with a degree in Jazz studies. Kendall arrived in Los Angeles in 1987 and has been playing and recording here ever since.
Credits include: Kiki Ebsen, Poncho Sanchez, Cecilia Coleman, Steve Huffstetter, Bob Sheppard, Jeff Beale, Kenny Burrel, Phil Upchurch, Jon Faddis, Rich Matteson, Kenny Drew Jr., Dan St. Marseille, Dave Ferris, Nick Brignola, Lamont Johnson, Bobby Shew, Allan Broadbent, Kyle Eastwood, Frank Strazzeri, Jeff Colella, Bill Perkins, The Larry Karush Ensemble and Rickie Lee Jones.
Kendall is currently endorsing Remo Drums and Drum Heads, Vic Firth Sticks and Paiste Cymbals.