---
Biographie Ensemble Masques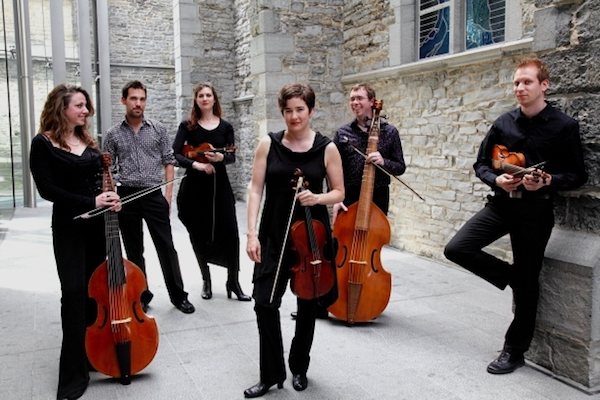 Ensemble Masques
Masques is a Montreal-based early music ensemble founded in 1998, performing vocal and instrumental music of the 17th and 18th centuries. The name of the ensemble is inspired by the masques of the Elizabethan England—mystical performances which fused poetry, music, dance and drama. The ensemble has become a meeting point for Canada's young musicians. Masques also collaborates regularly with up and coming European talents, thereby maintaining close ties with musicians of diverse backgrounds. All the musicians of Masques have enviable performing experience, and regularly concertize as soloists and chamber musicians throughout Canada, the United States and Europe with such ensembles as Capriccio Stravagante, Tafelmusik, La Petite Bande and Les Voix Humaines. While maintaining a core ensemble, Masques varies in size according to the demands of the projects it presents.
The ensemble has risen rapidly to international attention, winning the Grand Prize in the Dorian/Early Music America Competition in 2000, and being selected as finalist at the York Early Music Competition in 2001. Following the release of the ensemble's first recording, devoted to the Consorts in Two Parts by the English composer Matthew Locke, Masques has been heard coast to coast in various festivals including Lamèque, Lanaudière and Vancouver. Masques was also heard in France and in the United States. The ensemble's performances are regularly broadcast on CBC/Radio-Canada.
Olivier Fortin
Founder and director of the Montreal-based early music ensemble Masques, Olivier Fortin graduated with distinction from the Québec Conservatory in 1995. He continued his training with Dom André Laberge, obtained a Master Degree from University of Montreal under the direction of Prof. Réjean Poirier, and received several scholarships for studies in Paris with Pierre Hantai and in Amsterdam with Bob van Asperen. In 1997 he was awarded top prizes at the Montreal Bach Competition and the Bruges Festival. He is increasingly esteemed as a soloist and chamber musician, touring and recording throughout Europe, the United States and Canada with ensembles such as Masques, Capriccio Stravagante, Tafelmusik, Chanticleer, the Studio de Musique Ancienne de Montréal and Les Voix Humaines as well as playing with Skip Sempé and Pierre Hantaï in a harpsichord trio. Olivier Fortin teaches harpsichord and chamber music at the Conservatoire de Musique de Quebec.