---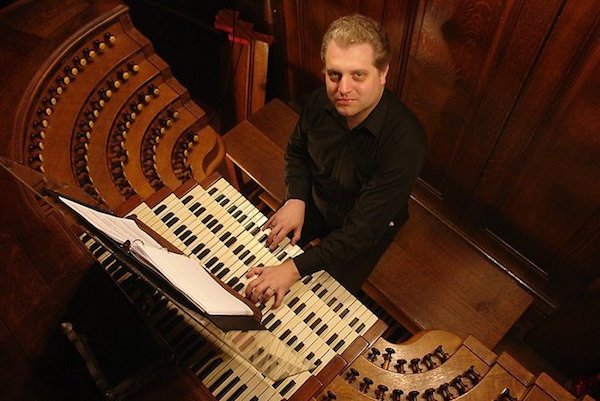 Stephen Tharp
gepriesen als "der Organist für den Kenner" (Orgel-Zeitschrift, Deutschland), als "der Interpret für den Intellektuellen" (Het Orgel), als "in allen Details jedem Orgelvirtuosen gleichrangig" (Zeitschrift The American Organist) und als "der umfassende kreative Künstler" (Michael Barone, Pipedreams), ist anerkannt als einer der großen Konzertorganisten unserer Zeit.
Nach seinen 33 weltweiten Konzerttourneen als Solist und mehr als 800 Konzerten in den USA , hat er eine derjenigen internationalen Karrieren fest etabliert, die von den Kritikern überall am meisten Anerkennung und Ansehen erfahren; sie brachte ihm den Ruhm ein, der Konzertorganist seiner Generation zu sein, der am meisten und weitesten auf Tourneen unterwegs ist. Stephen Tharp ist in der aktuellen Ausgabe des Who's Who in America (2008) für seine ausgezeichneten Errungenschaften in der Musik aufgelistet. Seine umfassende Liste von Aufführungen seit 1987 enthält so herausragende Konzertorte wie St. Bavo, Haarlem; The Royal Albert Hall, London; St. Eustache, Paris; Ste. Croix, Bordeaux; The Hong Kong Cultural Centre; die Rathäuser von Sydney und Adelaide, Australien; den Tschaikowsky Saal, Moskau; die Tonhalle Zürich; den Dom von Mailand, Italien; die Kathedralen in Köln, München, Passau, Weingarten und Würzburg; das Gewandhaus Leipzig; das Konzerthaus Dortmund; die Kathedralen von Antwerpen, Belgien; die Dvorák-Halle, Prag; die Hallgrímskirkja, Reykjavik, Island; The Kimmel Center, Philadelphia; The Crystal Cathedral, Garden Grove, California; The Riverside Church, New York City; Rice University, Houston; Spivey Hall, Atlanta; Severance Hall, Cleveland; Symphony Center, Chicago; sowie Cathedral of Our Lady of the Angels, Los Angeles.
Er war zentral vorgestellter Künstler bei nationalen wie regionalen Zusammenkünften des Amerikanischen Organistenverbandes (American Guild of Organists - AGO) und hielt Meisterkurse an der Yale University, am Westminster Choir College, dem Cleveland Institute of Music, der Bethel University, St. Paul, Minnesota, an den Hochschulen für Musik in Stuttgart, Trossingen und Bochum, sowie für die AGO.
Er war außerdem Mitglied der Jury bei Wettbewerben an der Juilliard School und der Northwestern University.
Stephen Tharp bleibt ein wichtiger Vertreter neuer Orgelmusik, vergibt immer neue Kompositionsaufträge und spielt zahlreiche Uraufführungen von Kompositionen für das Instrument. Das erste solche Stück war Jean Guillous symphonische Dichtung Instants, op. 57, die Tharp am King's College, Cambridge, England, im Februar 1998 zur Uraufführung brachte. Unter den nachfolgend ihm gewidmeten Werken waren Marthas Sullivans Slingshot Shivaree for Organ and Percussion (1999), Anthony Newmans Toccata and Fuga Sinfonica on B-A-C-H (1999), sein Tombeau d'Igor Stravinsky (2000); Philip Moores' Sinfonietta (2001), Thierry Escaich's Trois Poèmes (2002), Eugenio Fagianis Stèle (2003), Samuel Adlers' Sonata (2005) und David Briggs' Toccata "Labyrinth" (2006). Schon 1992 hatte er die Uraufführung von Anthony Newman's Second Symphony gespielt und 1995 Morgan Simmons' Sequencia Pedalia. Als Komponist erhielt er selbst vom Kölner Dom den Auftrag, für Ostersonntag 2006 zur Einweihung der neuen Tuba-Hochdruckregister seine Easter Fanfares zu schreiben.
Im April 2008 war Stephen Tharp der Offizielle Organist für den Besuch Papst Benedikts XVI. in New York.
Sein Orgelspiel wurde live übertragen vom Englischen und Irischen Nationalen Fernsehen, von Radio Prag, orgelnieuws.nl in den Niederlanden, und in den USA im öffentlichen amerikanischen Sender Pipedreams.
Im November 2006 strahlte Pipedreams eine komplette Sendung aus, die ausschließlich seiner Karriere gewidmet war, was ihn zu einem der ganz wenigen Organisten weltweit machte, die derart geehrt wurden. Er ist auch in ganz Amerika als Kammermusiker aktiv, der an der Orgel, dem Klavier und dem Cembalo gemeinsame Konzerte gab mit Künstlern wie Thomas Hampson, Itzhak Perlman, Jennifer Larmore, Rachel Barton Pine, The American Boychoir (Leitung: James Litton), dem St. Thomas Choir (Leitung: John Scott, in Duruflés Requiem), an Orten wie der Carnegie Hall, dem Metropolitan Museum of Art, der Alice Tully Hall und Avery Fisher Hall im Lincoln Center.
Seine 12 Solo-Orgelaufnahmen sind bei den Labels JAV Recordings, Aeolus, Organum, Ethereal zu finden.
Von 1995-1997 war Stephen Tharp Organist an der St. Patrick's Cathedral in New York und Associate Organist an der St. Bartholomew Church, New York, von 1998-2002. Er ist derzeit Artist-in- Residence an der Grace Church (Episcopal), New York, wo er mit dem Organisten und Chorleiter Dr. Patrick Allen zusammenarbeitet.