---
Andrew Blanch & Ariel Nurhadi
---
Biographie Andrew Blanch & Ariel Nurhadi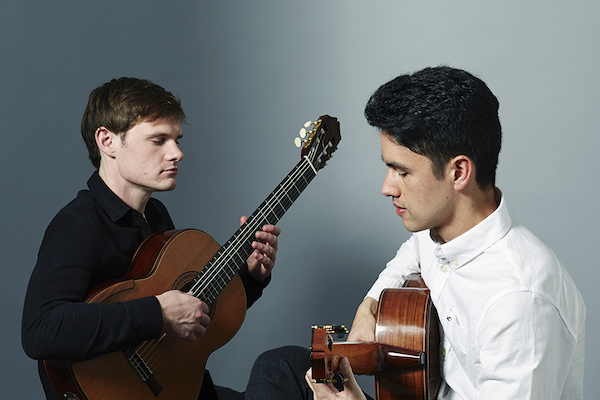 Andrew Blanch
Amongst the exciting emergence of a new generation of classical musicians, guitarist Andrew Blanch stands out. Armed with formidable talent, passion, and conviction, Andrew has carved out his own path to much acclaim. His independently-released album 'Spanish Guitar Music' (2015) and accompanying self-managed tour marked the auspicious beginnings to an active and multifaceted musical career today.
As a performer Andrew's musical vision is broad and ambitious: an acclaimed soloist of traditional and contemporary repertoire, a key collaborator in eclectic ensembles small and large, an active commissioner of new works and an arranger himself, and noted both for his personal connection with the general public and his appeal to critics alike with a multitude of competition prizes and critical accolades.
Upcoming highlights for the 2020-2021 seasons include: collaborations with leading new music groups Ensemble Offspring and Topology, the commissioning of new works by Australian composers Daniel Rojas, Felicity Wilcox, Jessica Wells and Robert Davidson, album releases with long-term collaborators The José Carbó Trio and in his duo with Ariel Nurhadi, frequent touring of Australia and abroad including his first tour of South America, and the launch of new collaborations with American harpist Emily Granger and as a member of the New Zealand Guitar Quartet.
Ariel Nurhadi
Melbourne-born Ariel Nurhadi is a Sydney-based classical guitarist. His diverse collaborations to date have included Llewellyn Quartet, an opera production of Dido and Aeneas, the clarinet-guitar ensemble Duo Divan and Canberra's 2015 Voices in the Forest with José Carbó and Diego Torre of Opera Australia.
Ariel's first solo album will feature works by Federico Moreno-Torroba, Manuel Ponce, Joaquin Turina, Mario Castelnuovo-Tedesco, and Alexandre Tansman, as well as a collection of Catalan folksongs arranged by guitarist Miguel Llobet.
Ariel's 2018 engagements include a tour of Australia with The Josè Carbò Trio, a tour of New Zealand with guitarist Andrew Blanch and Ariel will also adjudicate and perform at the 3rd Biennial New Zealand Guitar Competition, Wellington, New Zealand. Ariel is a graduate of Timothy Kain's renowned guitar class at the ANU, which he completed with first-class honours before being accepted into a PhD program under the auspices of the competitive Australian Postgraduate Award.